College, a phase where we pay to get education and then spend the next 3 years running away from the same. Barring a few, most students attend a class just for the attendance so that they would be allowed to sit in the exams.

Just like all of us, this student from Institute of Space Technology, Islamabad was in the classroom but wasn't really in the mood for studying. This video posted by Taimoor Zaman on Twitter shows this guy tweaking the lyrics of the song, Aaj Jaane Ki Zid Na Karo and it's hilarious.
Pakistani Student Singing 'Aaj Parhane Ki Zid Na Karo' In front of his teacher … 😂😂😂 pic.twitter.com/uy8ENICp1J

— Taimoor Zaman (@taimoorz1) December 1, 2016
We are pretty sure he didn't get any attendance for the class but at least he impressed people on the Internet by his singing and creativity.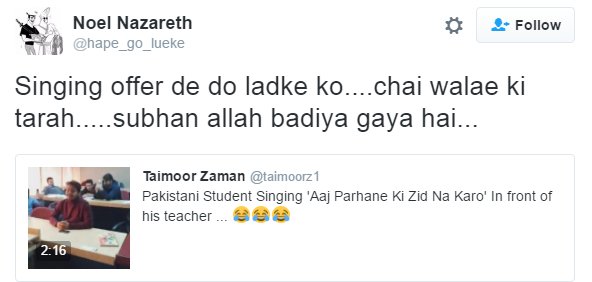 ScoopWhoop contacted Taimoor and he said the teacher was pretty chill about it.
Teacher Zainab Saleem who posted the video on her Facebook account said 'who can say no to such a request.'
Kudos man, hope you clear the semester too.