Newspapers used to be boring. Because news was boring. Then they started letting crazy people write for them. So then, this happened.
I highly recommend you to read the whole clippings. But for the super lazy ones, I've highlighted the important stuff. Read and learn real journalism.
1. I can't believe he bragged about such 'Kutta Kaam' !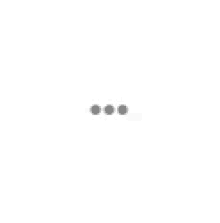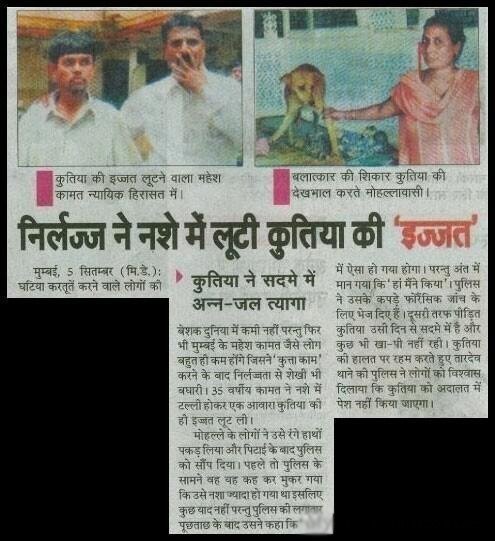 [Translation: Shameless drunkard rapes bitch]
2. Don't you just hate it when unknown people beat you up?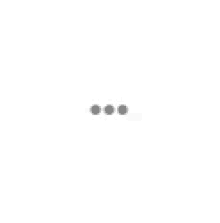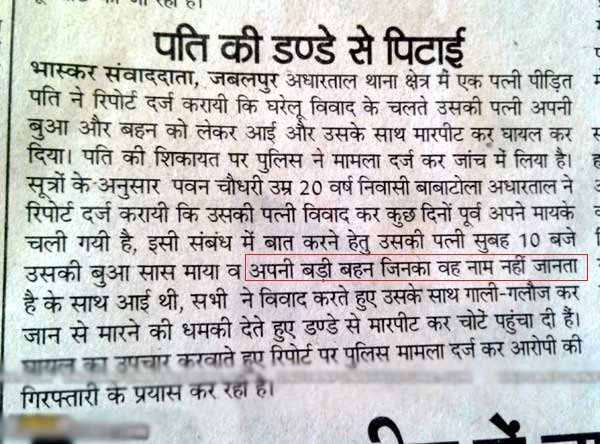 [Translation: Husband assaulted with a stick]
3. The mystery of the lost husbands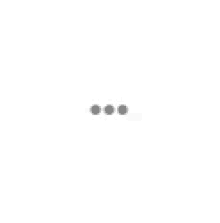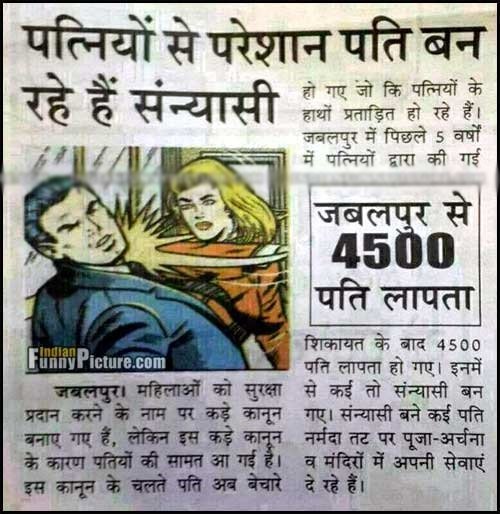 [Translation: Fed up with their wives, husbands turn to ascetism]
4. He must really love his father-in-law.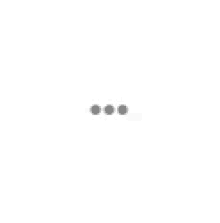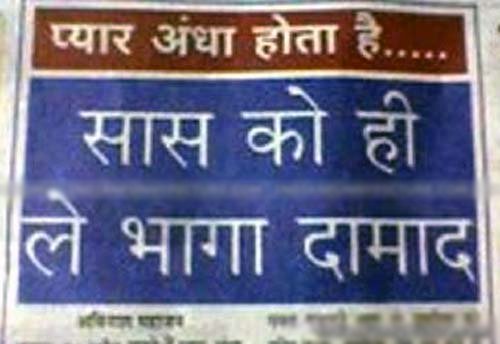 [Translation: Love is blind. Man flees with mother-in-law]
5. I thought they were just jokes.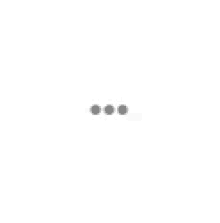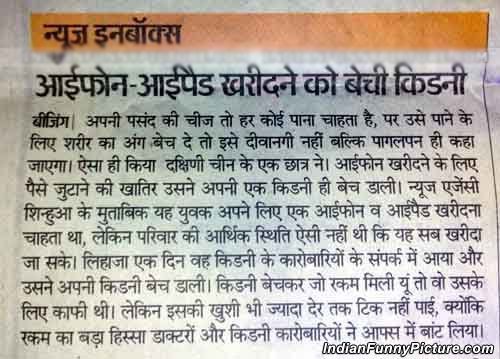 [Translation: Sells kidney to buy iPhone/iPad]
6. "Hey! I thought it's for my dog house" - Tiger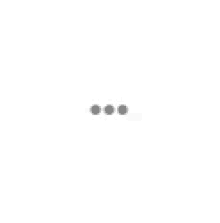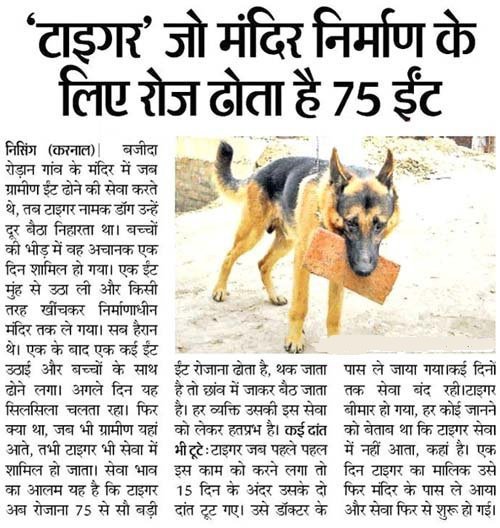 [Translation: 'Tiger' carries 75 bricks everyday, for temple construction]
7. See what you've done, Whatsapp!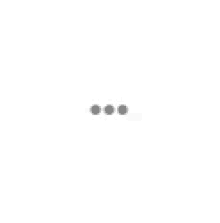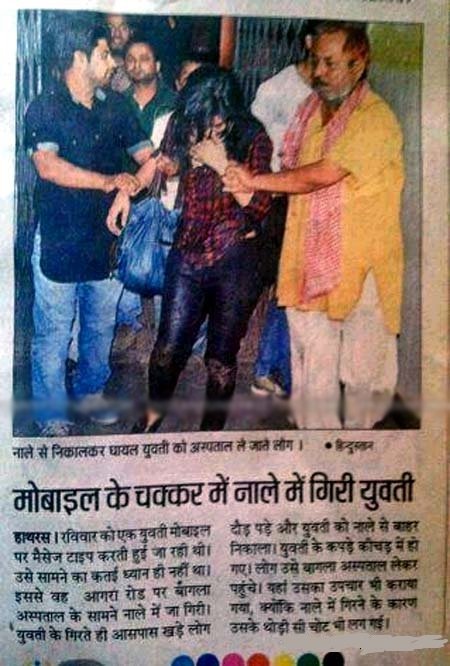 [Translation: Girl busy on the phone, falls into sewer]
8. Poetic justice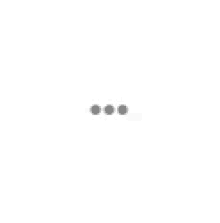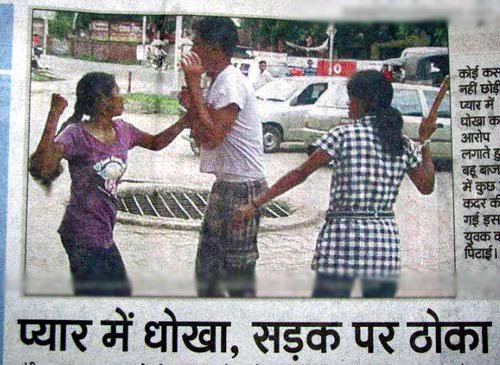 [Translation: He cheated on her, she beats him in public]
9. Love is in the air. Like literally.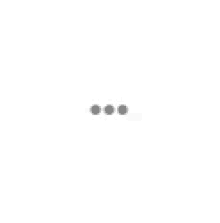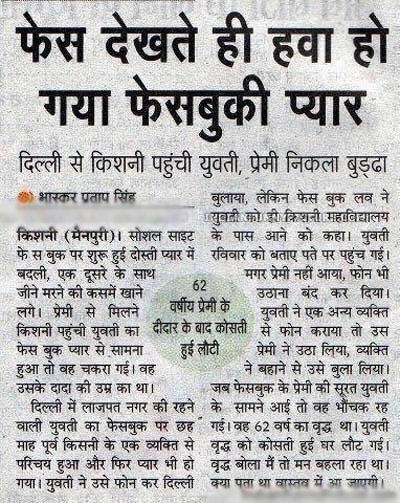 [Translation: One look at his face, was the end of this Facebook affair]
10. Jee haan!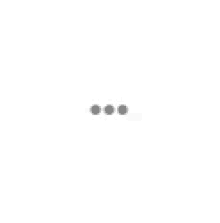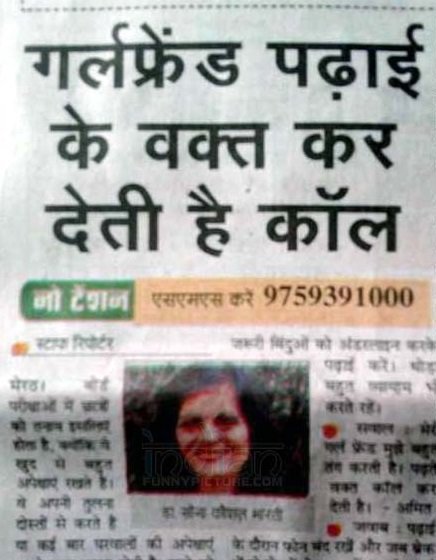 [Translation: Girlfriends calls during study time]
11. Marriages are made in heaven. Blame God.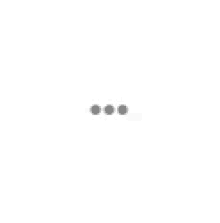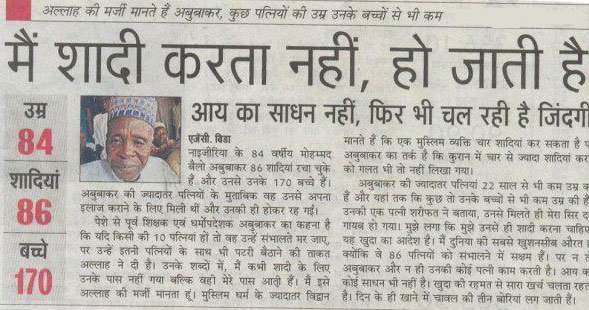 [Translation: I don't marry, it just happens]
12. I feel for you, bro!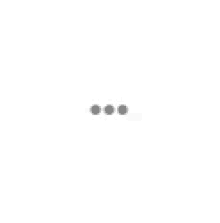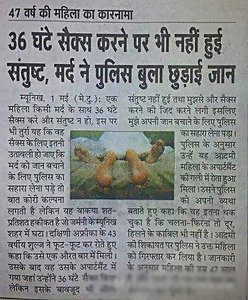 [Translation: Woman not satisfied even after 36 hours of sex, man calls cops]
13. Never ever break the dress code.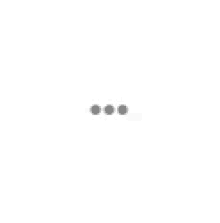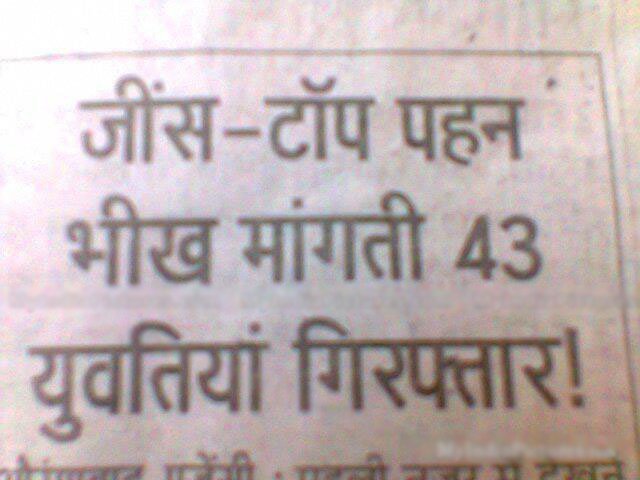 [Translation: 43 young girls arrested for begging in western clothes]
14. Proof that fried food is not good.
In other news, be wary of who you're adding on Facebook. It could well be your wife!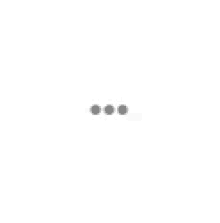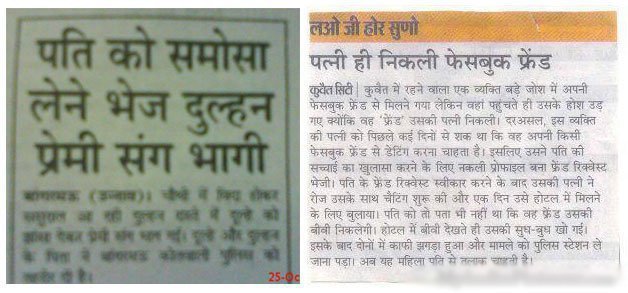 [Translation: Bride sends husband to buy samosa, runs away with lover ]
15. Astonishing! They had confirmed tickets!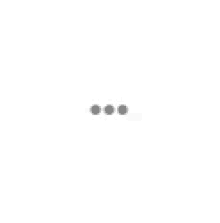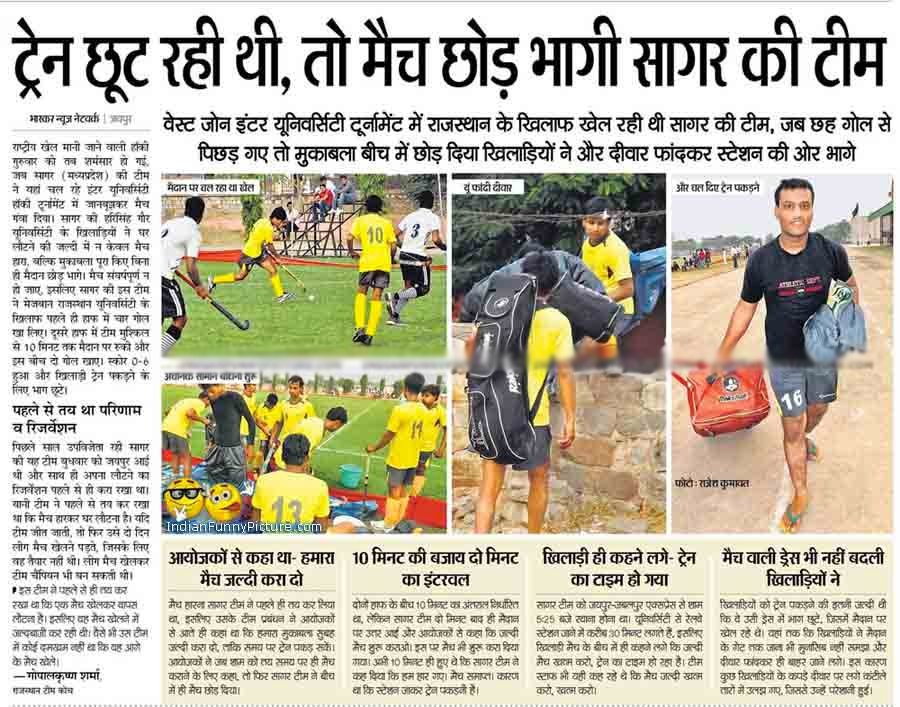 [Translation: Sagar's team abandons match to catch train]
16. Good job, dragon fly. Vidya owes you one.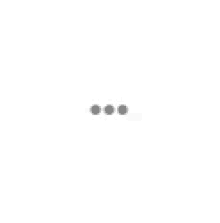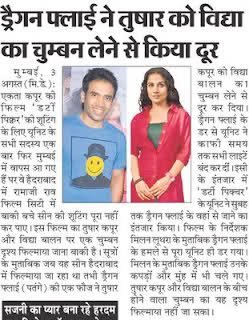 [Translation: Dragon fly saves Vidya from getting kissed by Tussar]
17. " Sanskaari hai ye keeda!"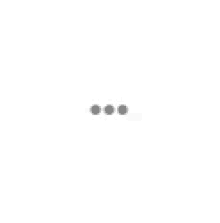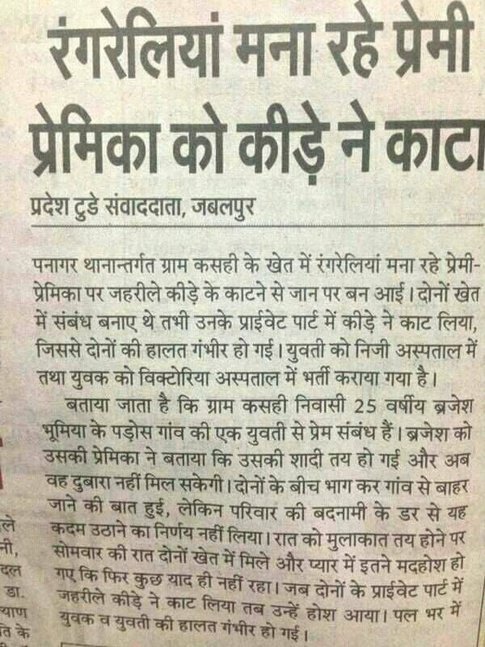 [Translation: Lovers get bitten by insect while making out]
18. Yeah. 12 is about fine.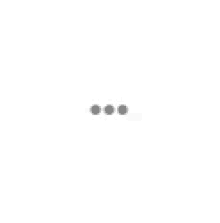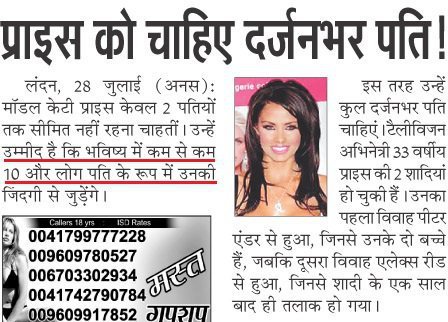 [Translation: Price asks for a dozen husbands]
19. You can't fool Punjab Kesari , Ms. Bieber!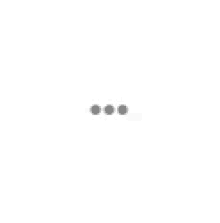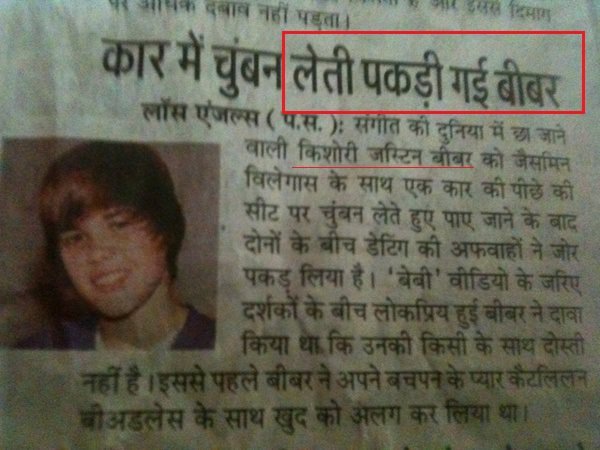 [Translation: Bieber was spotted kissing someone in HER car]
20. Valid theory. Way to go, Police!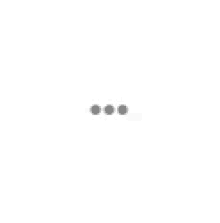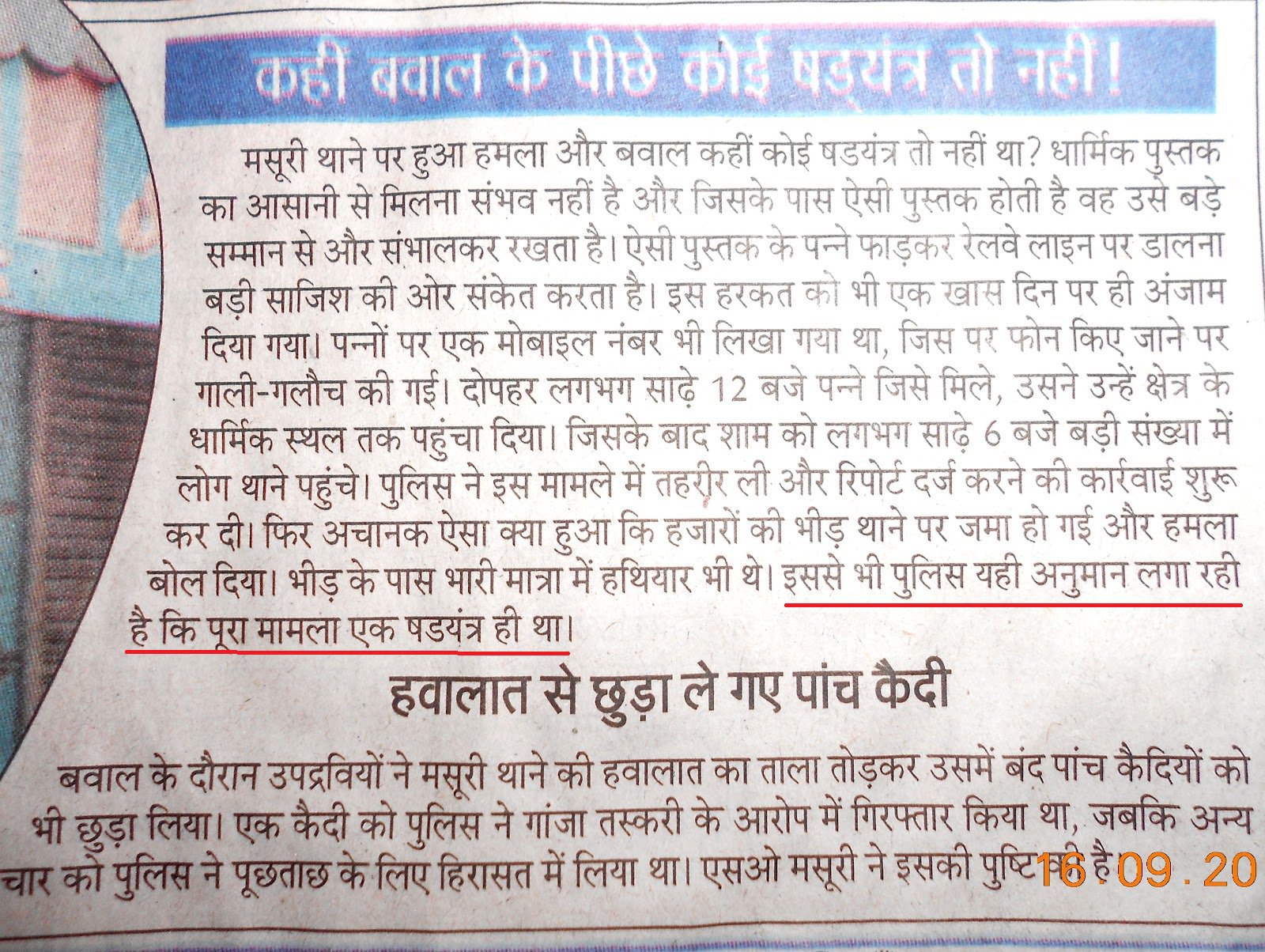 [Translation: Conspiracy suspected behind hullabaloo]
21. Black eye. Blue lips. Broken ribs.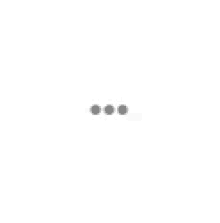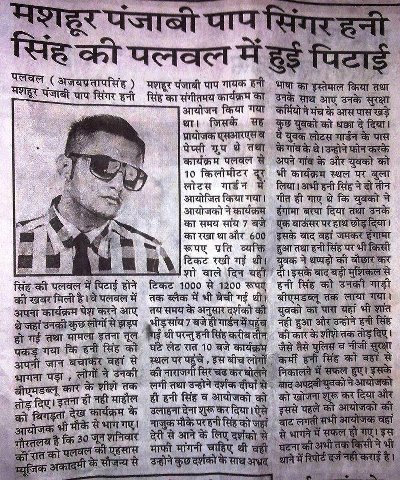 [Translation: Popular star Honey Singh beaten at Palwal]
We highly recommend a subscription to these newspapers.