Living a very comfortable life, we often forget that this life doesn't come to us for free. There are some men in uniform giving their sweat and blood 24×7 for us to live that way. Here are 10 stories of such brave men, who not only saved the lives of many with their gallantry but also showed us the true meaning of bravery.
For their supreme acts of bravery, cold courage and devotion to duty, they were also decorated with the Param Vir Chakra, the highest Indian gallantry award.
1. Major Som Nath Sharma
Major Sharma was awarded the medal for his bravery in the Kashmir operations in November 1947. Even though his right hand was cast in a plaster, he insisted on being with his comrades in battle.
While he was busy fighting the enemy, a mortar shell exploded on the ammunition near him. His last message to Brigade HQ was received a few moments before he was killed. He said, "The enemies are only 50 yards from us. We are heavily outnumbered. We are under devastating fire. I shall not withdraw an inch but will fight to our last man and our last round."
The brave soldier gave his life fighting, but prevented the fall of Srinagar and perhaps the Kashmir Valley to Pakistan.
2. Captain Gurbachan Singh Salaria
When a civil war-like situation developed in Congo after the Belgians quit the country, the United Nations opted for military intervention to retrieve the situation in which India contributed by sending an army of around 3000 men to the UN Force.
Captain Gurbachan Singh Salaria, who was commissioned in the 1 Gorkha Rifles in June 1957, prevented the enemy from going to the roundabout, saving the UN Headquarters in Elizabethville from encirclement. He was posthumously awarded the Param Vir Chakra for his extraordinary leadership and devotion to duty.
3. Major Dhan Singh Thapa
Major Thapa was commissioned at the 8 Gorkha Rifles in August 1949.
The Sirijap Valley in the north of the Pangong Lake, Ladakh, was considered important for the defence of Chushul Airfield. The 1/8 Gorkha Rifles had outposts there to thwart th enemy from encroaching. Sirijap-1 – one of these posts – was held by a platoon of D Company under the command of Major Thapa when the Chinese attacked India in October 1962. Major Thapa revolted the attack and the enemy had to pay heavy losses.
4. Abdul Hamid
During the 1965 Indo-Pak War, 4 Indian Division was entrusted with the responsibility of capturing Pak territory East of Ichhogil Canal and containing possible enemy attack on Kasur-Khem Karan axis.
The enemy tanks had penetrated the forward company positions. Hamid was commanding a recoilless gun detachment and knocked out two enemy tanks, following which the enemy brought down their concentrated machine gun and shot high explosive fire at him. Even though he was badly wounded and bleeding profusely, he didn't care about himself and kept firing.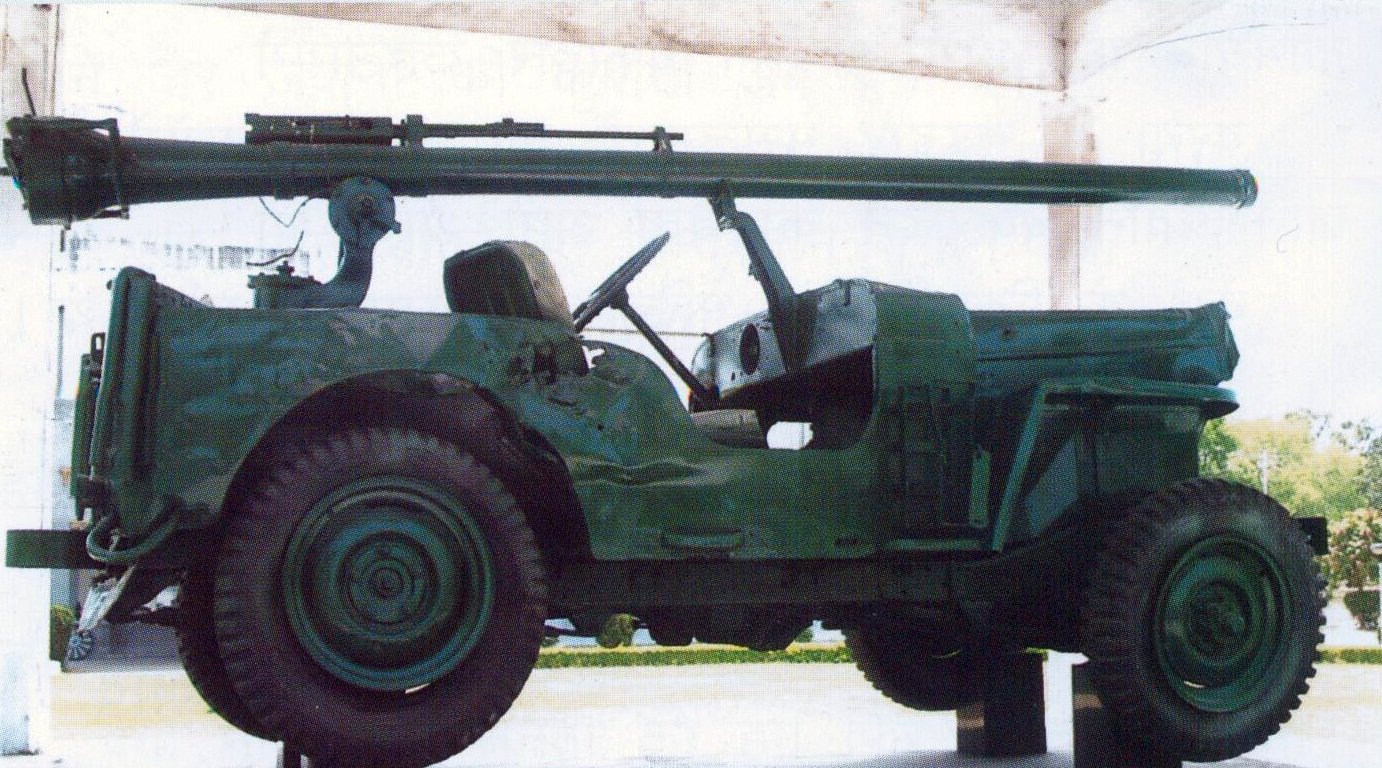 The Jeep used by Hamid.
5. Flying Officer Nirmal Jit Singh Sekhon
During the 1971 operations, Flying Officer Nirmal Jit Singh Sekhon was with No. 18 Flying Bullets Squadron flying the Folland Gnat fighter-based in Srinagar. He, along with his colleagues, fought successive waves of intruding Pakistani aircraft with fearlessness.
Srinagar Airfield was attacked by a wave of six enemy Sabre aircraft in December 1971. Sekhon took off and immediately engaged a pair of the attacking Sabres. He succeeded in damaging two of the enemy aircrafts, but his own aircraft crashed and he was killed. He was awarded for his heroism and supreme gallantry.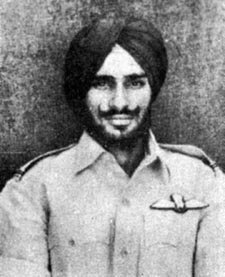 6. Major Ramaswamy Parameswaran
Many Indian Army units were dispatched to Sri Lanka to maintain law and order under the Indo-Sri Lanka Agreement. In November 1987, Major Parameswaran and his column were trapped by a group of militants. Showing great presence of mind, Major Parameswaran encircled them from the rear.
This was followed by a hand-to-hand battle in which one of the militants shot him in the chest. Impervious of his injury, he snatched the rifle from the militant and shot him dead. Even though he was critically wounded, he continued to give orders and inspired his command till he his last breath.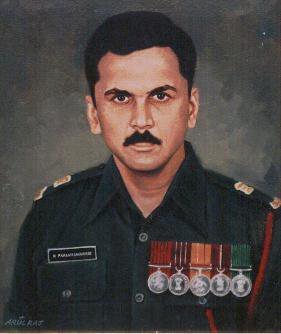 7. Manoj Kumar Pandey
Captain Pandey was the platoon commander in the 1999 Operation Vijay during the advance to Khalubar in the Batalik sector. He led his men to recapture the Jubar Top. The battalion's progress was halted by a determined enemy firmly entrenched on commanding heights. Pandey stepped forward to take on the mission. Displaying great courage, he surged ahead of his troops and charged at the enemy with a full throated battle cry through a hail of bullets.
Although wounded in the shoulder and leg, he pressed on his solitary charge with determination from trench to trench. Critically bleeding, he collapsed at the final trench and finally succumbed to his injuries, but not before all the enemies were destroyed. His last words were, 'Na Chodna' (Don't leave them).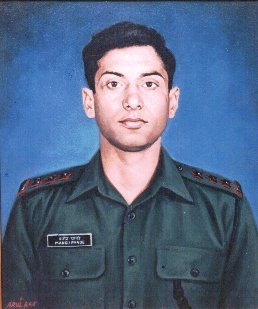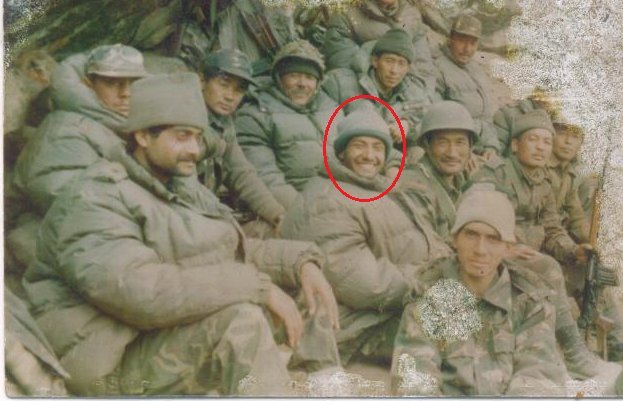 Captain Manoj Kumar Pandey (circled) with other officers during Operation Vijay
8. Yogender Singh Yadav
Grenadier Yadav was honoured for displaying exemplary courage during the 1999 Kargil war. He was part of the leading team of a Ghatak Platoon to capture Tiger Hill. Unmindful of the danger involved, Grenadier Yadav volunteered to lead and fix the rope for his team to climb up the steep, snowbound and rocky top.
On seeing them, the enemy opened intense grenade, rocket and artillery fire killing the Commander and two of his colleagues. Realising the gravity of the situation, Grenadier Yadav crawled up to the enemy position to silence it, sustaining multiple bullet wounds. However, he continued climbing and firing, killing four enemy soldiers in close combat. He refused to be evacuated and continued the charge despite taking numerous bullet hits. Inspired by his gallant act, the platoon finally captured Tiger Hill Top. He was awarded for his courage and determination under extreme adverse circumstances.
9. Rifleman Sanjay Kumar
Rifleman Sanjay Kumar was posted with 13 Jammu and Kashmir Rifles and led the scout of a team tasked to capture Area Flat Top of Point 4875 in the Mushkoh Valley held by Pakistani-backed militants in 1999. He crawled alone up the ledge towards the enemy bunker through a storm of fire not giving two hoots about his own safety.
Even though he was bleeding profusely from bullet wounds, he picked up the enemy machine gun and crawled further towards the second enemy bunker and killed three enemy soldiers. He was awarded the Param Vir Chakra for his display of bravery.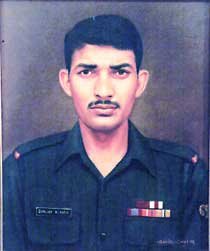 10. Captain Vikram Batra
Captain Vikram Batra, 13 Jammu and Kashmir Rifles, and his Delta Company were given the task of recapturing Point 5140. He single-handedly killed three enemy soldiers in close combat which left him seriously injured. Unmindful of his injuries, he insisted on continuing with the task at hand.
Motivated by the amazing courage displayed by him, the soldiers of 13 JAK Rifles charged at the enemy position and captured Point 5140 in June 1999. The brave soldier was tragically killed when he tried to rescue an injured officer during an enemy counter attack.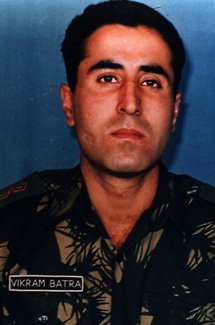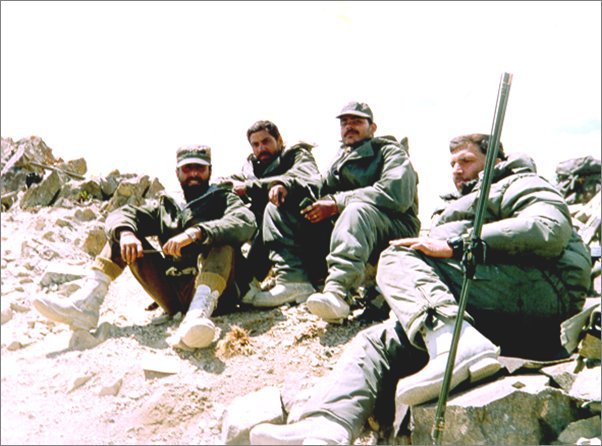 (Left to Right) Captain Vikram Batra, Major Vikas Vohra, Major Rajesh W Adhau and LT Colonel YK Joshi
To read more such stories of the brave hearts, read Rachna Bisht Rawat's The Brave.It can be purchased here