Disney princesses and Indian brides are two of the most fascinating type of women that we have all been crazy about as kids. Have you ever wondered what it would look like if either of them dressed as their counterpart? That is exactly what Amrit Grewal , wedding & fashion photographer based in Vancouver, Canada, did with his team in the Disney Project. From Jasmine to Rapunzel, Grewal and his team has beautifully portrayed our favourite Disney princesses as Indian brides.
Talking to ScoopWhoop over an e-mail, Grewal said, "With a need to show how mainstream Disney can migrate into other ethnicities, Jasmine Nijjar from our team built a theme that used each Disney princess movie as the inspiration all while integrating traditional Indian bridal wear. The idea was originally suggested by Universal Decor."
1. Snow White
Snow White's set was built with a giant cherry tree that hung crystallized apples.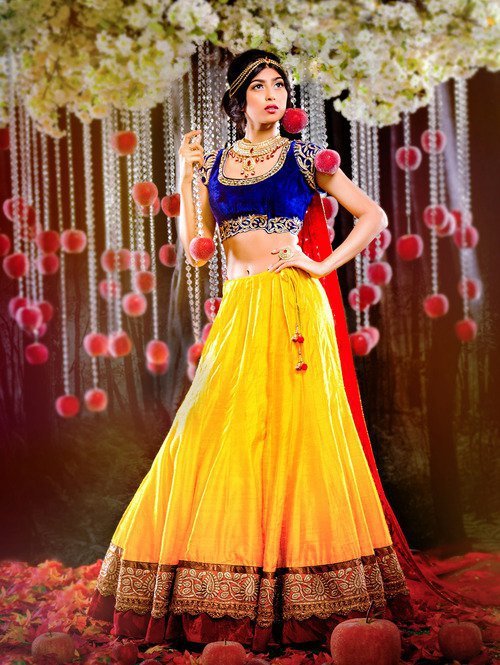 2. Aurora
Sleeping Beauty's shot was inspired by the Harrods window displays in London and the team used thousands of leaves and pink flowers around a real bed to achieve the look. The dress that Sleeping Beauty wears costs a whopping $10,000!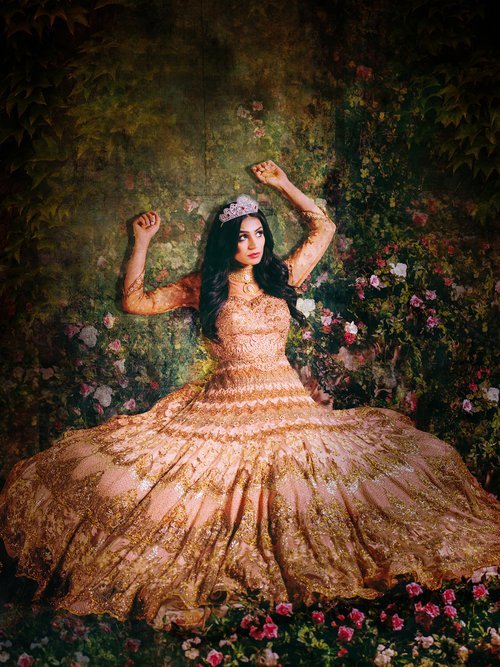 3. Cinderella
The vision behind Cinderella was Annie Leibovitz's shot. They used stairs as her running point.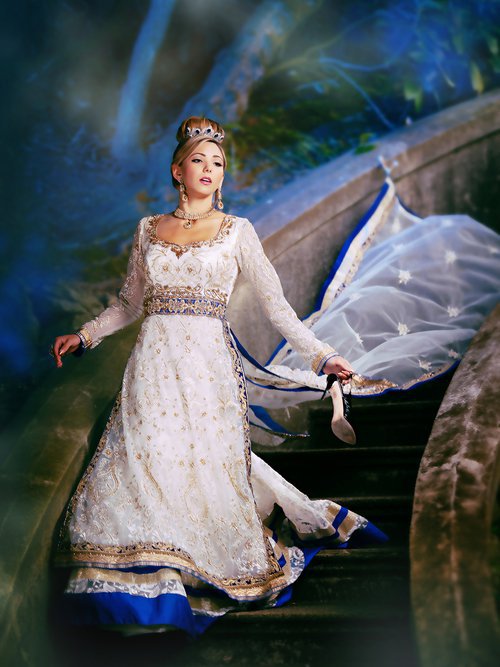 4. Ariel
The team used an aqua backdrop and built a rock-like platform so Ariel could stand on it.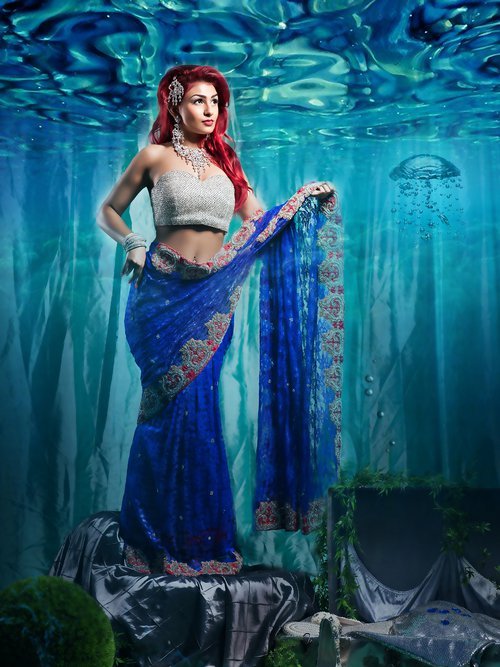 5. Pocahontas
The team opted to do a simple bejewelled headpiece for Pocahontas with 3 single feathers.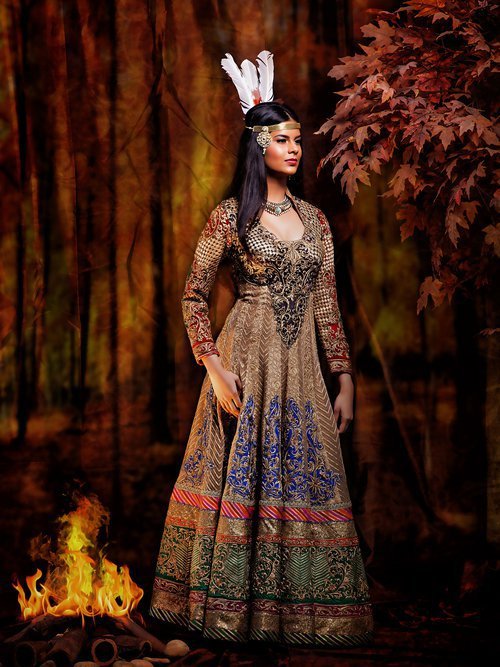 6. Belle
Belle's shot focused on her table setting.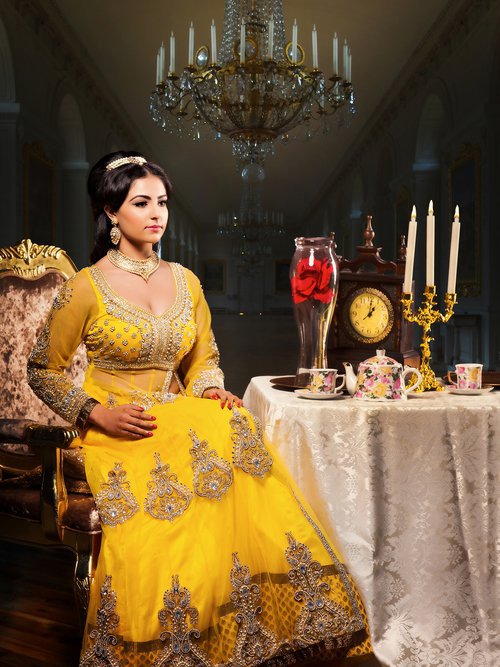 7. Rapunzel
Inspired by Kim Kardashian's flower wall, the team created a white rose wall. To create her braid, they rolled hay for about 6 feet with zap straps and wrapped the thick rope-like hay with matching blonde extensions.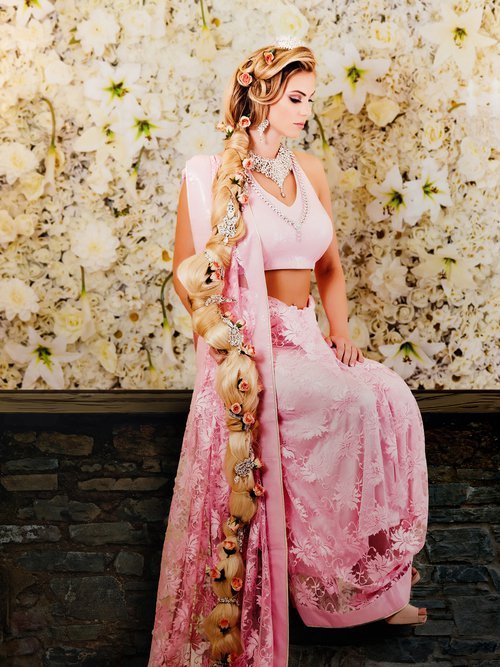 8. Mulan
Real swords and green turf were used to emulate mountains from the movie.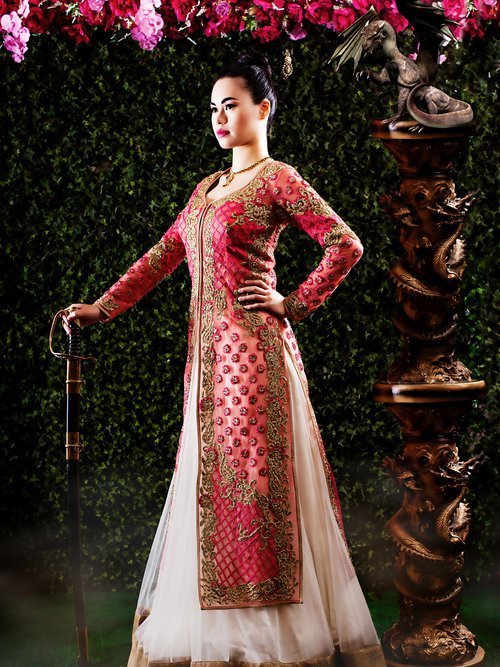 9. Jasmine
Princess Jasmine's shot was inspired by the Sultan's palace.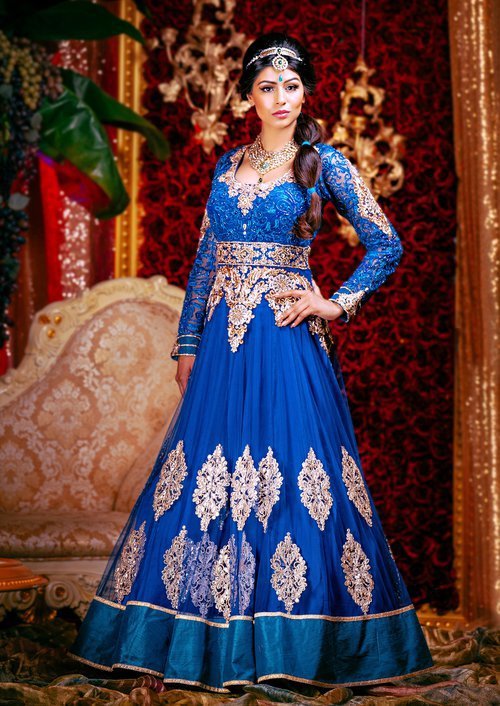 Wardrobe: WellGrommed.ca, Décor: UniversalDecorEvents.com, Director: JasmineNIjjar.com, Jewellery: High Heel Obsession, Makeup: Ranjit Heer, Hair: Powder Room Studio and Saveena Sohal