Two roads diverged in a wood, and I— I took the one less traveled by, And that has made all the difference.- Robert Frost
India has no dearth of beautiful travel destinations. Some are more popular and more commercialized than others. That in no way implies that the lesser-known places have anything less to offer; just that they haven't been explored as much. This is why you need to know places that aren't as saturated by tourists. You need a list of the most underrated travel options in India. You would be surprised by how much this country has to offer.
1. Tarkarli, Maharashtra
Frankly, almost any beach on the Konkan coast could have qualified for this spot. Tarkarli, in Sindhudurg district in Maharashtra, with its pristine waters, long and narrow beaches with Shuru trees in the background, managed to earn some extra points. It's one of the most peaceful and non-commercialized beaches in India.
2. Lambasingi, Andhra Pradesh
The very fact that Lambasingi, in Vishakhapatnam district in Andhra Pradesh, is one of those rare places in South India that boasts of snowfall makes this village an amazing place. Throughout the year, the temperature there ranges from 0°C to 10°C, earning it the nickname, 'Kashmir of South India'. Better go there before the others do.
3. Osian, Rajasthan
Osian village in Jodhpur district in Rajasthan is a delight for those who love historical architecture and the fact that you get to see all of it in an oasis in the Thar Desert makes it a double whammy. The 8th to 11th century temples there make this village a must-visit destination.
4. Keibul Lamjao on Loktak Lake, Manipur
Keibul Lamjao, in Bishnupur district in Manipur is the world's only floating park and it's also home to the endangered Sangai deer. The floating garden on Loktak Lake is a result of decomposing plant material, locally called phumdis. You have to see it to believe it.
5. Gavi, Kerala
We usually associate trekking with mountains and hills. But this is one wildlife trek you wouldn't want to miss. Located in Pathanamthitta district in Kerala, on the highway connecting Kollam and Madurai, Gavi is part of the Periyar Tiger Reserve. It is said that the only two gopher trees in India can be found in Gavi.
6. Kasar Devi/Crank's Ridge, Uttarakhand
If you're interested in the hippie-way of life but are tired of the huge number of tourists in Himachal Pradesh, you need to make it a point to visit Kasar Devi village near Almora in Uttarakhand. Crank's Ridge, or Hippie Hill as the locals call it, on the way to Kasar Devi temple is also a historical place for hippies. Legends like Allen Ginsberg, Bob Dylan and Cat Stevens are some of the few people who visited this place during the peak of the Hippie movement in the sixties.
7. Lonar Crater, Maharashtra
Located in Buldana district in Maharashtra, the Lonar Crater Lake was formed around 570,000 years ago due to a meteor impact. Owing to its high concentration of carbonate salts it's categorized as a saline soda lake. So, it's a soda lake formed by a crater. Enough said.
8. Krem Mawmluh & Krem Ri Blai, Meghalaya
Cave exploration hasn't taken off in a big way in India, which is really surprising considering there are so many options to do so in this country. Krem Mawmluh and Krem Ri Blai, in Mehgalaya, are natural horizontal and vertical caves respectively. Make it a point to visit them at least once in your life.
9. Killar-Kishtwar Highway, Himachal Pradesh and Jammu & Kashmir
You cannot be a true traveler until you go on an exciting road trip. Speaking of which, the one trail you need to experience is the treacherous but life-changing ride from Himachal Pradesh to Jammu & Kashmir through the Killar-Kishtwar Highway. Not for the faint hearted, this scenic mountain pass is even more fun if you're traveling with fellow bikers. Just keep yourself updated on news about landslides and roadblocks.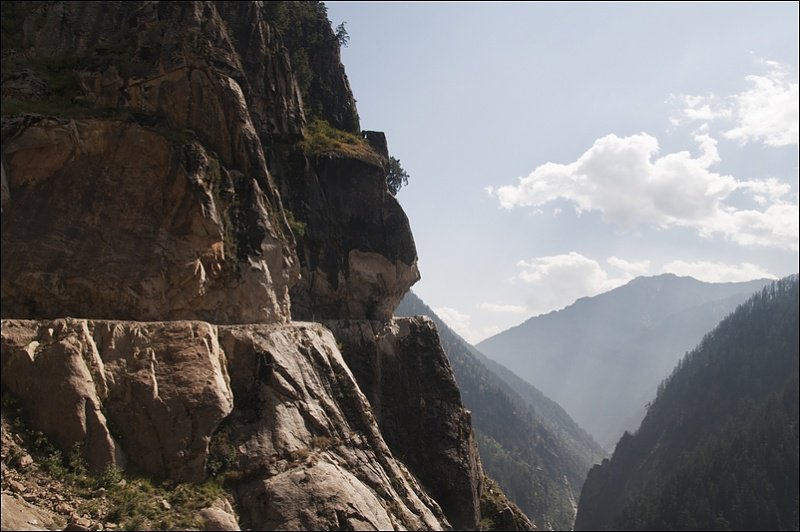 10. Ziro, Arunachal Pradesh
Ziro is a town in the Lower Subansiri district in Arunachal Pradesh and it has been hosting the Ziro Festival of Music for the past three years. But here's the thing – the quaint little town is so attractive, that even without a crowd pulling event, it would find a spot on this list.
11. Haflong, Assam
North-East India is dotted with hill stations but surprisingly, Haflong is the only one in Assam. The center of the Dima Hasao district, Haflong is known for its cool climate, local liquor and an overwhelming love of pork. The Haflong Lake is one of the most beautiful lakes in the entire North-east. Not visiting this hill town would be a huge mistake.
12. Wayanad, Kerala
This piece of trivia goes out especially to those trying to escape the city life for a while – Wayanad district is only 3.79% urbanized. Yep, lots of greenery here. Ancient history geeks can also trip out on the Edakkal caves where they can see actual pictorial writings from the Neolithic period.
13. Auli, Uttarakhand
We Indians usually tend to associate snow with places like Himachal Pradesh, Jammu & Kashmir or Sikkim but did you know Uttarakhand actually has one of the most exciting ski destinations? The picturesque town of Auli hosts the National Championships of Snow Skiing and right next to the Clifftop Hotel, the town also has the world's highest artificial lake.
14. Nuranang Falls, Arunachal Pradesh
Located about 2 km away from the town of Jang on the road connecting Tawang and Bomdila in Arunachal Pradesh, Nuranang Falls is one the most attractive ones in Northeast India. After a song from the 1997 Bollywood film Koyla was filmed here, the place attracted more tourists.
15. Unakoti, Tripura
The stone carvings in Unakoti in Tripura are one of the most detailed ones in India and yet, this place is rarely visited. As per Hindu mythology, when Lord Shiva was going to Kashi along with one crore gods and goddesses, he made a night halt at this location. He asked all of them to wake up before sun rise. It is said that in the morning, except Shiva himself, no one else woke up on time. So Shiva set out for Kashi on his own cursing the others to become stone images. Perfect for both spirituality and history enthusiasts, this is truly one of the most underrated places in the country.
A true traveler always experiments. Bring out the wanderer in you and choose any of the above spots for your next trip. You would be amazed by how much you might discover.
If you're looking for more places in India that are not crowded with tourists, check out ' 15 Unexplored Destinations In India No Traveller Can Afford To Miss '.