After indirectly calling Salman Khan 'poor', Shilpa Shetty's husband Raj Kundra has now targeted the badshah of Bollywood, Shahrukh Khan.
Apparently, the lyrics of Shahrukh's new Frooti ad which goes suck-it-a, lick-it-a, has irked Kundra, who has termed the ad as 'disgusting' .
He then went on to emphasize on the importance of words and tell the world how ignorance is dangerous.
After being involved in the IPL betting, it now seems that Raj Kundra finally wants to set a good example for his children by panning the Frooti ad with 'objectionable' lyrics. However his explosive tweets soon caught everybody's attention and he was quick enough to take a backtrack of sorts.
Nevertheless, like most people this was a bolt from blue for Shahrukh Khan as well.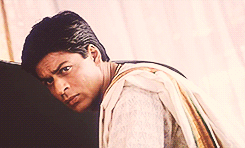 Source: Giphy
Are the lyrics really objectionable? Well, we leave it up to you to decide. Here's the ad in question: