While the process of a divorce can be heartbreaking, it doesn't always require a heartbreaking reason to cause one! As unpredictable as human behaviour is, it's no surprise that while some people spend a lifetime waiting for love, there are others who get irked by the pettiest and strangest of things and fall out of love.
Everyone has their reasons for ending a marriage. However, sometimes, these reasons are so bizarre that it's difficult to believe them at once. Here are 10 such cases in India where people sought divorce on the grounds of really strange reasons, some of which did not even go down well with the law!
1. This man was annoyed because his wife partied too much!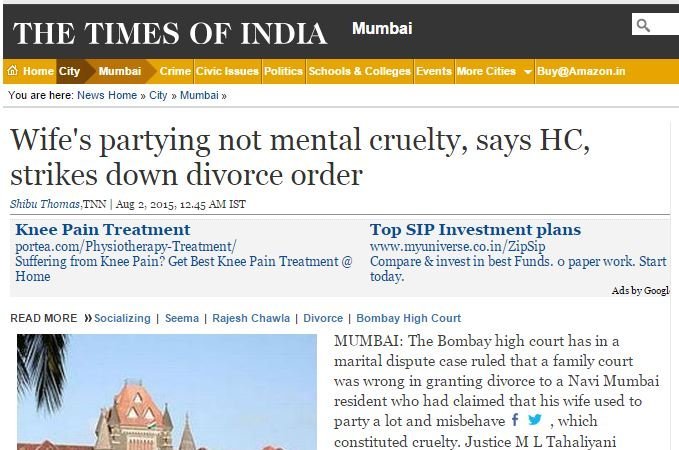 A sailor wanted to step out of marriage claiming that his wife's habit of partying too much was a form of mental abuse. The Bombay high court overturned the ruling of a lower court in 2011 that granted him divorce saying, "He is not entitled for a decree of divorce on the ground of cruelty".
2. This man was tired of his wife's demand for sex.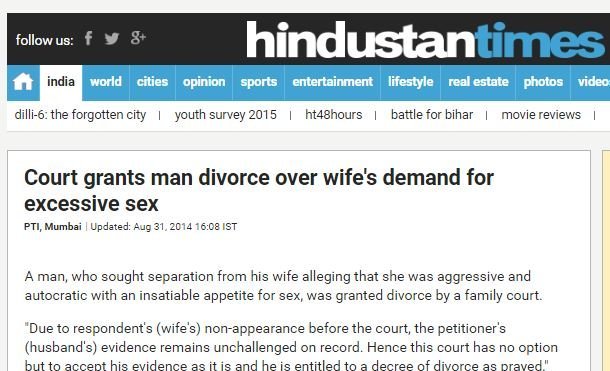 There have been cases where lack of sex became the bone of contention between a couple, that lead to people ending their marriage. But this one is quite the opposite! A Mumbai man termed his wife as a 'sex machine' and filed for divorce. He described that she had an "excessive and insatiable appetite for sex".
He also blamed her for forcing him to have sex even when he was sick, and threatened to sleep with other men if he did not give in to her demands!
Well, the court did lend an ear to his miserable condition, and granted divorce as his wife did not turn up in the court for hearing.
3. This wife preferred divorce over touching her husband's feet on Karva Chauth.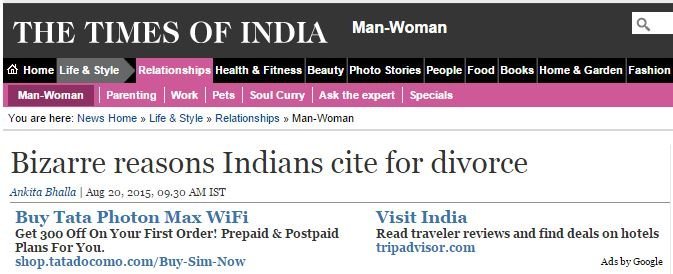 This woman didn't like the idea of touching her husband's feet on Karva Chauth and decided that they better go their separate ways.
4. Pimples on his wife's face disgusted this husband.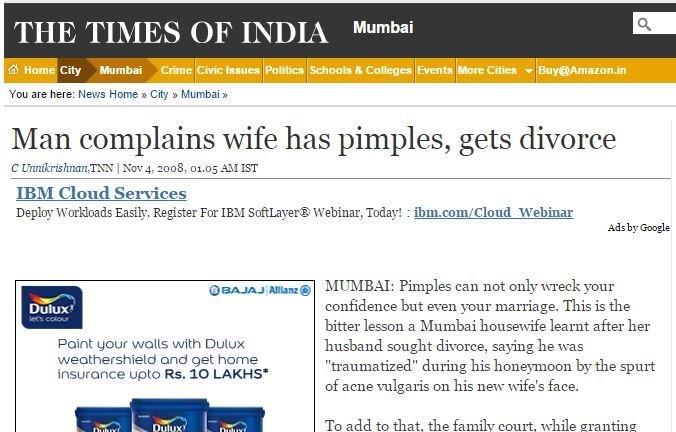 A husband was granted divorce when he sighted the reason that he was traumatized by his wife's acne problem, so much so that he was not able to consummate their marriage in 1998. He also added that the wife lied to him about her skin disease.
5. This husband thought of divorcing his wife because apparently, she didn't cook like his mother.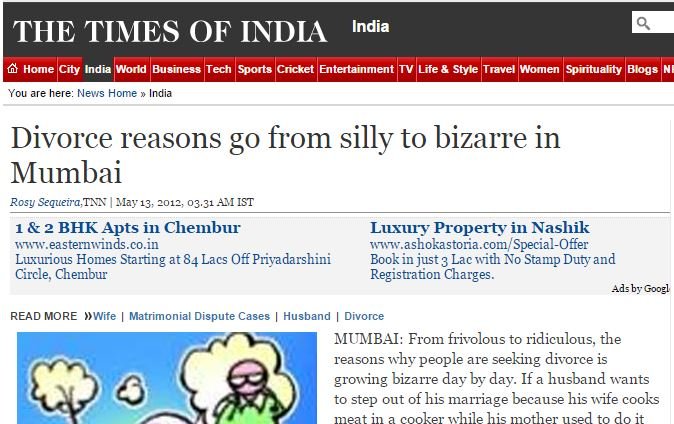 This husband relished the meat cooked by his mother, but hated it when his wife cooked it in the cooker, to an extent that he was ready to split-up.
6. This woman thought her husband's house was too small, so she filed for divorce.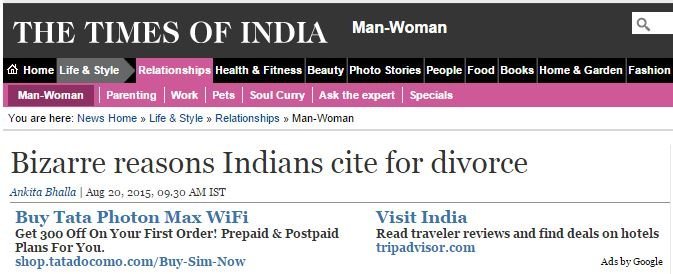 There have been cases where women sought for divorce because the house they used to live in prior to marriage was bigger than the house they were married into.
7. This husband did not like what his wife wore to the office.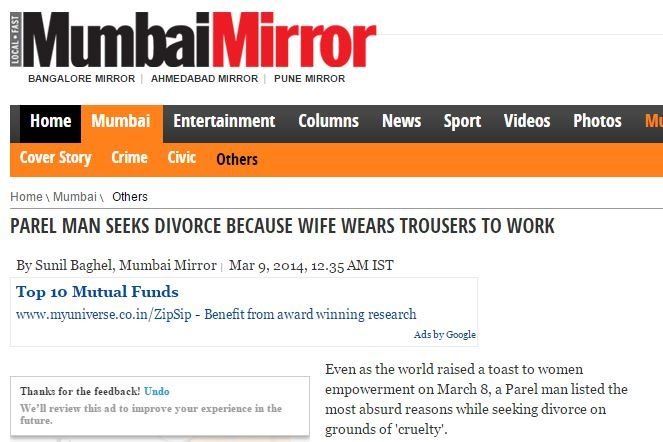 In another bizarre case, a man chose to end the marriage because he did not approve of his wife wearing shirts and trousers to the office, instead of traditional Indian clothes. His plea was rejected by the Bombay high court.
8. This woman got angry because her husband spoke to the doctor and the CA in his native tongue.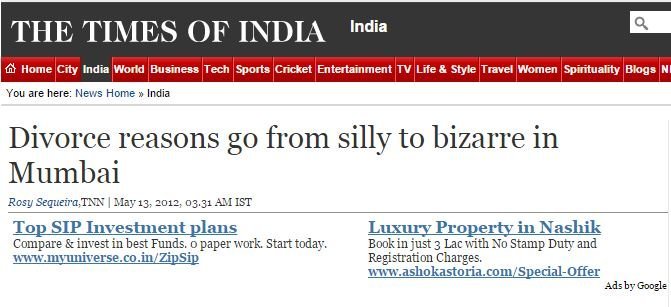 A couple from the North and the South Indian families fell in love and got married. What followed was the wife's annoyance when the husband used to talk to the doctor and Chartered Accountant in his native language and she couldn't understand a thing. She wanted him to change the doctor and the CA, he didn't agree and this angered her to an extent that she wanted a divorce.
9. Divorce followed when this wife refused to prepare tea for her husband's friends.

In 1985, a man was granted divorce because his wife refused to prepare tea for his friends, that caused him humiliation in front of them. And also because she aborted their unborn child without letting him know about the decision.
10. She wanted to separate because her husband was not presentable.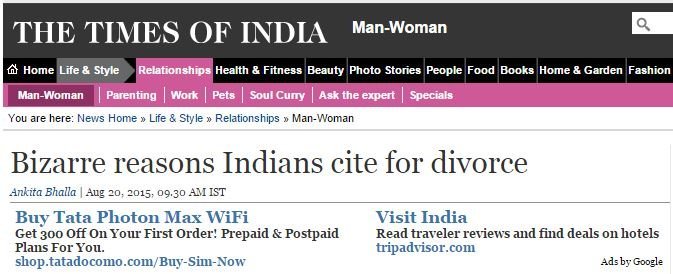 Clearly, there are women who prefer a good looking husband. And if the husband is not presentable enough, they don't hesitate in breaking up the marriage.
It may be possible that sometimes people resort to absurd reasons that are not convincing enough, to escape disclosing their real intentions. But whatever the reason is, no one can escape the pain of a divorce.