Union minister Kiren Rijiju on Tuesday said his remark on who was "polluting" the mind of an army martyr's daughter was aimed at "the Leftists" and noted that she was free to express her views.
Rijiju's comment came a day after he questioned whether someone was polluting 20-year-old Gurmehar Kaur's mind that drew flak from opposition parties. "I stand by my comments. Anybody who tweets on social media platform should be careful. But anyone with a contrary view should be allowed to speak. Gurmehar is a young girl and she should be allowed to speak her mind," he told reporters in Delhi.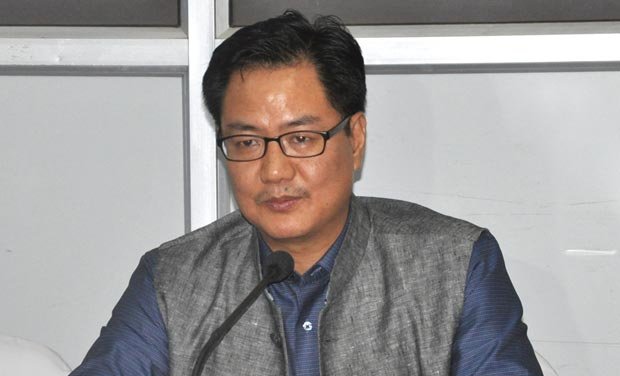 "When I said somebody is polluting her (Gurmehar's) mind, I meant the Leftists," he said. Kaur had started a video campaign 'Not Afraid of ABVP'. The Union minister of state for home said if there was any threat to Kaur, it should be dealt with sternly.
This is what he had tweeted:
Who's polluting this young girl's mind? A strong Arm Force prevents a war. India never attacked anyone but a weak India was always invaded. https://t.co/gXHkAGi9sh

— Kiren Rijiju (@KirenRijiju) February 27, 2017
Everyone has right of views but she said Pakistan didn't kill our brave martyr & India should shun war. India never perpetrated violence! https://t.co/2b8SHLdPRg

— Kiren Rijiju (@KirenRijiju) February 27, 2017
Freedom of expression is not a licence to shout anti-national slogans in campuses. Criticise the govt but don't abuse the motherland. https://t.co/3iqyqeLdJe

— Kiren Rijiju (@KirenRijiju) February 27, 2017
"But someone is playing politics over the issue," he said. Rijiju also slammed the Leftists for their stand, saying whenever Indian soldiers die, "they always celebrate". "In 1962 when the Chinese were fighting with us, the Leftists supported the Chinese. Even today when our soldiers die, they celebrate. They also go to the universities and try to mislead our youth," he said.
Rijiju described Delhi Chief Minister Arvind Kejriwal as an "anarchist", saying he was siding with some students who were creating turmoil in Delhi University. The minister asked the Congress to stay away from the universities as they have "no ideology".
Dynastic party, pls stay away. It's a nationalists vs far-leftists ideological battle. People will decide what suits to make a strong India. pic.twitter.com/n9GZmN2dqa

— Kiren Rijiju (@KirenRijiju) February 28, 2017
Rijiju's comments on Monday had come amidst the ongoing row over the clashes between the Left-affiliated AISA and the RSS-backed ABVP in Ramjas College in Delhi.
Kaur, daughter of Captain Mandeep Singh, who was killed by militants in Jammu and Kashmir in 1999, made a video asking India and Pakistan to amicably settle their disputes. She had held a placard, saying, "Pakistan did not kill my dad, war killed him." Kaur had claimed that she was getting "rape threats" from unknown persons after she spoke against the ABVP.