The Supreme Court is hearing a number of petitions seeking to legalise marriage equality. It's a consolidation of cases brought by several LGTBQIA couples and opposed by the government. As the hearing entered day 6, there was a lot said and the discussion certainly gained momentum.
While the petitioners are being led by senior counsel Mukul Rohatgi, SG Tushar Mehta is representing the central government. Sr Advocate Menaka Guruswamy also made some note-worthy points during the hearing. On day 6, Solicitor General Tushar Mehta continued his submissions on behalf of the state.
And here's everything that has been said so far.
"Petitioner wants a new class to be created for a new object. That was never conceived. There is no positive obligation on state to recognize all personal relationships."

Tushar Mehta
Responding to SG Tushar Mehta on 'human' concerns shared by the government.
"From that point of view, we would be more than willing to have the government make a statement before us. You have ministries dedicated for this purpose- social justice and empowerment, ministry for women and child development."

CJI DY Chandrachud
"But if your lordships were to read "person" in place of husband or wife, one person will have right to claim maintenance from another. Meaning, in case of heterosexual marriages – husband can claim from wife."

Tushar Mehta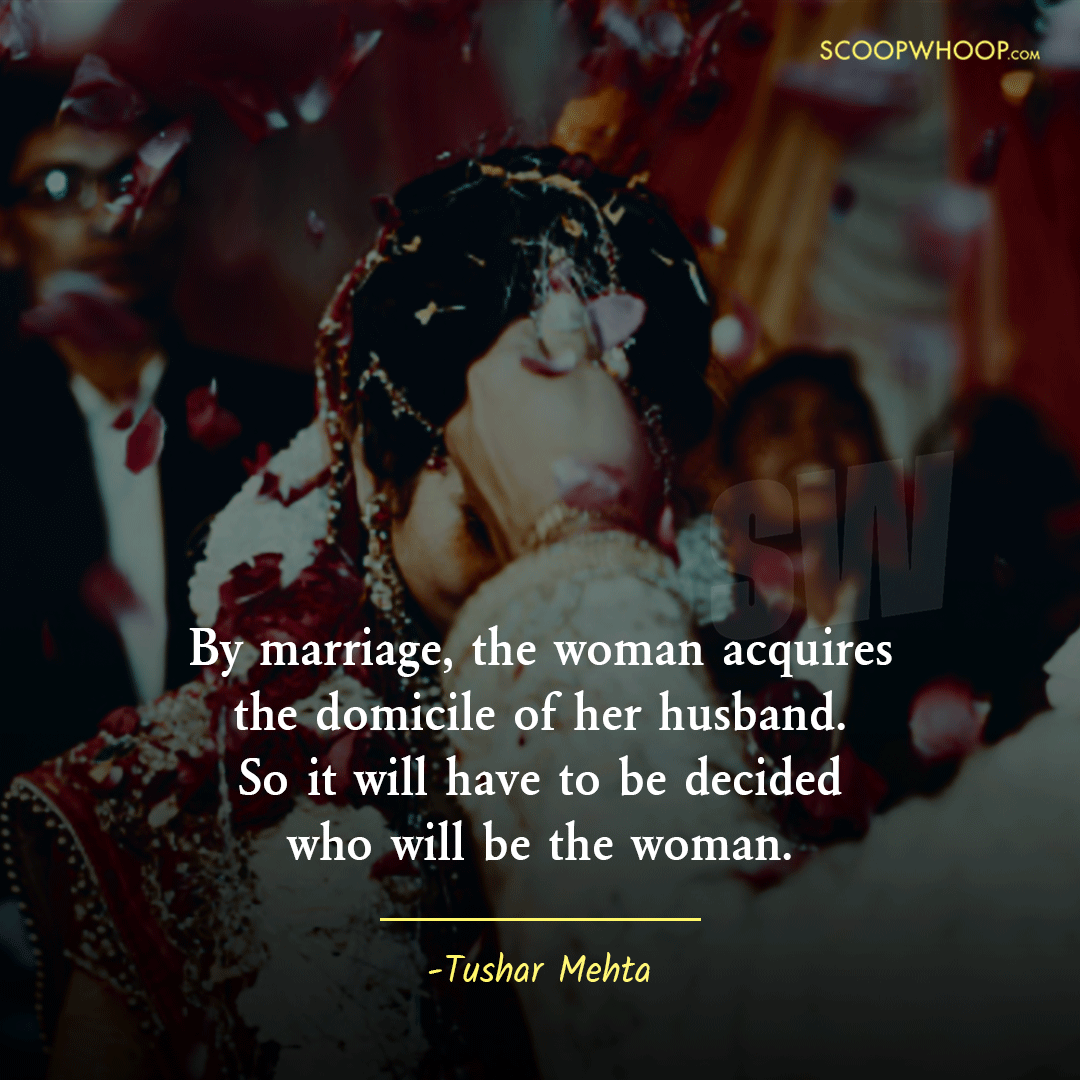 "Right to love or cohabit or choose a partner is there but there is no fundamental right to seek recognition of that relationship as marriage."

Tushar Mehta
"Please visualise a situation five years down the line: I am attracted to someone in the prohibited relationship. Incest is not uncommon across the world and it is prohibited. Someone is attracted to the sister and claim autonomy and is doing something in private domain. Now, cannot this be challenged saying how can this be prohibited?"

Tushar Mehta
Responding to SG Tushar Mehta.
"Sexual orientation and autonomy cannot be exercised in all aspects of marriage". It cannot be argued that sexual orientation is so strong that incest be allowed."

CJI DY Chandrachud
"There are genderless people, gender as per mood swings; cannot reconcile with statutes."

Tushar Mehta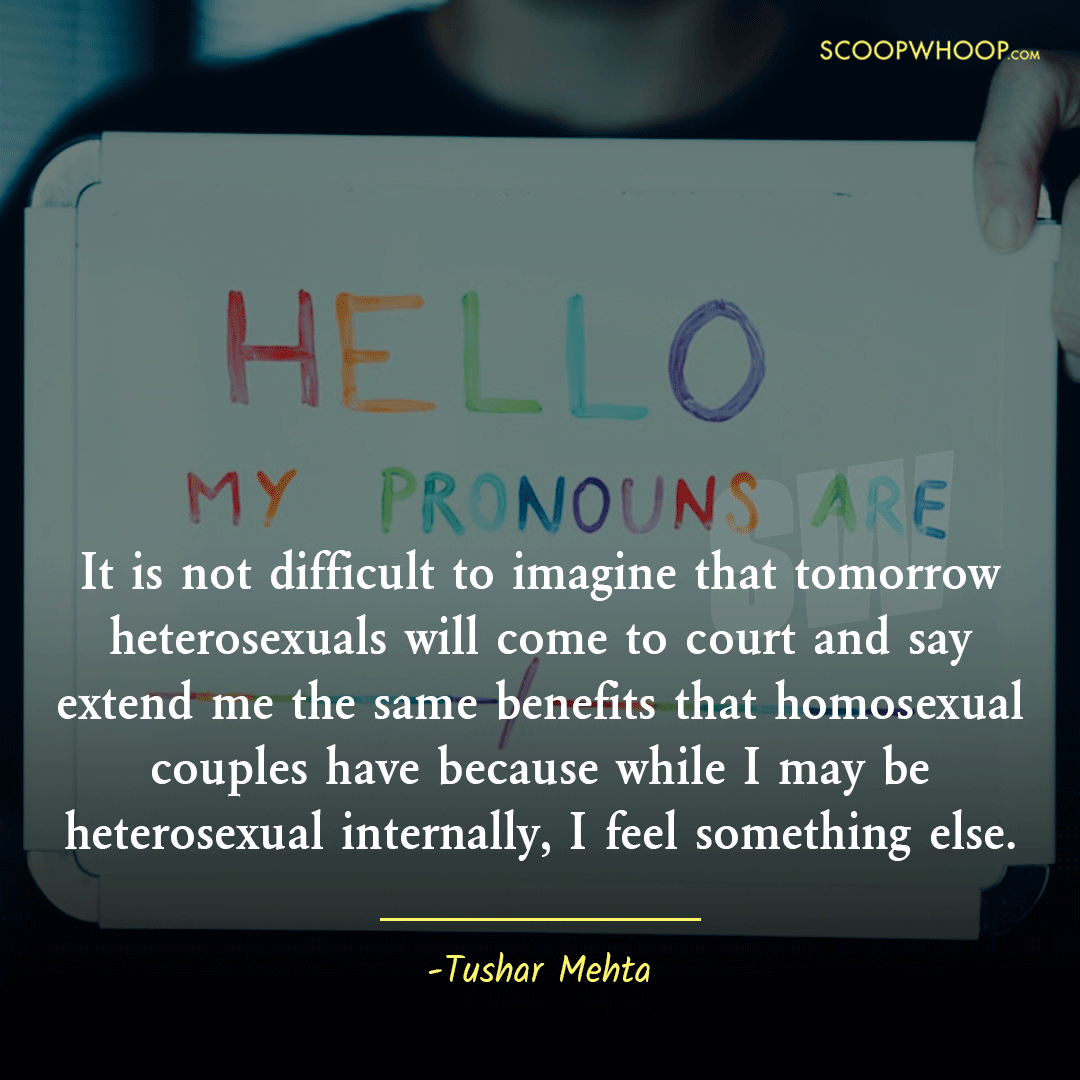 "When it comes to the question of having children, it is true that not all couples choose to procreate. But, as a married couple, having a child is part of human experience…Something that [queer] couples may long for."

Karuna Nundy
"LGBTQ couples will come to courts with claims, as these issues arise, just as heterosexual couples have, from the time codification of matrimonial laws began. We are no different, and we ask for the right to not be different."

Arundhati Katju
"Let us be blessed just as heterosexual couples are…Not elite at all. So many people have called me…from Hissar, Chhattisgarh, Surat…Let the union bless us just as they do any other couple."

Karuna Nundy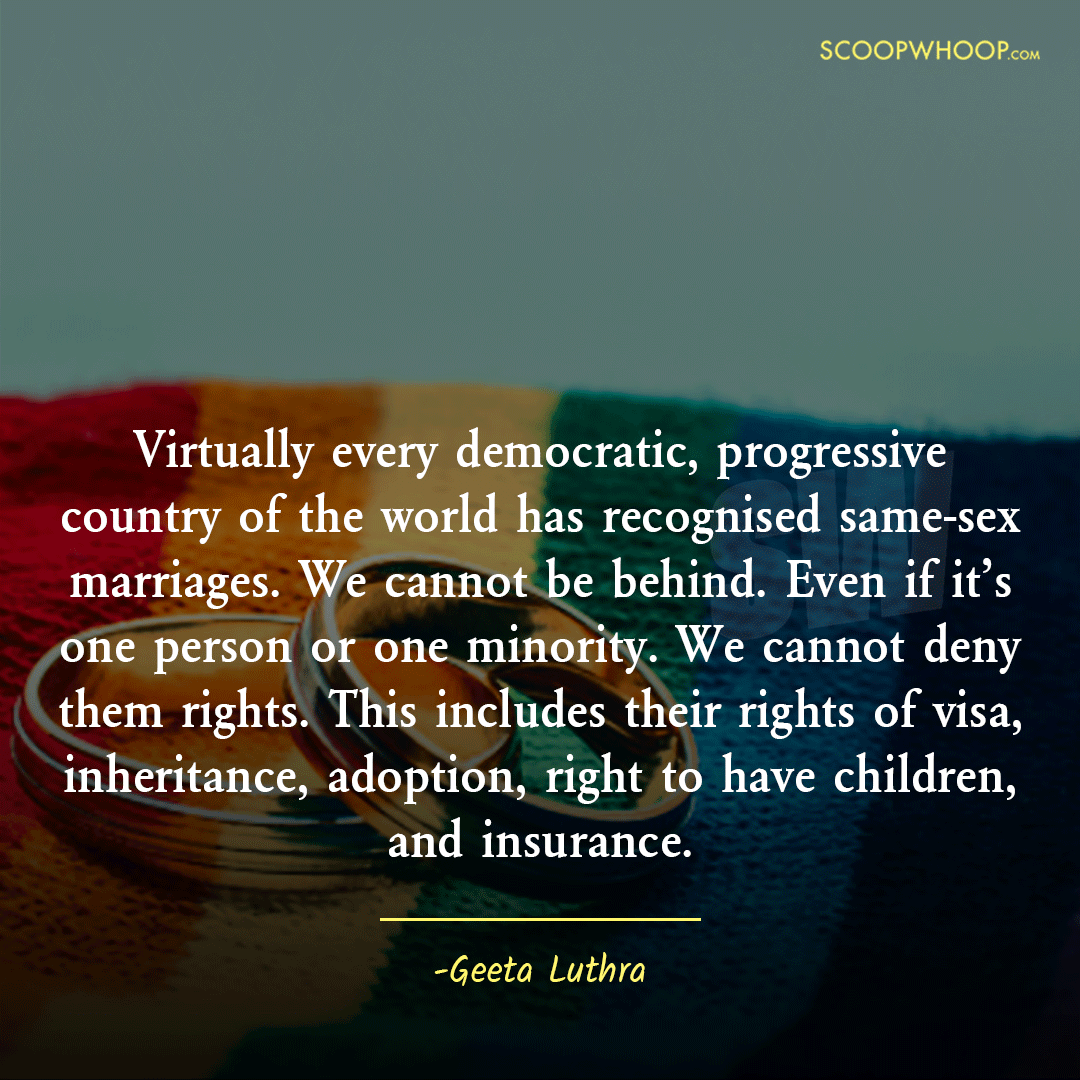 "The LGBTQ should have a right to a life of dignity and to the institution of marriage and family which is available to others."

Mukul Rohatgi 
"I cannot buy SCBA medical insurance despite being a member. This is a reality of how rights are exercised. One facet is the constitutional value of dignity, equality, fraternity and liberty and the other facet is the day-to-day business of life. The business of life is all of these things."

Menaka Guruswamy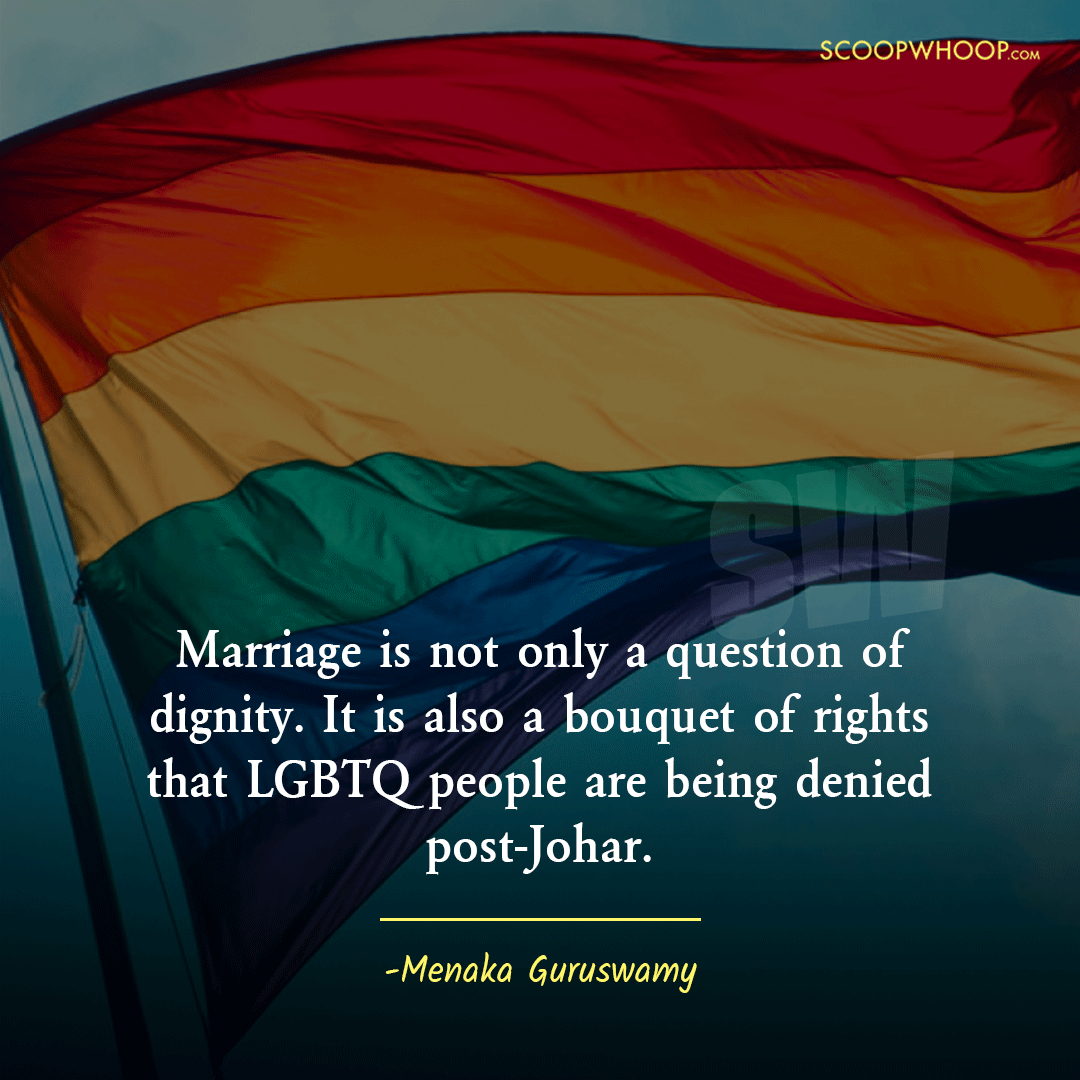 "You can't trump equality principles by reference to societal values. If I'm here on exclusion, based on discrimination, then assuming- I'm not at all accepting that societal values make it outside, but if they were, they cannot trump non discriminatory principles."

Abhishek Manu Singhvi 
"Now that we've understood broadly the canvas of the matter, we can at this stage, steer clear of personal law. It may not be necessary for the court to then get into personal law."

CJI DY Chandrachud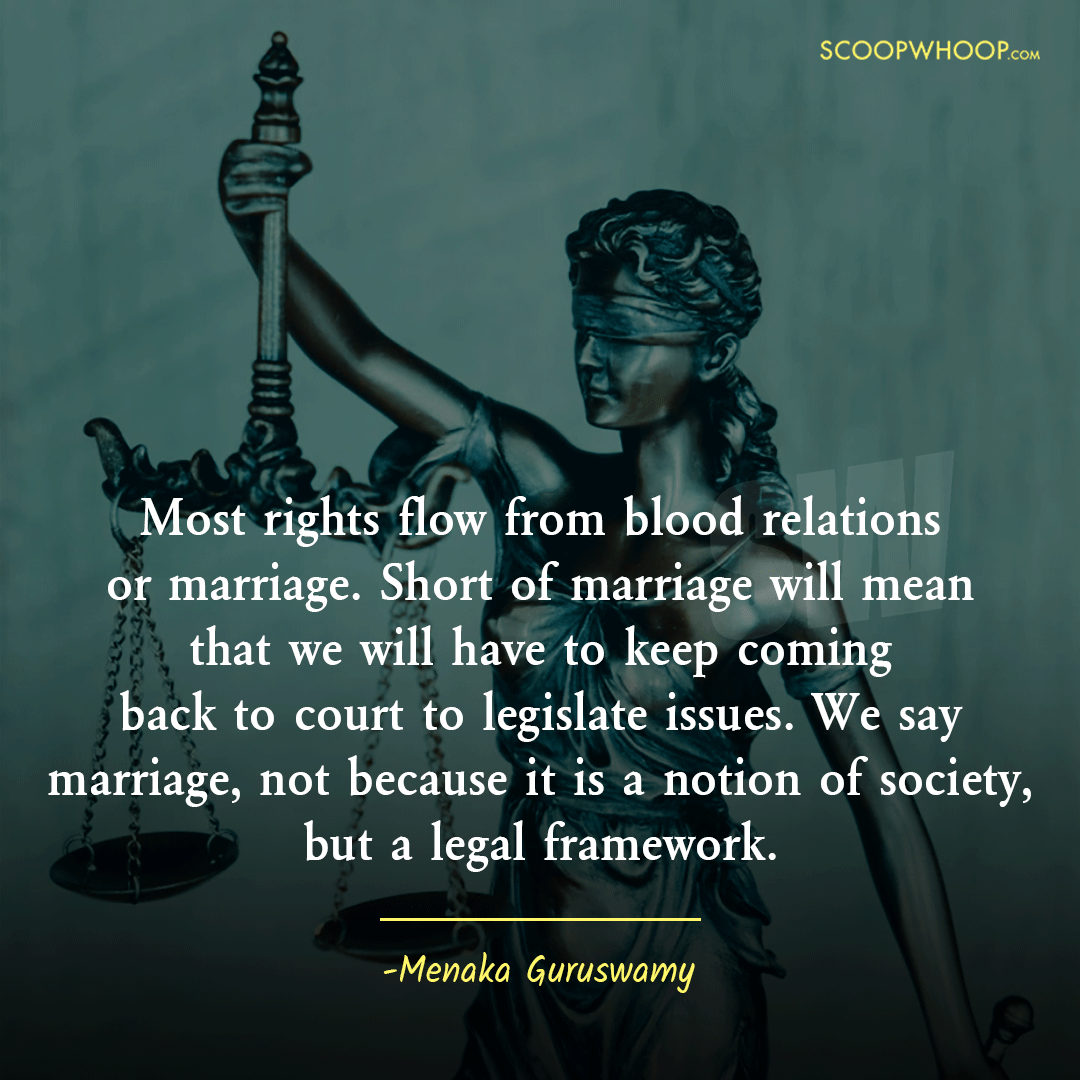 "It may require more visits to court. We can't say. But we cannot say that it'll be possible to work out all possible nuances now. If you say you don't want to touch personal law, then the argument is limited. So can we in SMA, read "person" and leave everything else for a better time?"

Justice SK Kaul
"We are misdirecting the question. It's not about protection or privacy or equality of the LGBTQ but the right of conferment of a socio legal status and whether that can be done by judicial legislation."

Tushar Mehta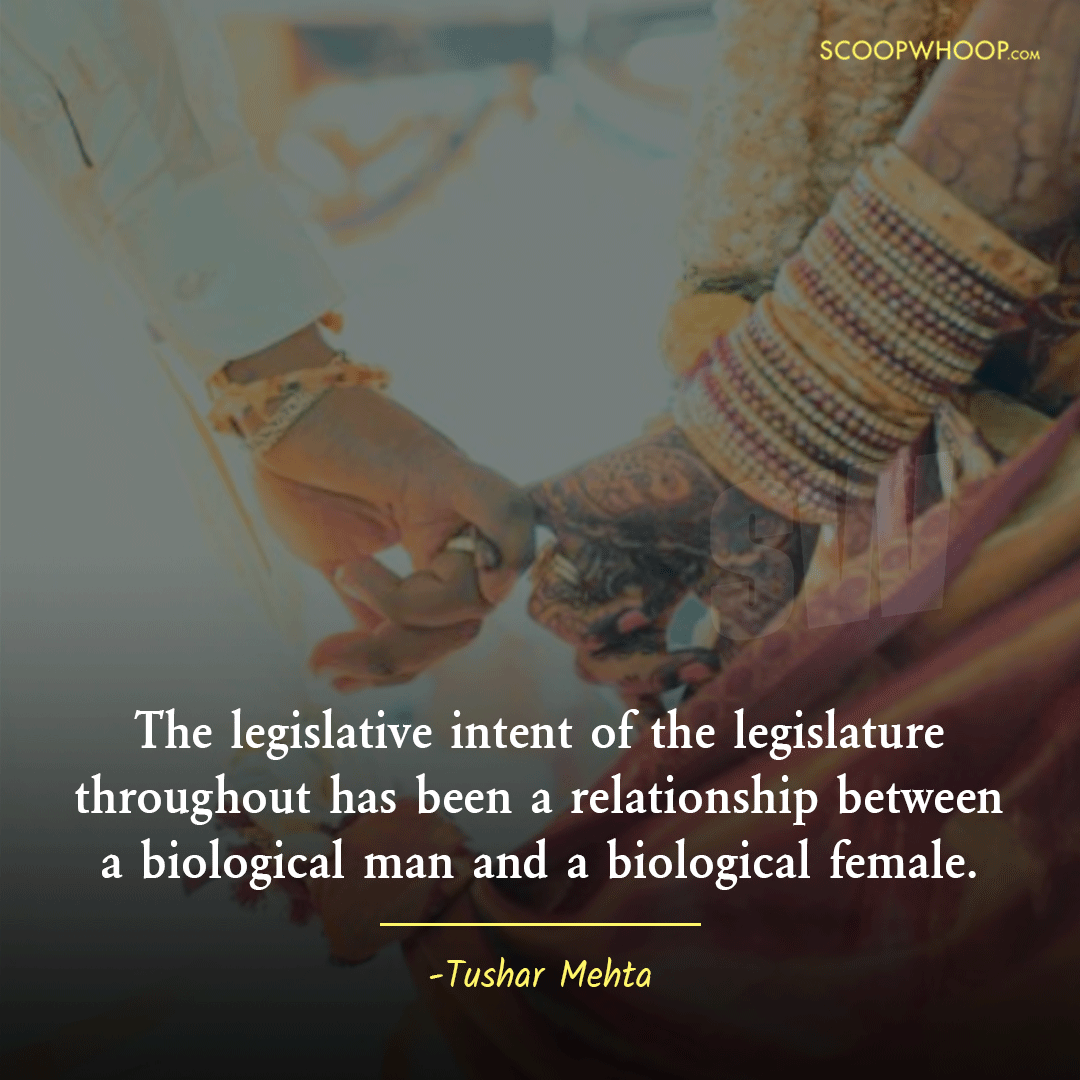 "If I have a right and that right is being clouded by the majority or by the state accepting the majority as correct, I have a right to come to this court and this court will fail its duty if it fails to remedy it & says go to parliament."

Mukul Rohatgi 
"Under the Transgender Act, Kinnars, Aravanis, Hijras, Jogtis are recognised as a separate class."

Karuna Nundy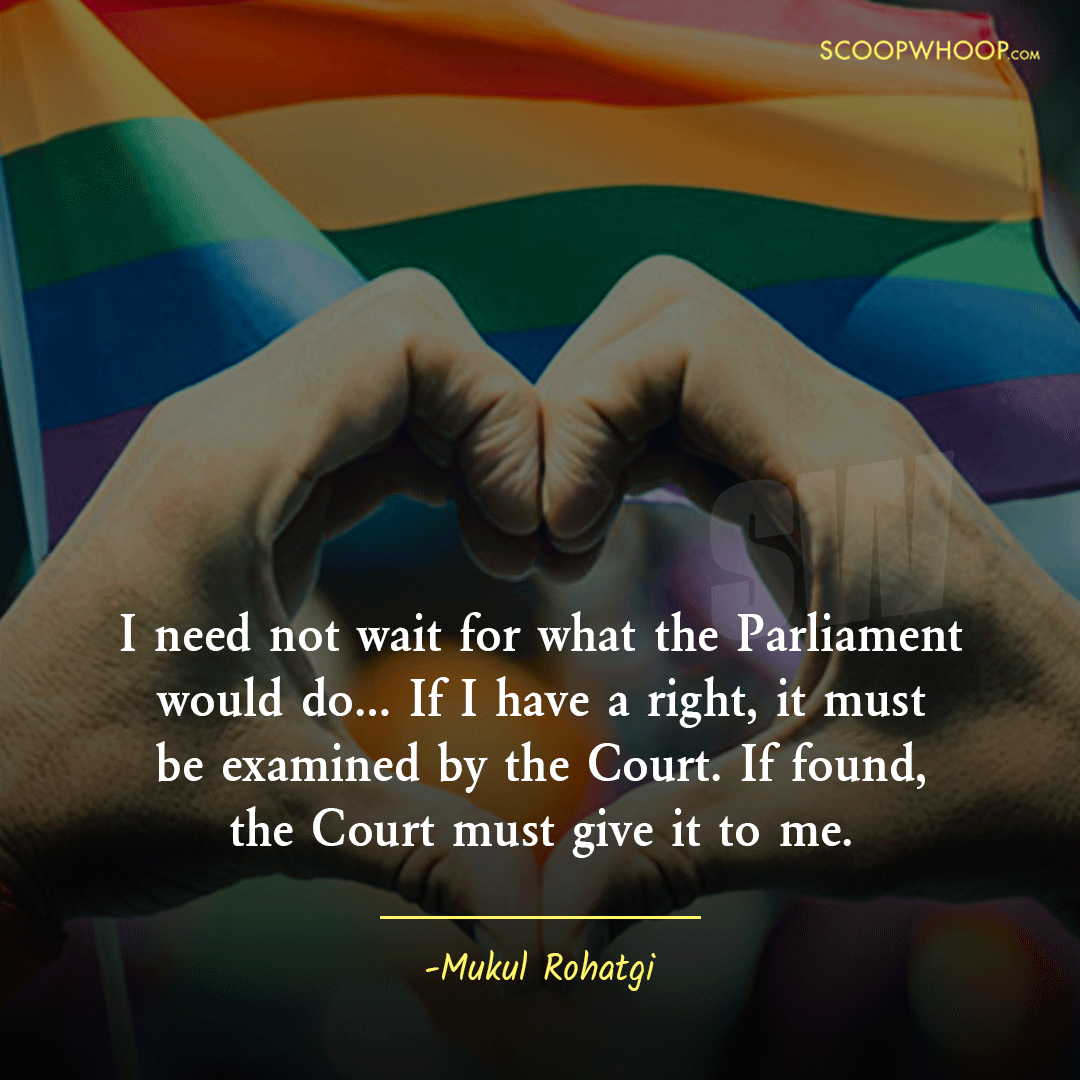 "The value of the right is such that the state is under an obligation to protect you. What prevents the state from protecting you even now?"

Justice Ravindra Bhat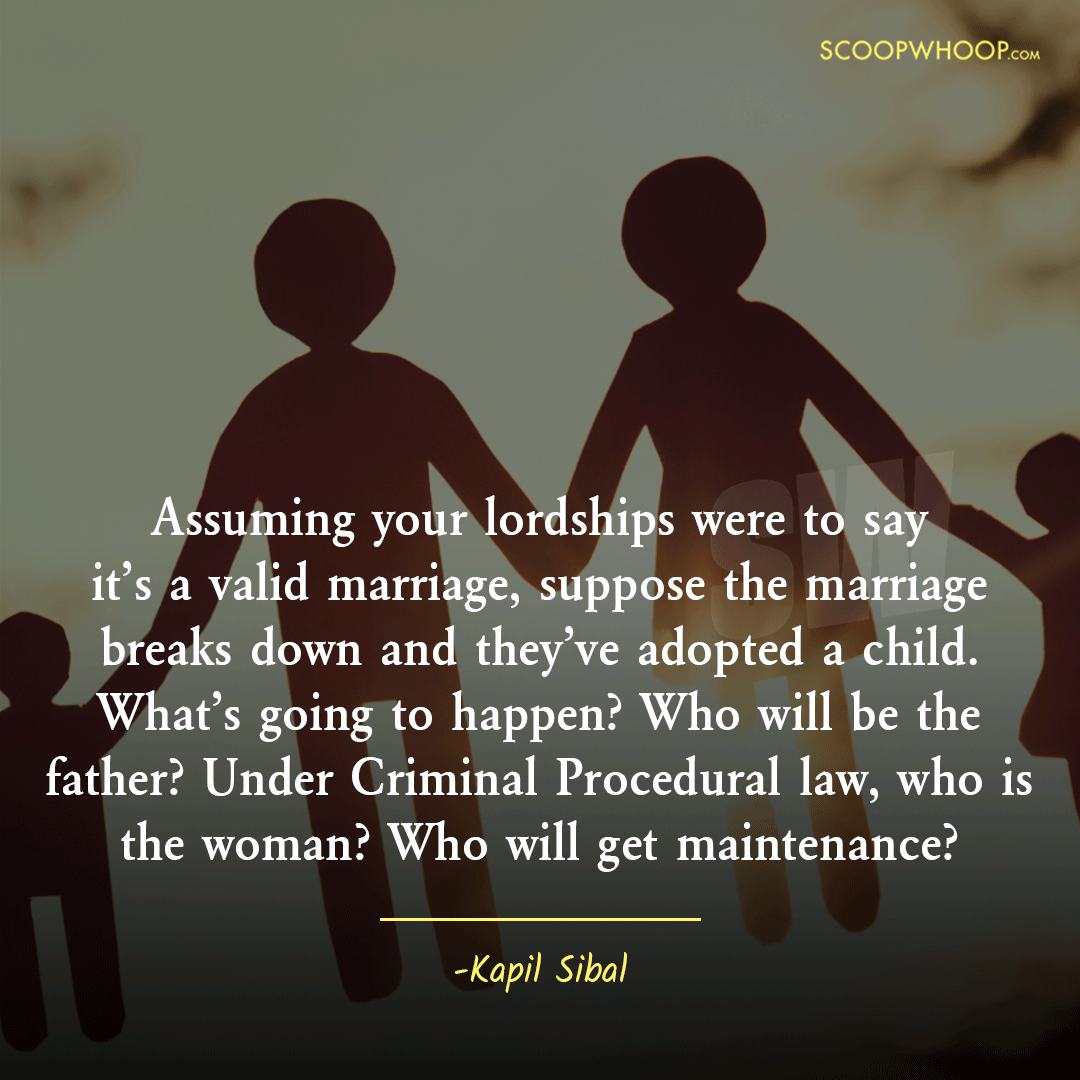 "State cannot discriminate against an individual on the basis of a characteristic over which the individual does not have control."

CJI
"Before the petitioners start, I have placed one document on record. In continuation of my request that states be heard. Union of India has written to all Chief Secretaries that their views could be given"

Tushar Mehta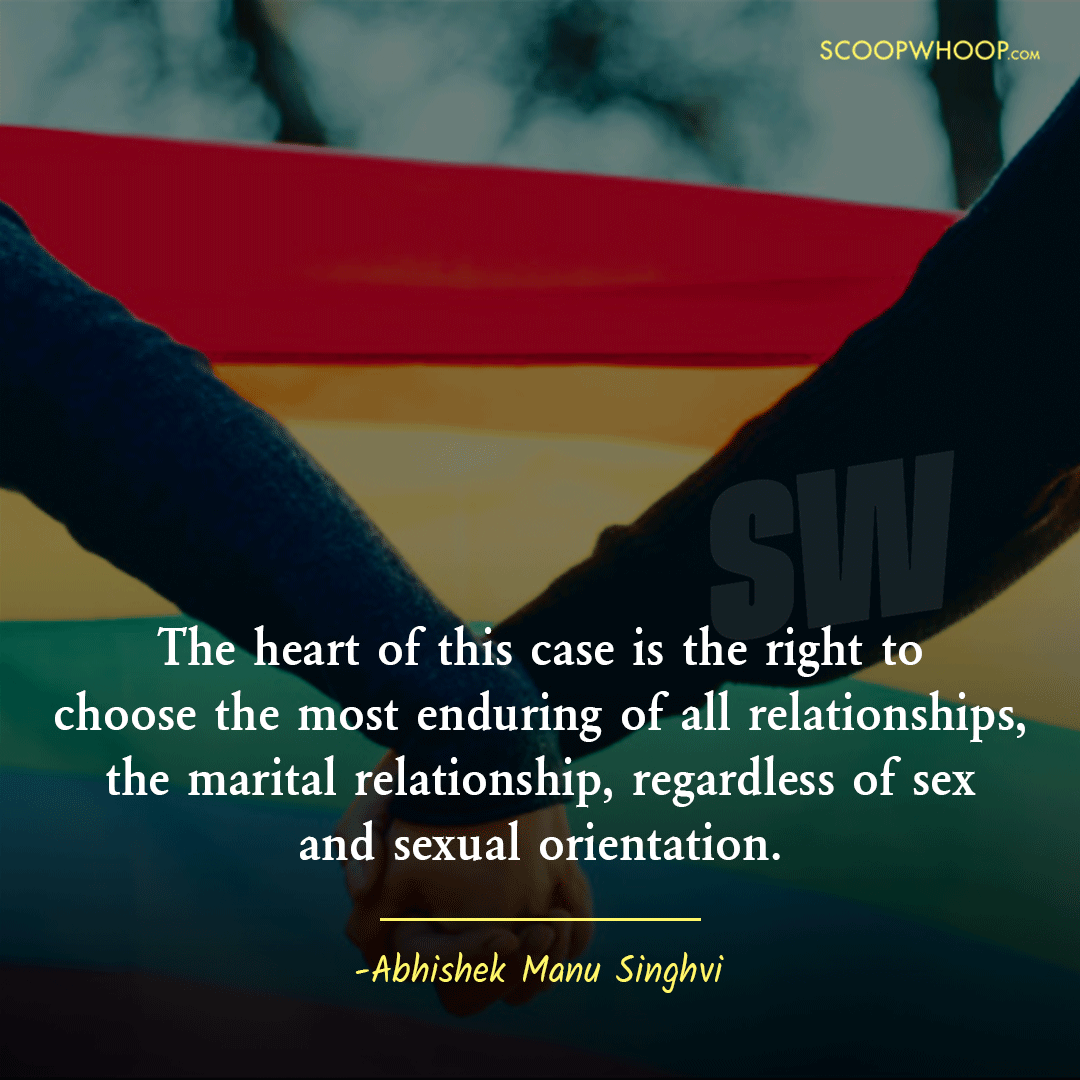 "Everyone should get equal concern and respect and it is the core of dignity, and not to send a message that any individual is less worthy because of their descriptive characteristics and with it comes the ability to participate on an equal footing."

Abhishek Singhvi 
"It is not an elitist concept that I have acquired today. It's innate, my rights include marriage, companionship, having a family. The right to make a personal choice will include the right to marriage. It's not just the LGBT community, I include their families too, who have faced a lot"

Mukul Rohatgi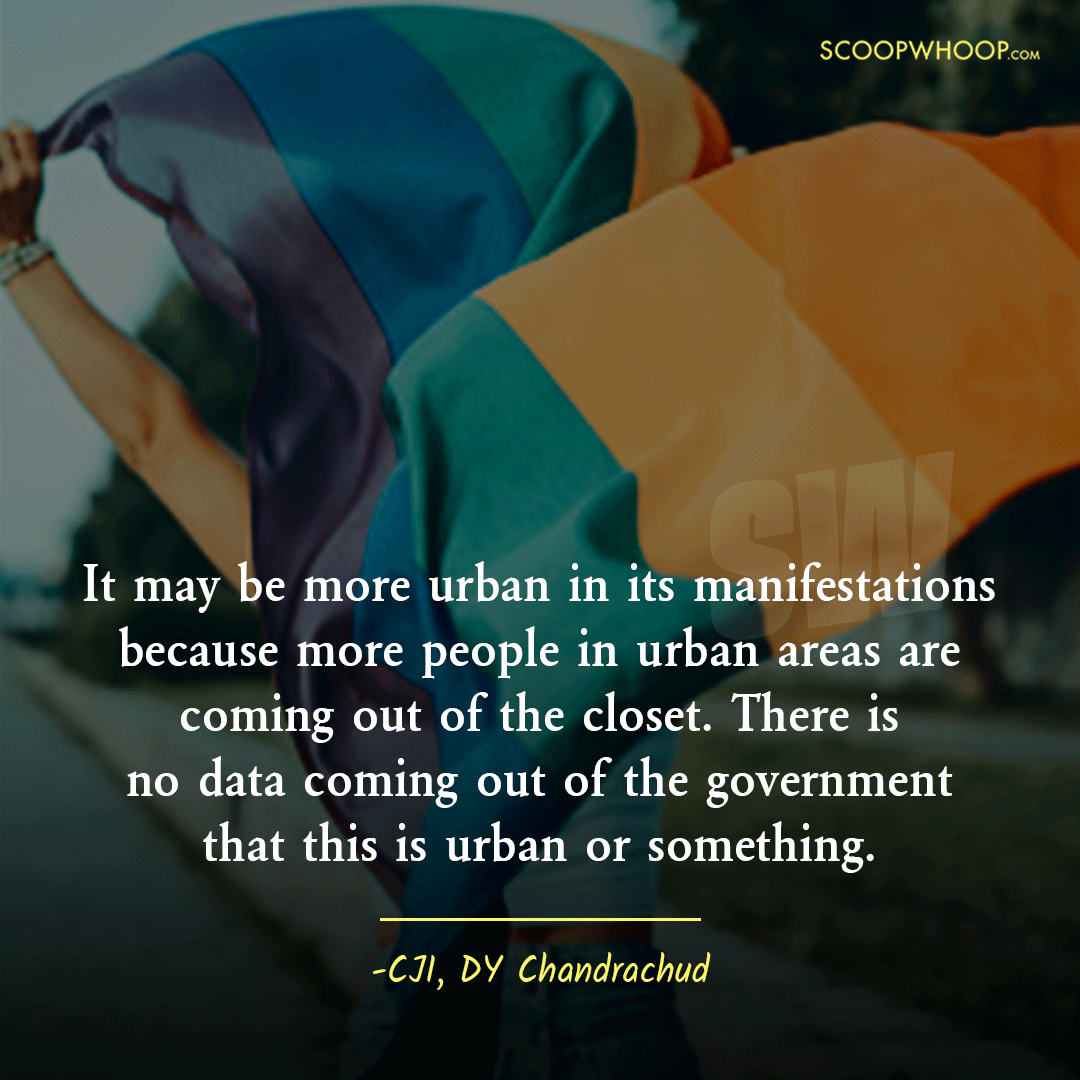 "I am equal to heterosexual groups and it cannot be so that their sexual orientation is correct and all others are incorrect. I am saying let there be a positive affirmation…We should not be treated as lesser mortals and there will be full enjoyment of the right to life"

Mukul Rohatgi
"Procreation, in today's scenario, can also include adoption, IVF, surrogacy- it need not only be procreation in one form."

Mukul Rohatgi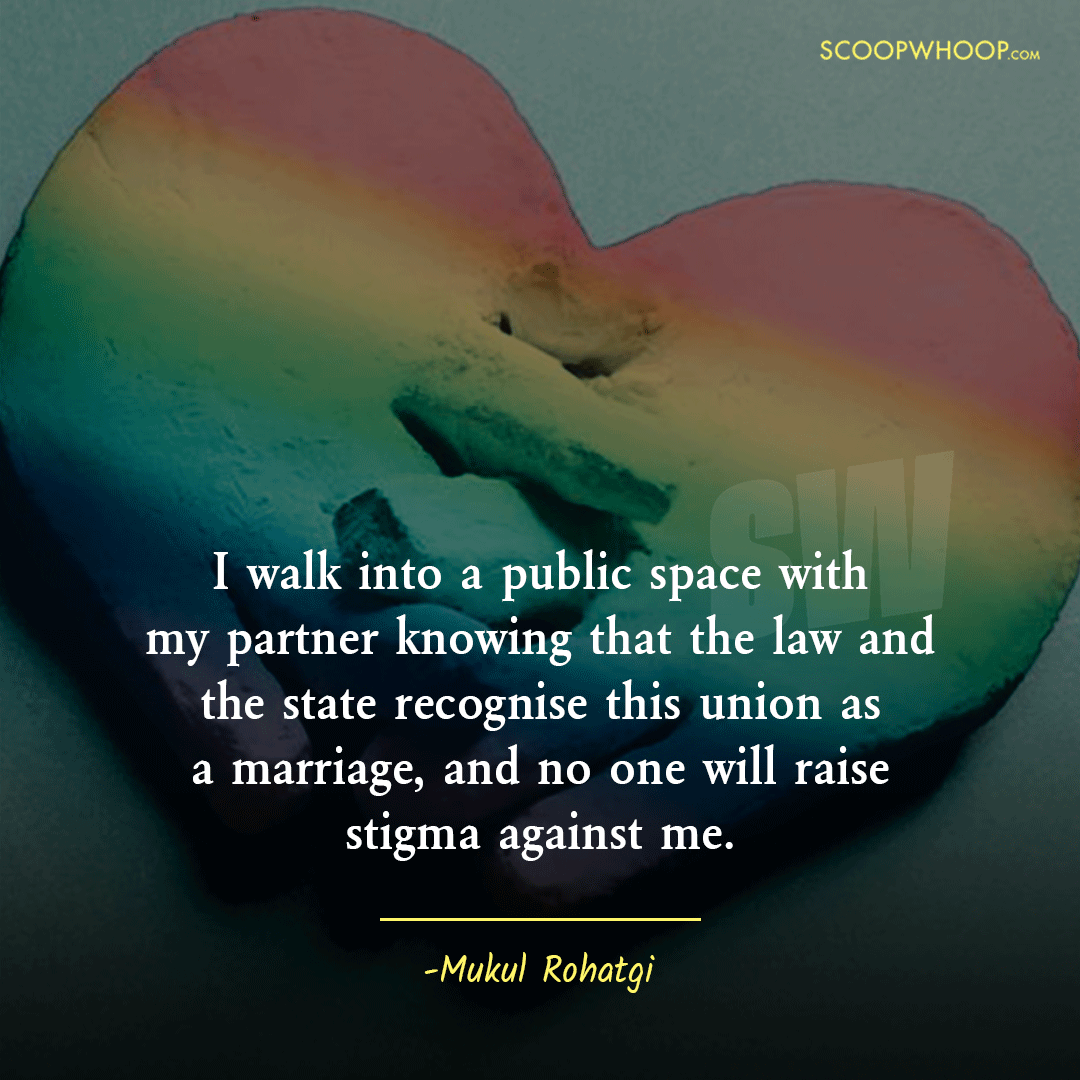 "It may be the CJI's personal view… It may not be a proper reflection of the child's psychology when groomed by such couples."

Tushar Mehta
"Concept of marriage has changed over last 100 years. Earlier we had child marriages, temporary marriages, a person could marry any number of times – that also changed. There was a lot of protest to the new avatar of Hindu marriage act."

Mukul Rohatgi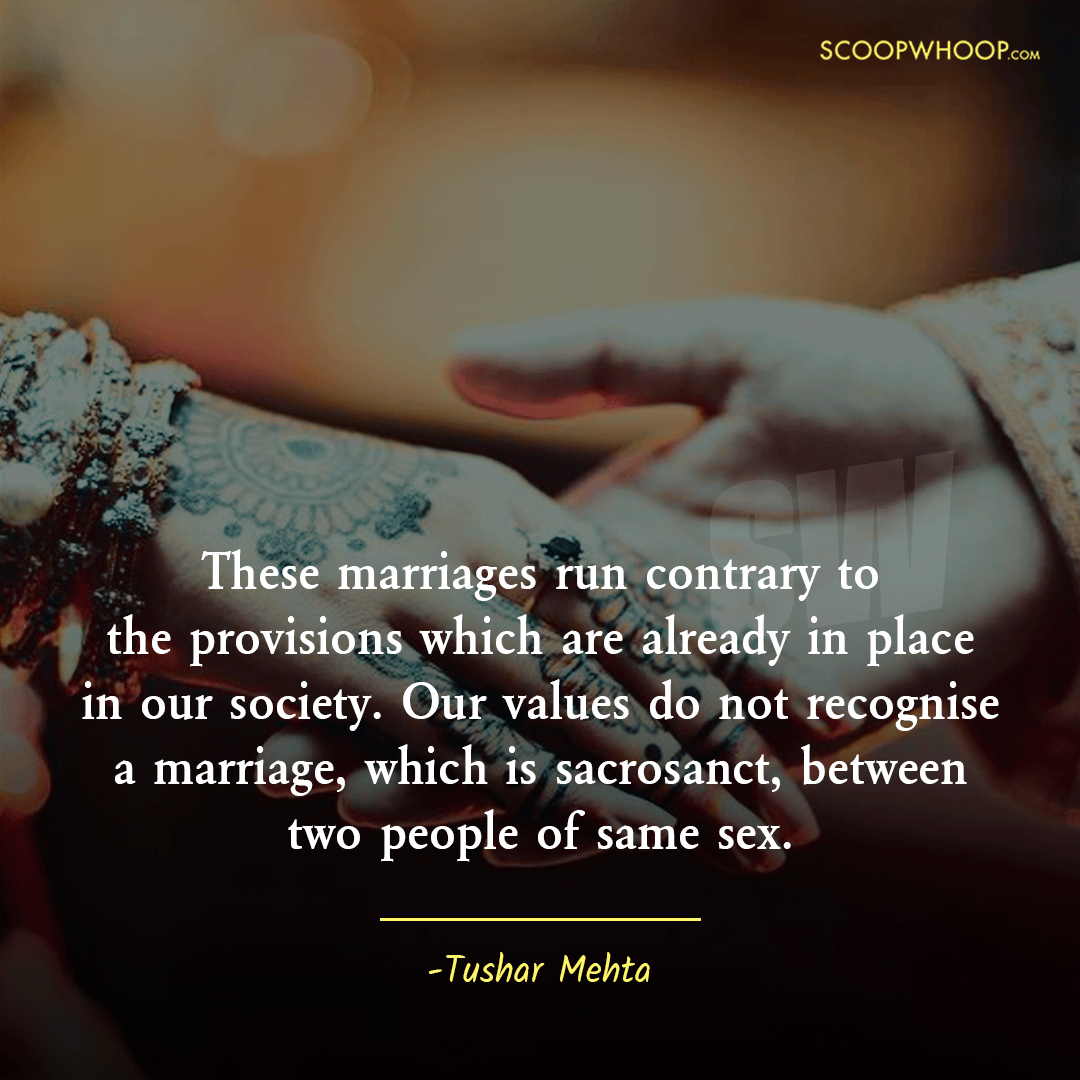 The arguments will resume on May 3.