From people to countries to mother nature, the world has been through a lot in the past 365 days. Even though we're very close to 2016, we can't forget the struggles of the year gone by.
So here are photos of 22 such moments that broke hearts around the world in 2015:
1. A rescue worker throws a flower at the 'The Eastern Star' Chinese cruise ship 7 days after it capsized under a storm on 1st June, killing 442 and leaving only 12 survivors.
The seventh day according to Chinese tradition is an important day to mourn those who have died.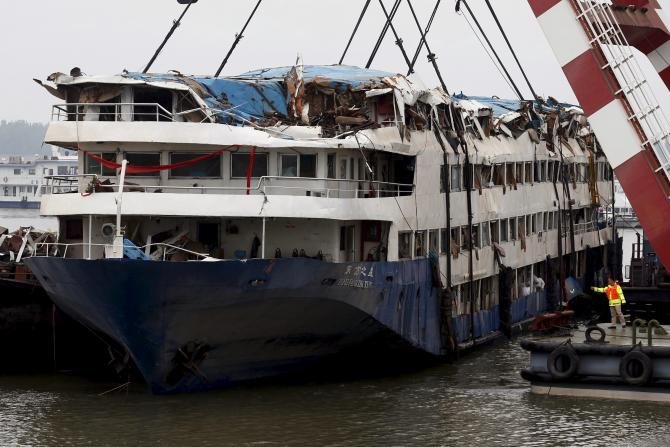 2.  Little ones commute on the shoulders of their elders during the Chennai floods in December.
The mammoth flood wreaked havoc for a month and it will take a lot of time for residents to rebuild their lives.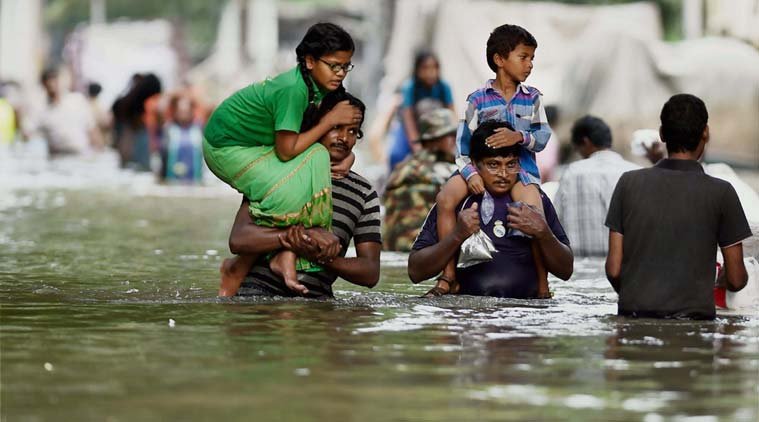 3. An officer stands above the body of Alan Kurdi. The 3-year-old died when a boat carrying Syrian migrants to Greece capsized and his body was washed ashore.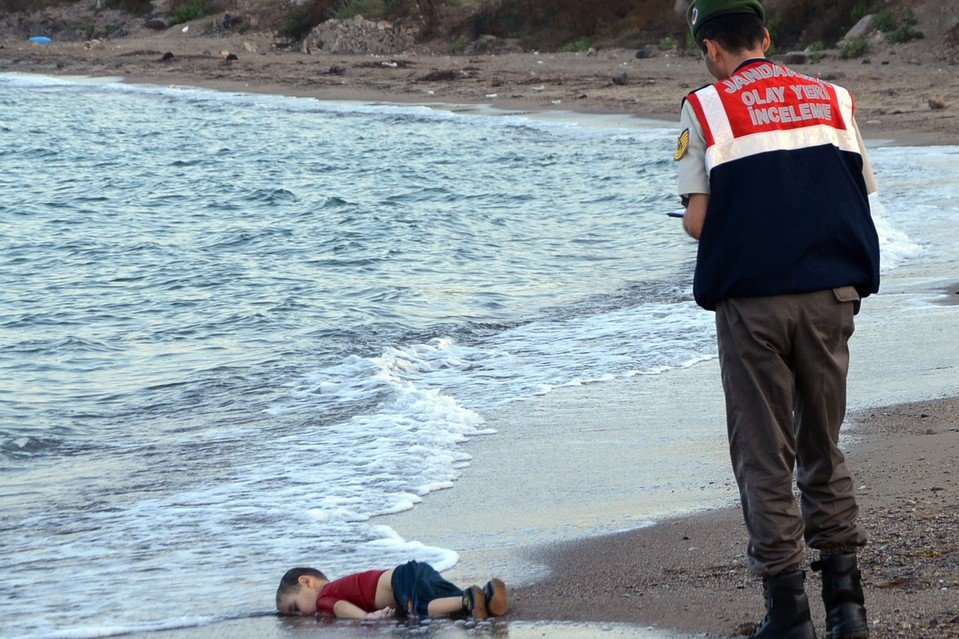 4. A little girl's shoe pulled from the wreckage of the Russian Airbus A321 signifies how the 224 innocent people on board lost their lives in a war they weren't a part of.
The Metrojet Flight 9268 airliner was reportedly bombed on 31st October. Islamic State in Iraq and the Levant branch in Egypt claimed responsibility.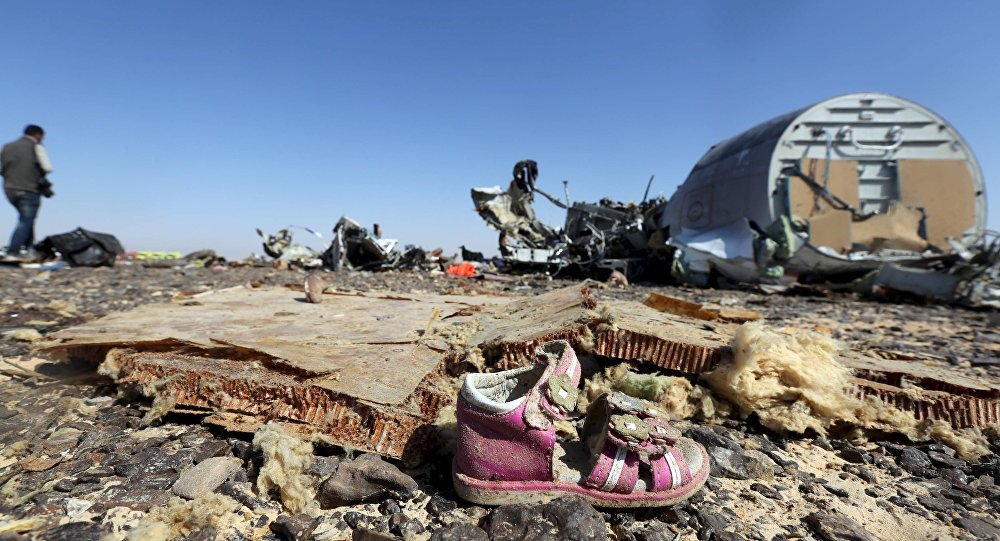 5. A man runs through the debris left by the 7.8 magnitude earthquake that struck Nepal on 25th April. It killed over 9,000 people and injured over 23,000.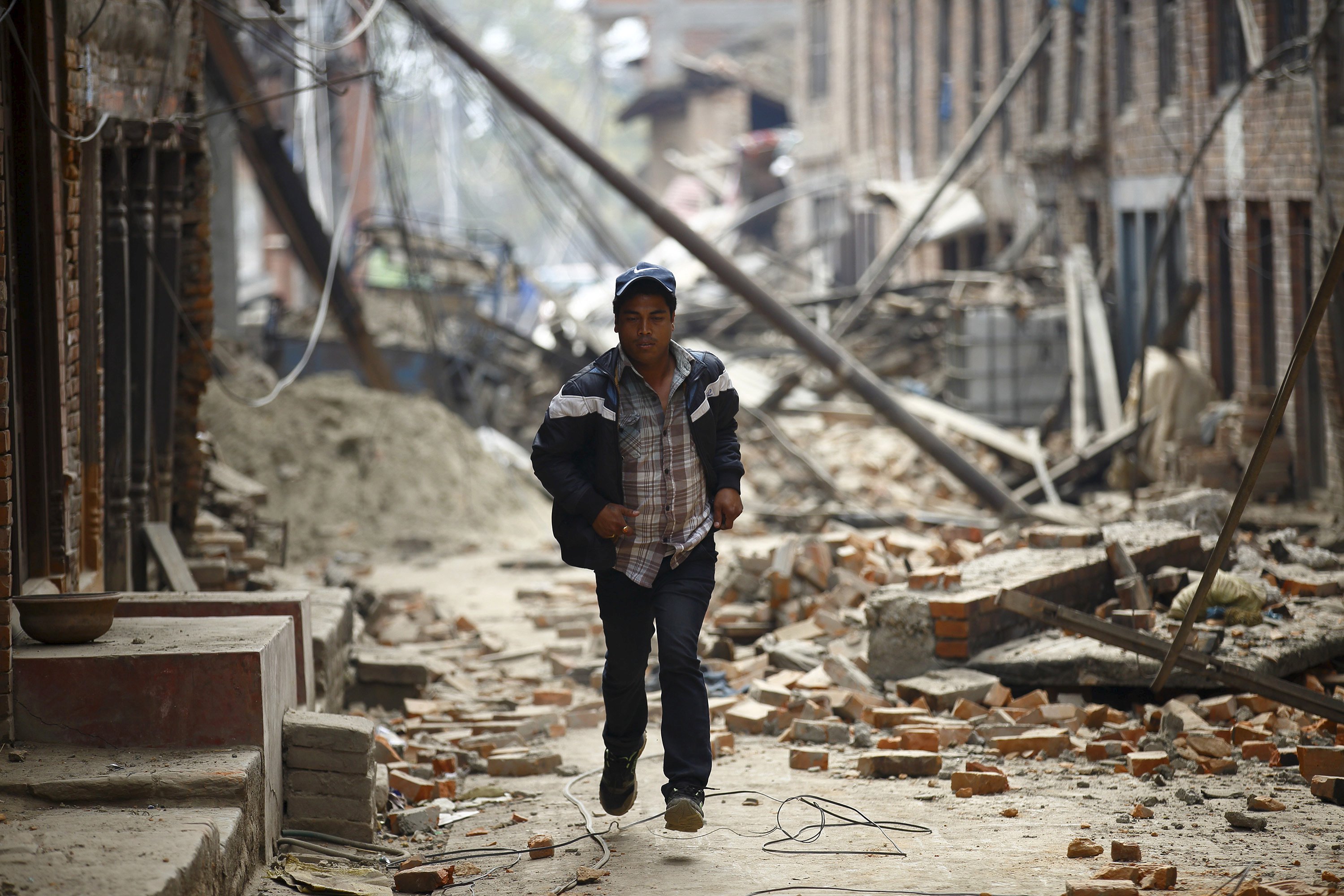 6. A cop in Uttar Pradesh smashes the typewriter of an old man who begs him not to destroy his only source of earning a living.
Luckily, the photo went viral and the cop was suspended. Moreover, CM Akhilesh Yadav gifted the old man, Kishan Ji, with two typewriters.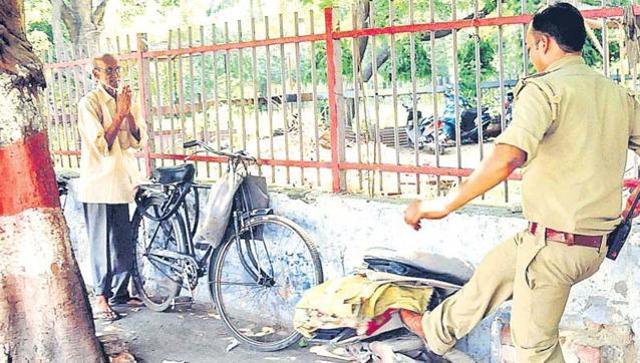 7. An official tends to the injuries of an old man who survived the stampede that killed over 700 Hajj pilgrims at the holy city of Mecca on 24th September.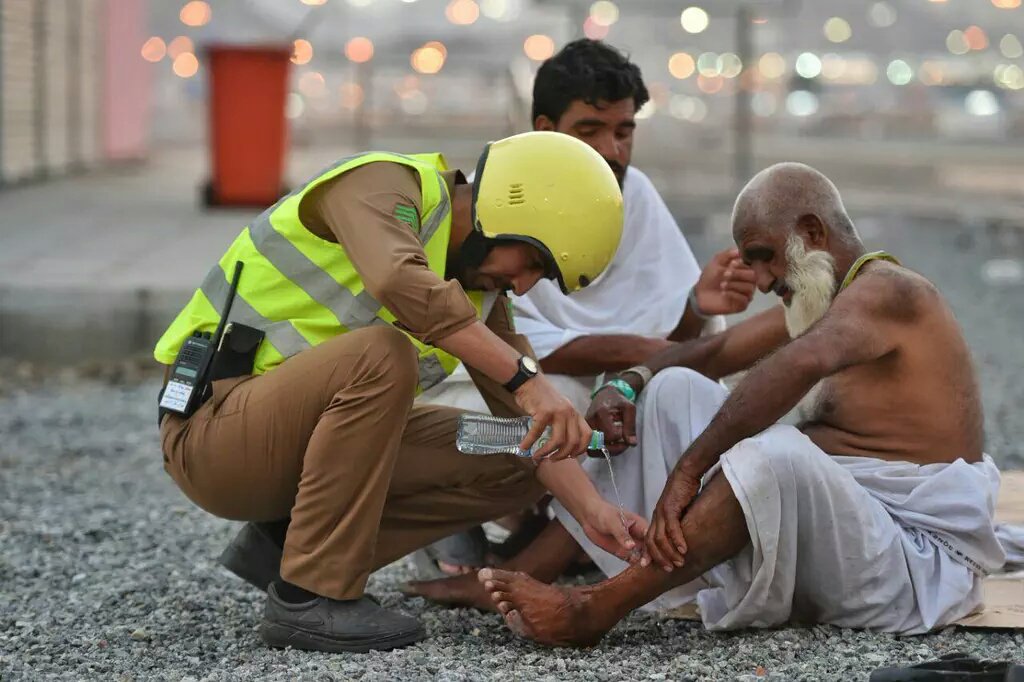 8. Pallbearers carrying the coffin of Charlie Hebdo cartoonist, Bernard Verlhac, which was decorated by friends and colleague in honour of the man.
11 people were killed in the attack at the Charlie Hebdo office in Paris on 7th January. The satirical magazine did not stop operating after the incident as a tribute to those who laid down their lives.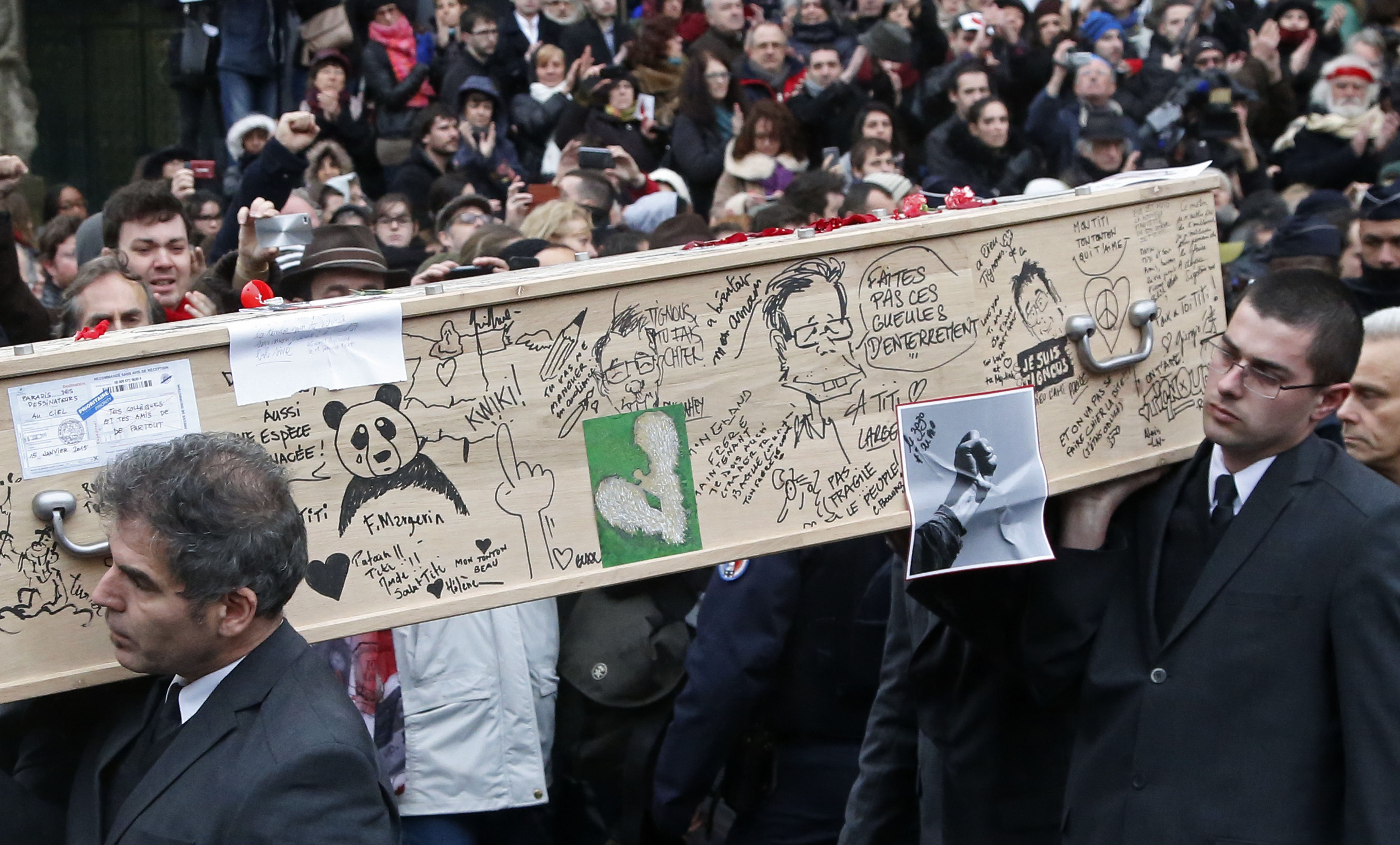 9. A man sits in silence outside the otherwise busy Le Carillon Cafe & Bar, which was the first place targeted by terrorists in the November 14th Paris attacks.
The attackers killed over 130 people and injured more than 300 people in the deadliest attack on France after World War II.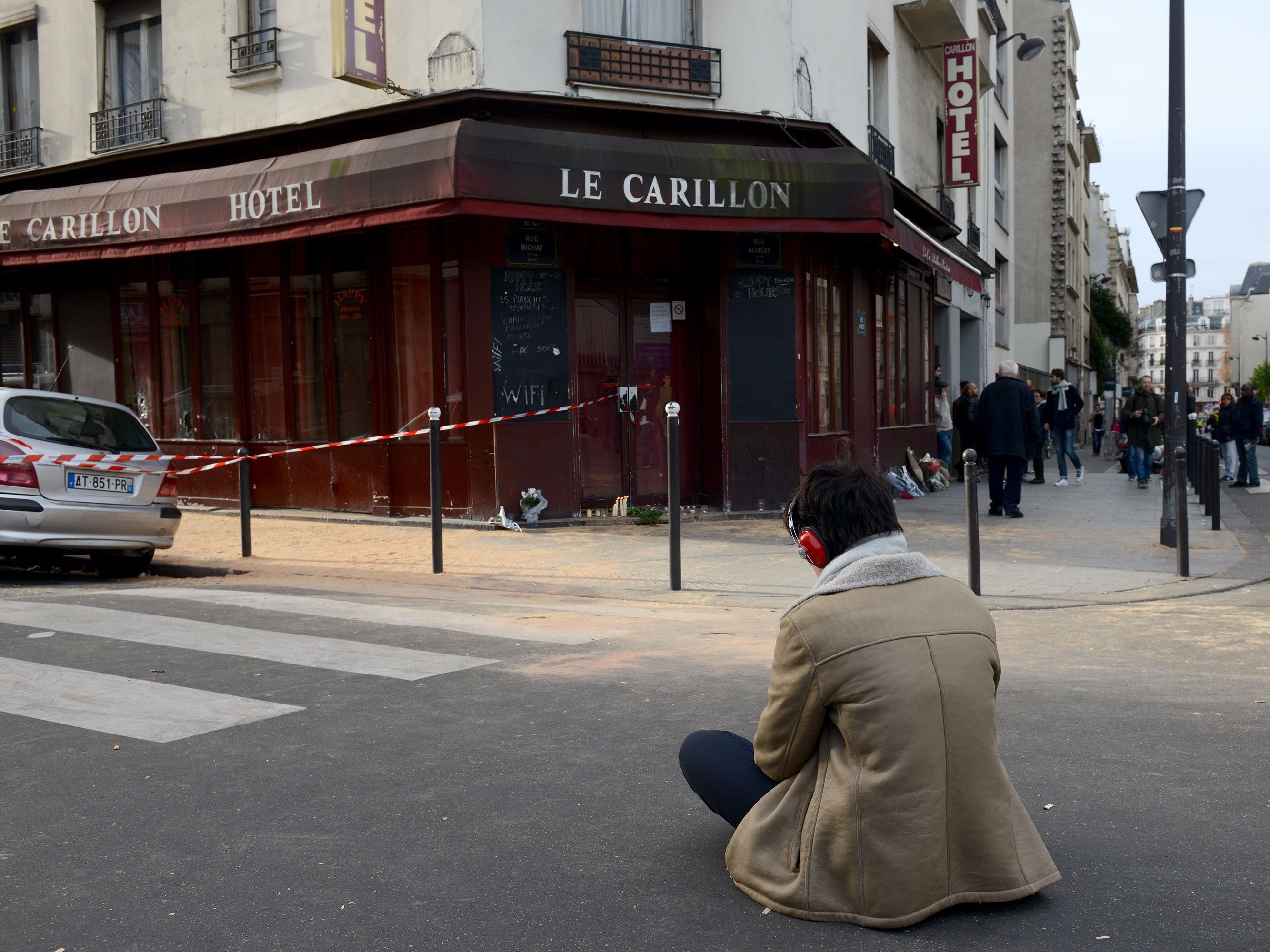 10. The crown being taken away from Miss Colombia after she was wrongly announced the winner of the 2015 Miss Universe pageant by the host, Steve Harvey. 
Ariadna Gutierrez Arevalo's crown was then handed over to Miss Philippines, Pia Alonzo Wurtzbach.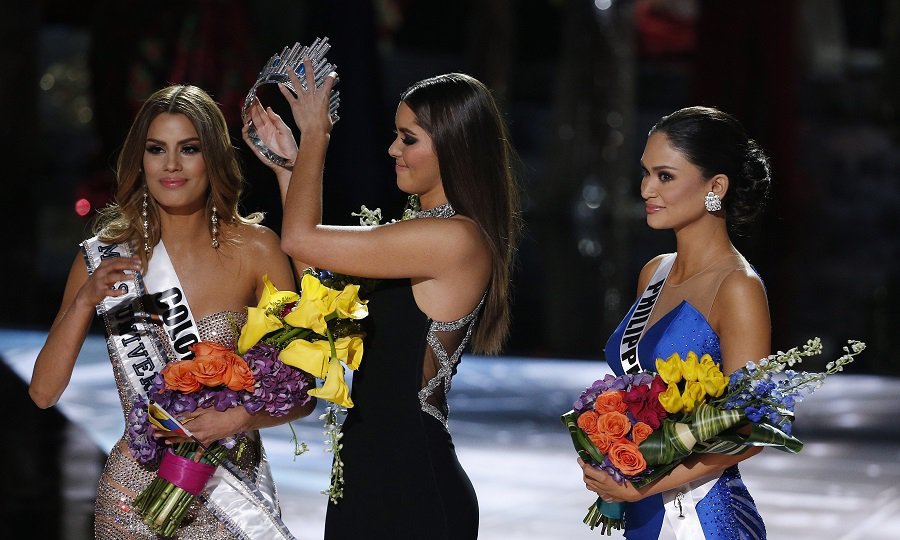 11. Players of the South African team cry after a heartbreaking loss to New Zealand in the 2015 Cricket World Cup semi finals.
Many would argue that the Proteas deserve a World Cup trophy.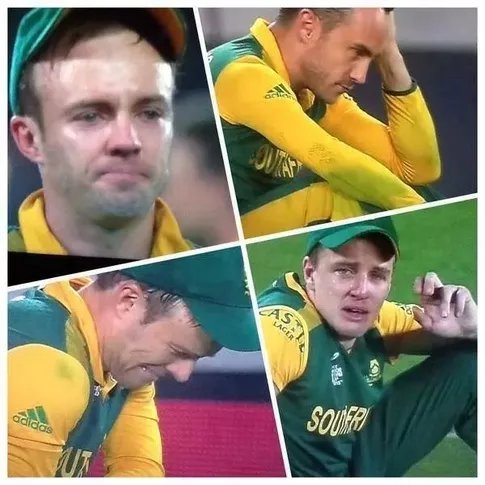 12. PM Narendra Modi bids goodbye to former president Dr APJ Abdul Kalam at the Palam Airbase on 28th July. The Missile Man's death was mourned by the entire nation.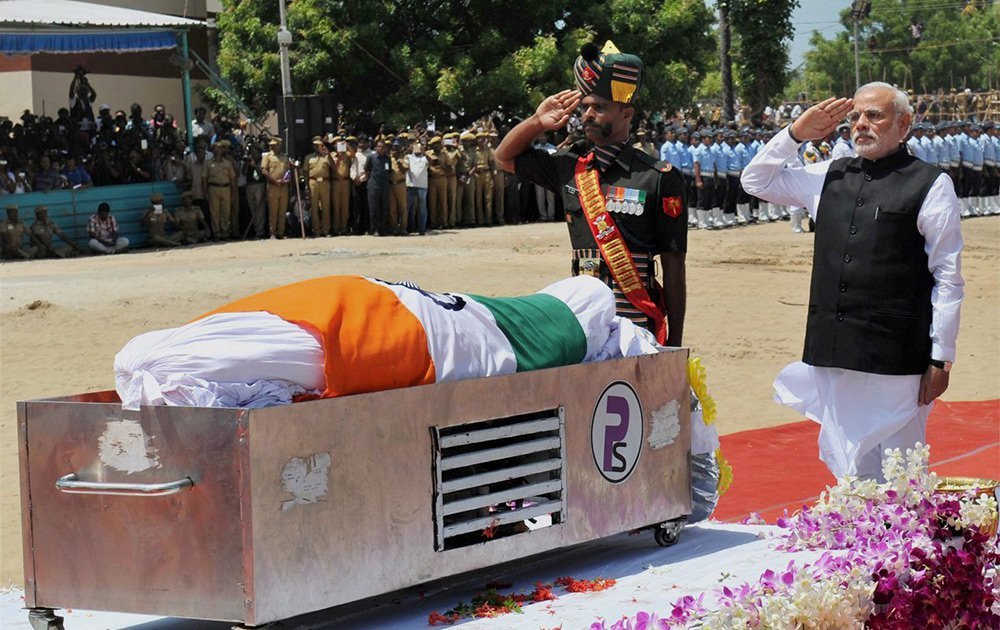 13. Syrian refugees wait outside the Hungary borders near Budapest, waiting for the country to let them in.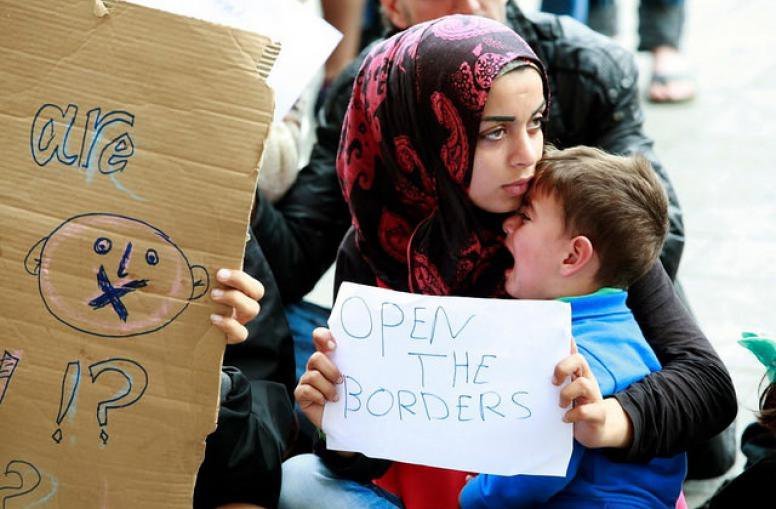 14. Hungarian camerawoman, Petra Laszlo, trips migrants near the Serbian border as they try to enter a new country seeking shelter.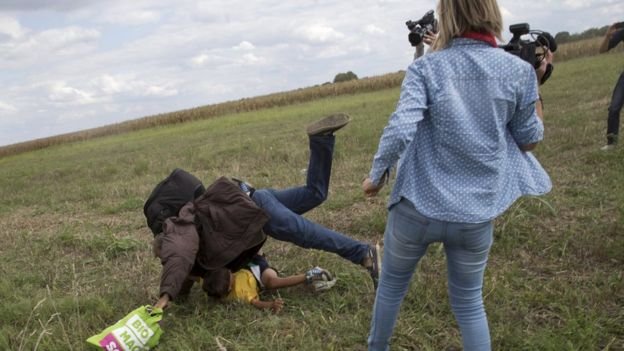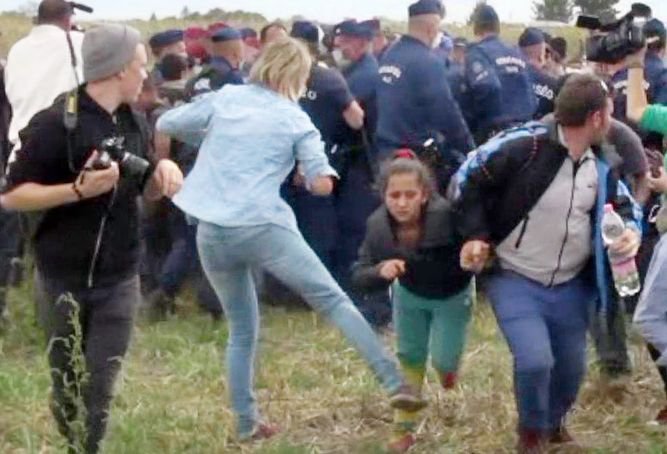 15. A man stands amidst the eerie wreckage left by two blasts at a chemical warehouse in Tianjin, China on August 14th. Over a 100 people died and 700 were injured.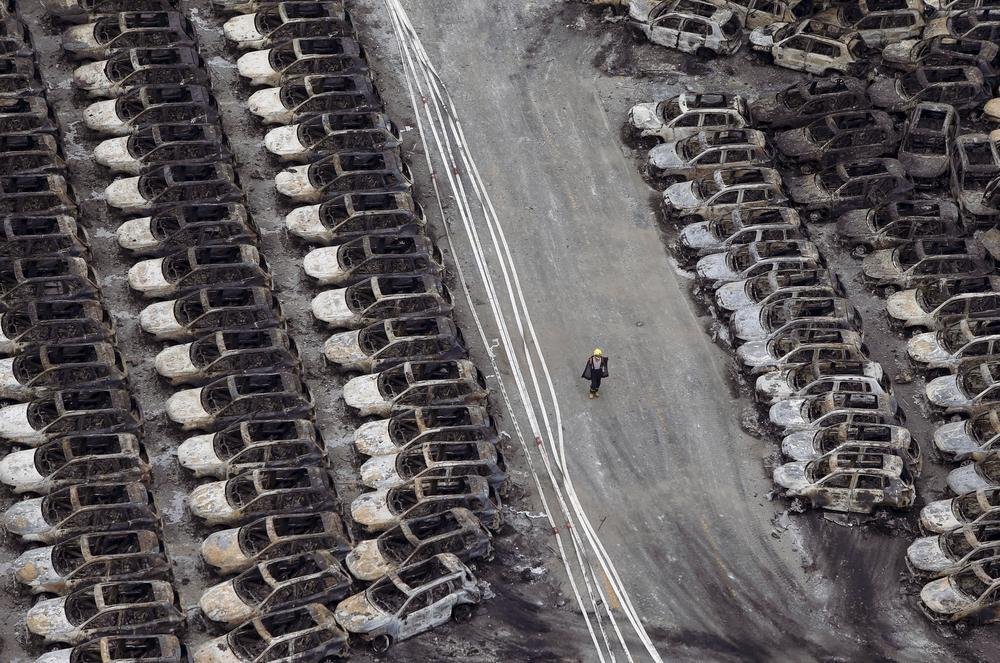 16. The exact moment when a bomb went off during a peace rally in Ankara, Turkey, on 10th October. Over a 100 innocent civilians died and 400 were left wounded.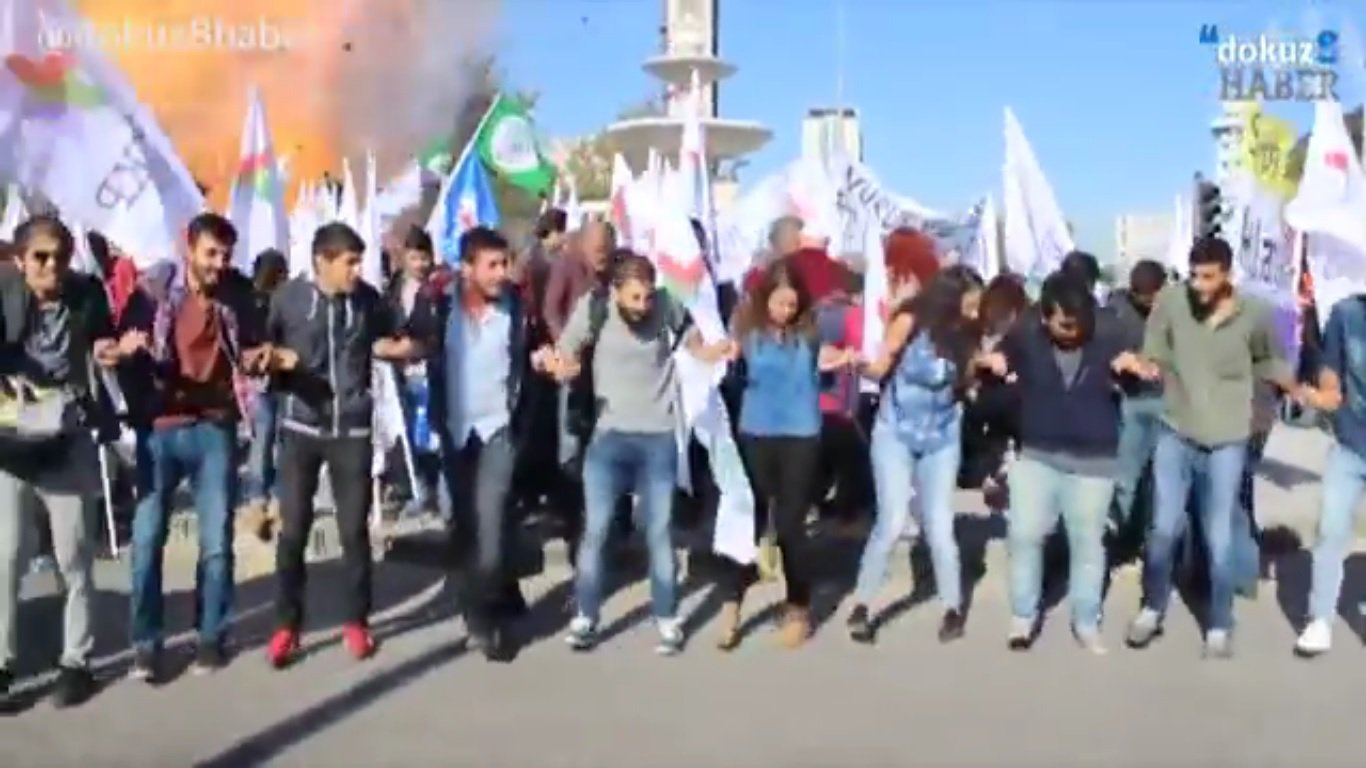 17. A man wades through the floodwaters to bring hot drinks & sandwiches to stranded residents in Carlisle, northern England after the destruction left by Storm Desmond in the first week of December.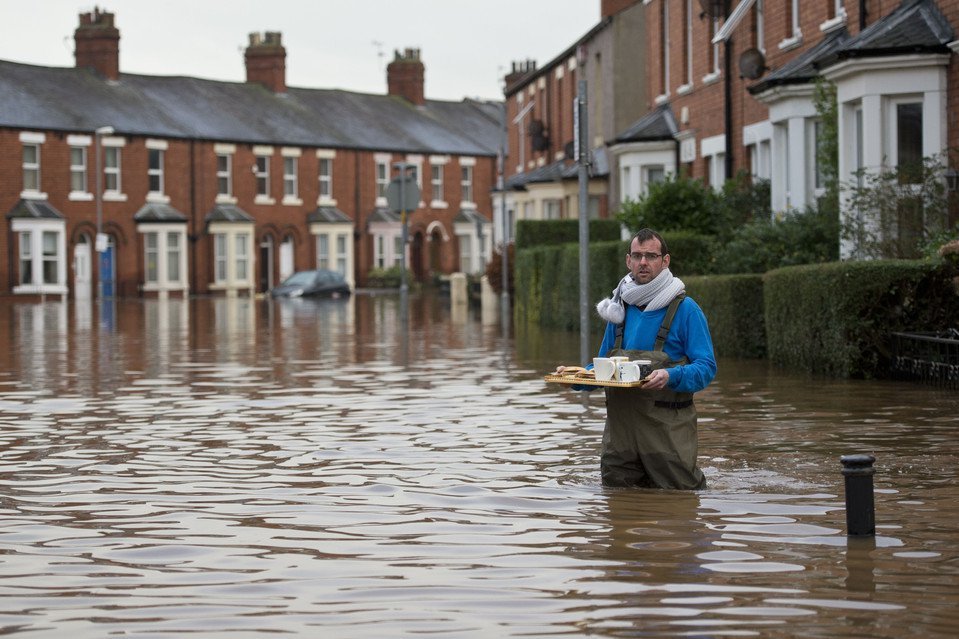 18. Aam Aadmi Party volunteers try to rescue a farmer named Gajendra Singh, who hanged himself after his crops were completely destroyed due to extreme weather conditions & he got no compensation from the government.
His handwritten note read: "I have three children. I don't have the money to feed my children. Hence, I want to commit suicide."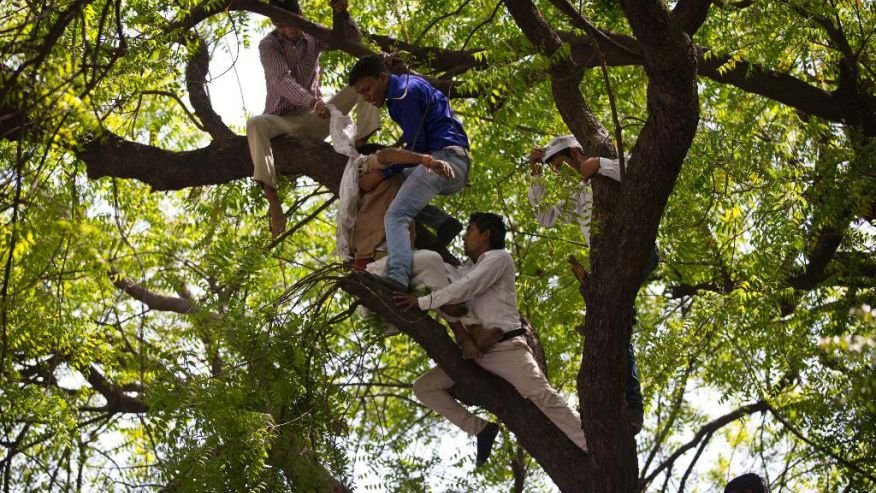 19. Death of the 'Common Man'. Legendary cartoonist RK Laxman's funeral on June 27th. 
His brush strokes made the entire nation smile, but on this day he left us teary-eyed. Uddhav Thackeray said Laxman was the "last emperor of the stroke".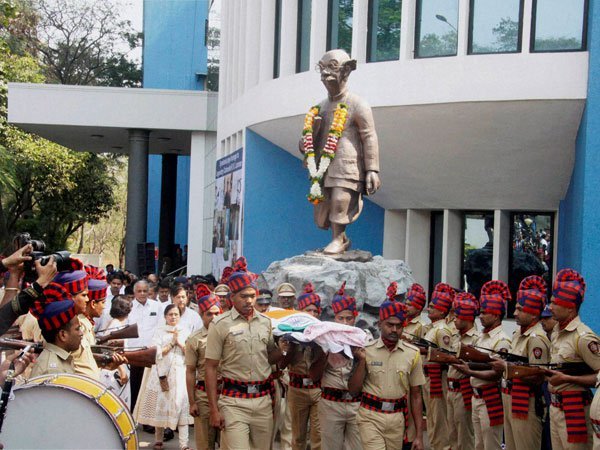 20. An egg got fried inside the pan in this man's hand because of the severe heatwave that hit India in May. Over 1,800 people died due to dehydration & heat strokes.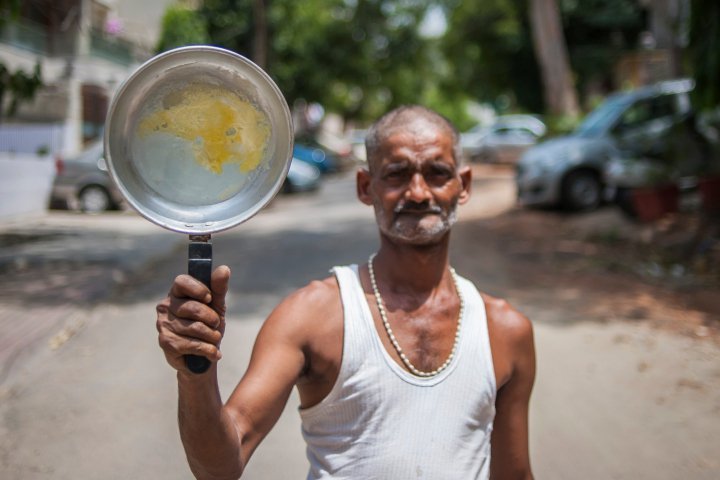 21. Satellite images that show the destruction in the Nigerian town of Baga. Jihadist group Boko Haram conducted mass killings and massive destruction between January 3rd to January 7th.
22. A UP journalist named Jagendra Singh was burnt alive for an anti-Samajwadi party post on Facebook. Singh died later of 60% burns.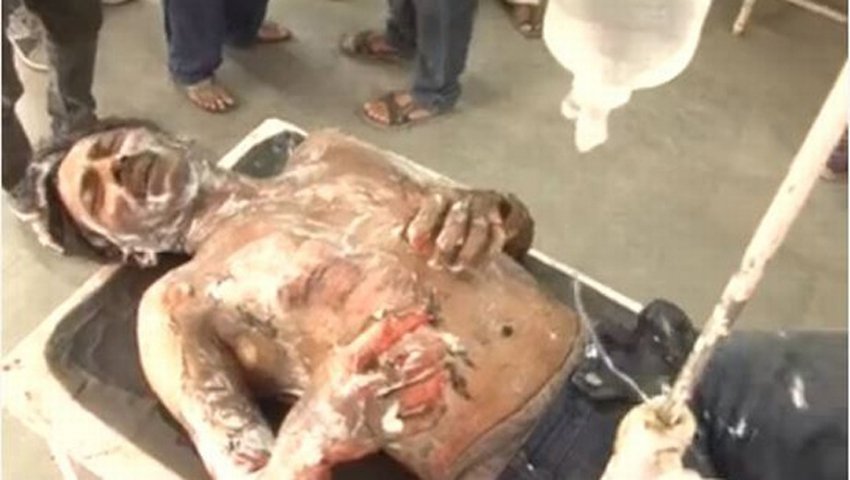 The world has really been through a lot this year. But we made it through. Let's hope that 2016 will be a better year with less heartbreaks and more moments of happiness.