Every Indian girl who's been pressured to find herself someone to get married to as soon as she turns 23, found her hero in Indhuja Pillai. Pillai made waves all over the interwebs a year ago.
For her revolutionary approach to the impossible task that is arranging a marriage and still not settling one bit.
Indhuja created her own matrimonial website in response to the many worries and demands of her family and the ever-so-brown-nosing "society". A website that went viral for its refreshing originality.
A matrimonial page which served magnificently to weed out those that wouldn't love her for who she is, and was abundantly clear on specifically what kind of a man she wanted to be with.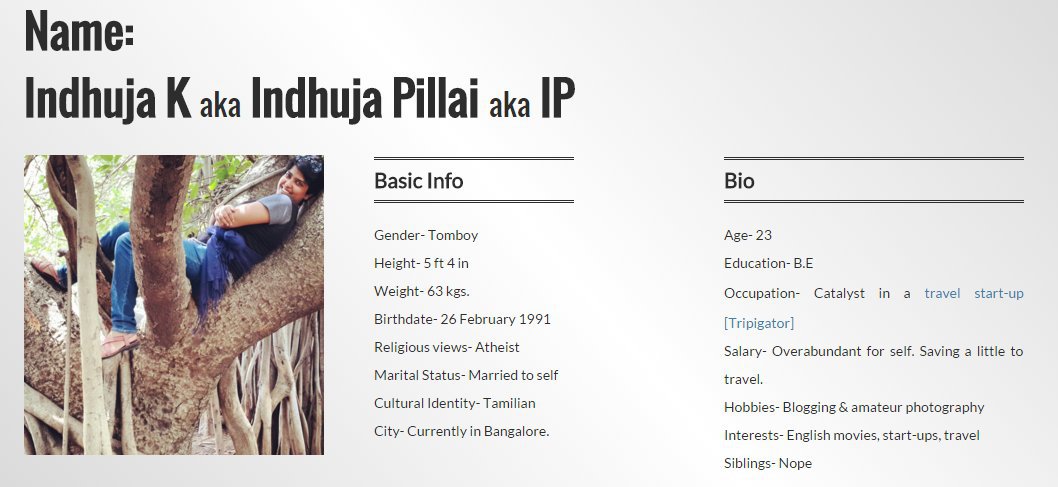 Since then, the last year for Pillai has been one of utter bliss in singlehood and her Instagram posts are here to show us just how much fun she's been having.
Travelling it up
With the other love of her life
To places wild…
And exquisite
Because… Wanderlust
Getting to know herself
And treating herself *drool*
Feeling like a child again
And the seaside is an especially perfect place to do just that
The "amatuer" photographer finds beauty where it lies
And where not everybody may see it
Inking herself with life
In her kaleidoscopic journey of being and loving herself
And following her heart
Her tryst with arranged marriage is just another in her long list of adventures
And she's easily the quintessential, and utterly amazing modern Indian woman
Never stop being the awesome maverick you are, Indhuja. You inspire us all.