If you are a true-blue wanderer then you do not need any reason to travel. As for the rest, we are sure you will agree that travelling can be hell of a stress buster. Although the planning process has its own share of stress, it is always the good kind. And once you are done with deciding the destination – that is always the biggest problem – the rest is cakewalk.
So, we have devised a very easy solution. Pick a place according to your zodiac sign. Or let us pick it for you.  Here are a few places that we have picked, slightly offbeat and less-visited and matched it with your zodiac sign. Except for Paris because Paris does not need your sunsign's approval. 
1. Aries – Ho Chi Minh City, Vietnam
Aries are independent, great leaders and quick tempered. Don't expect them to take orders, they don't do that well. A typical Aries is also ambitious and determined. They tend to do well and enjoy the hustle bustle of the city and metropolitan areas suit them well. So, what better than the historical Ho Chi Minh City in Vietnam? Erstwhile Saigon, HCMC is the economic centre of Vietnam and quite densely populated. As a growing city, HCMC is perfect for the Aries who thrives in metropolitan areas.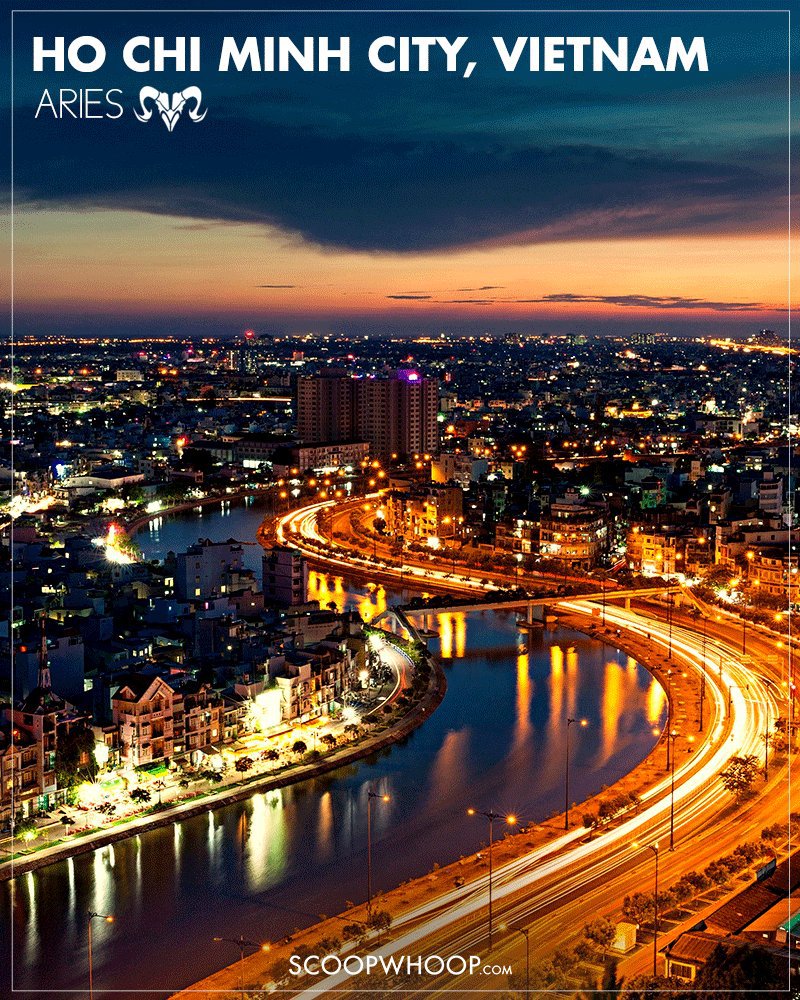 2. Taurus – Reine, Norway
Taureans are patient people with a mind full of dreams and aspirations. Headstrong and unyielding, a typical Taurean can be highly curious. They are logical and have great deducing capabilities. Taureans prefer the quiet countryside and village homes, all away from the chaos of the city. There is nothing more beautiful than the quiet Reine, hiding in the northern country of Norway. Even though it is a remote place, it is one of the most beautiful villages in the world. Imagine a Taurean in the midst of all that quietness; it is going to be heaven for them.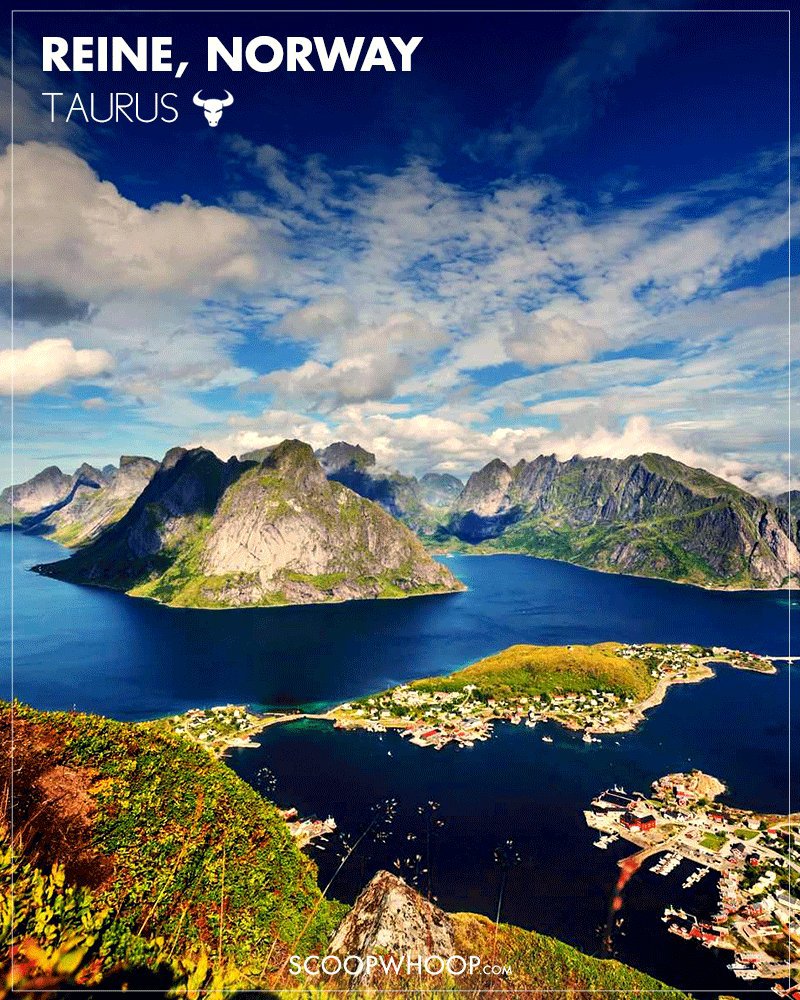 3. Gemini – Queenstown, New Zealand
Geminis are not only affectionate, they are kind-hearted and sympathetic as well. They are idealistic and acts of kindness have a great influence on them. Geminis are ambitious and have a tendency to create things with their hands. They love mountain cities and countrysides with panoramic views. So, we believe Queenstown in New Zealand with the dramatic Southern Alps for backdrop would be perfect for them. Adventure-junkie Geminis would fall in love with the paragliding, mountain-biking and bungee-jumping activities that are popular there.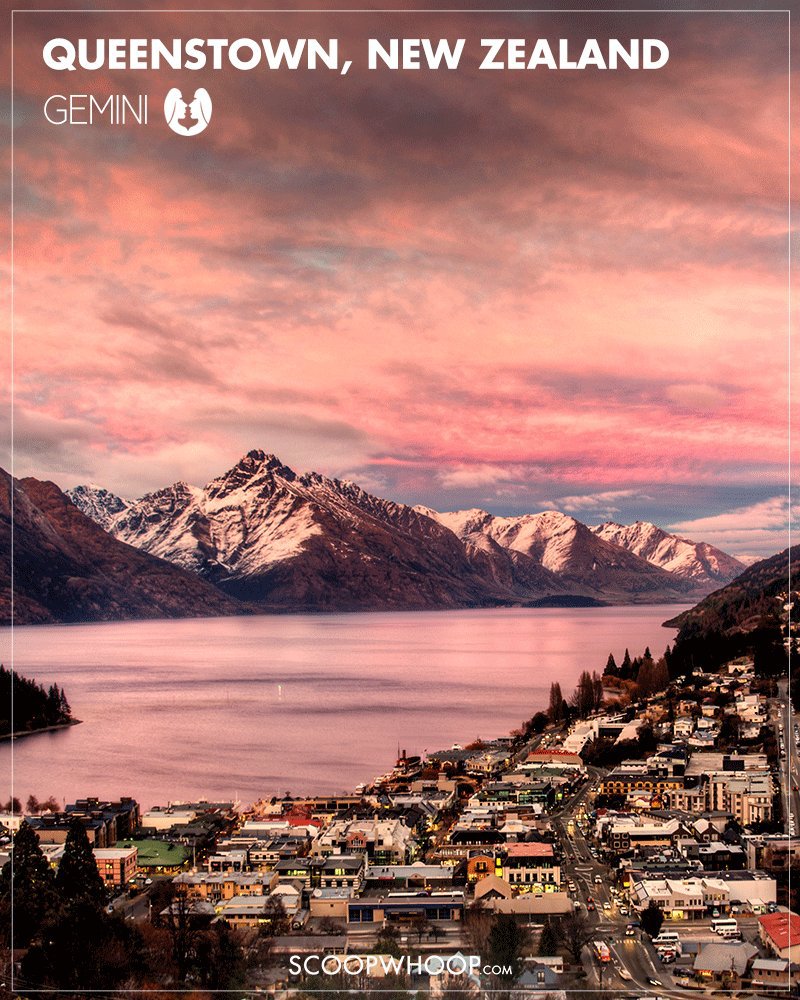 4. Cancer – Majorca, Spain
Cancerians are averse to arguments and discord and are generally patient, gentle and sensitive in life. They are industrious and follow their dreams with a quiet, solid determination but are always in want of some support. They do not prefer the city but love large bodies of water. Majorca in Spain is the perfect answer to this. This island has glorious beaches, limestone mountains and sheltered coves. Cancer or not, one should not pass an opportunity to travel to this golden island.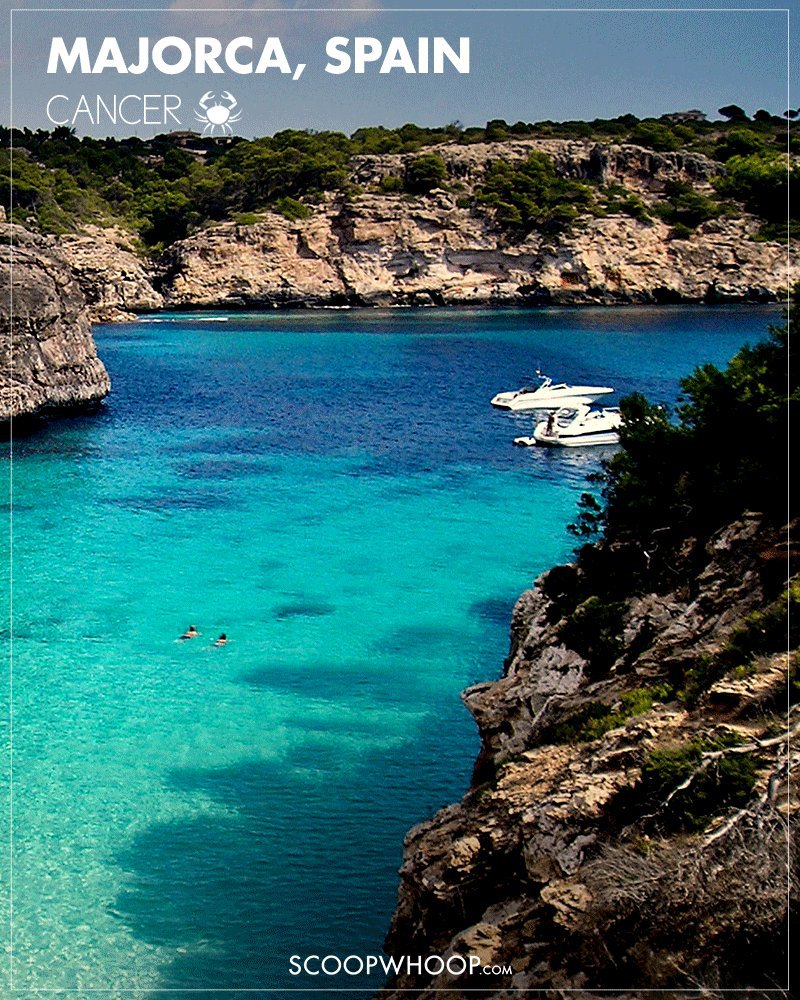 5. Leo – Killarney, Ireland
Leos are generally good-natured, fearless, very independent and persistent. They can hardly be discouraged. Leos love the countryside and lots of fresh air and open spaces. So all the Leos in the world, head to Killarney in Ireland! Along with a splendid National Park, Killarney also boasts spectacular countrysides, not to mention lakes, mountains and castles. Oh and that accent!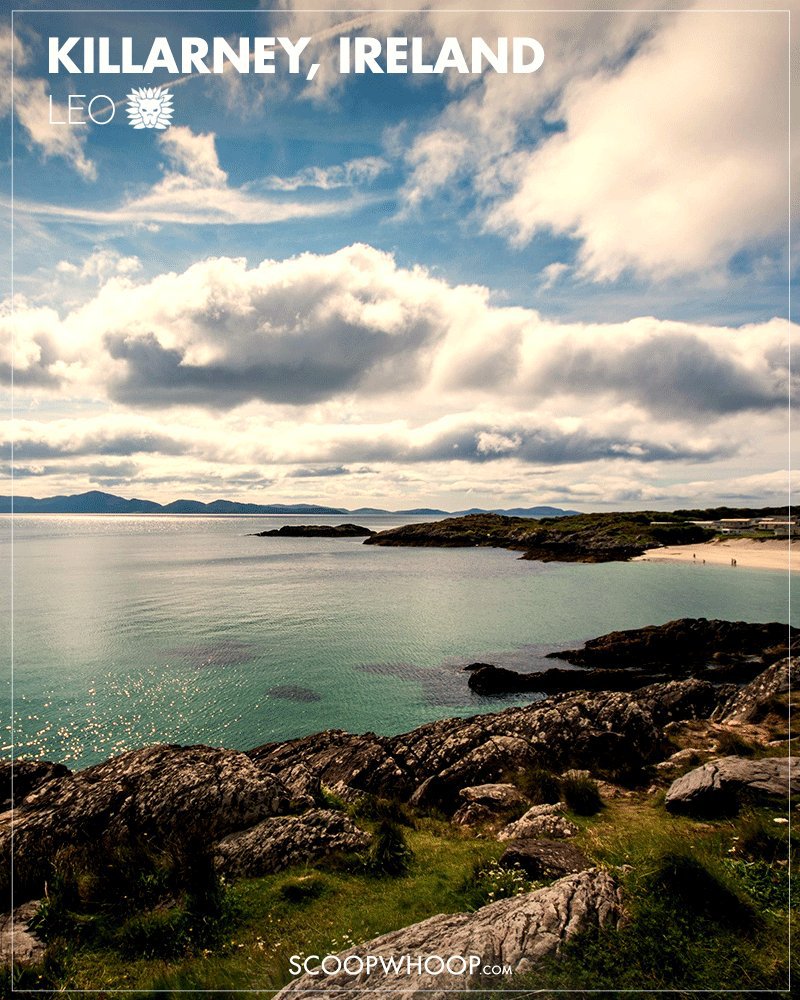 6. Virgo – Ljubljana, Slovenia
Virgos are thoughtful, modest and industrious. They have very strong likes and dislikes and love nature. Virgos are seldom content. They too prefer the mountains and nature. Set in the Ljubljana Basin between the Alps and the Karst, Ljubljana is graced by six rivers and has marshes within the city. It helps that the city has many museums, art galleries, cafes, parks and a lot of green space.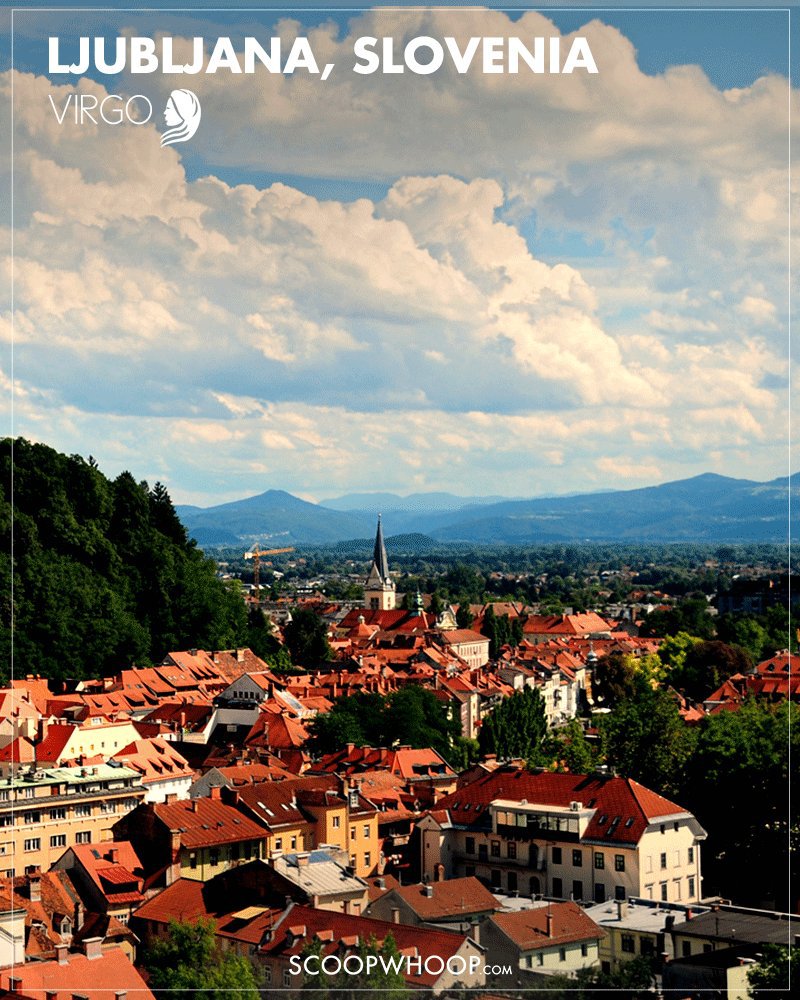 7. Libra – Budapest, Hungary
The thoughtful and contemplative Libra is analytical, neat and affectionate. They are in love with the Arts. Librans prefer cities with a great deal of activity and they wish to remain occupied most of the time. Budapest is basically tailor-made for them. And is you are left with any time after you are done visiting the many castles, markets, synagogues and exotic gardens, drop in at one of their many spas. Budapest is famous for their historical baths and spas.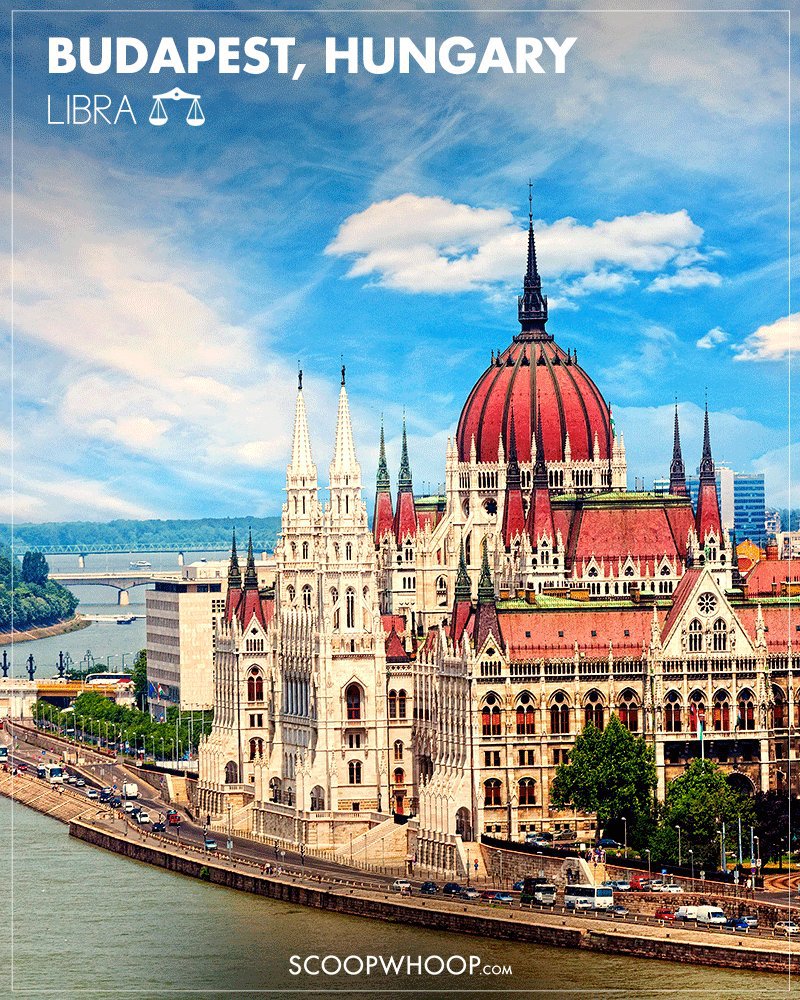 8. Scorpio – Bruges, Belgium
Scorpios are pleasant, agreeable and sympathetic. Although they are patient and emotional, Scorpios will not allow impositions on themselves. They love the countryside and love living near water and have a penchant for fishing and sailing. Hence,  our pick is Bruges, which is an important hub for fishing in Europe. The beautiful Bruges has cobbled streets, canals, old houses and one will even find horse-drawn carriages.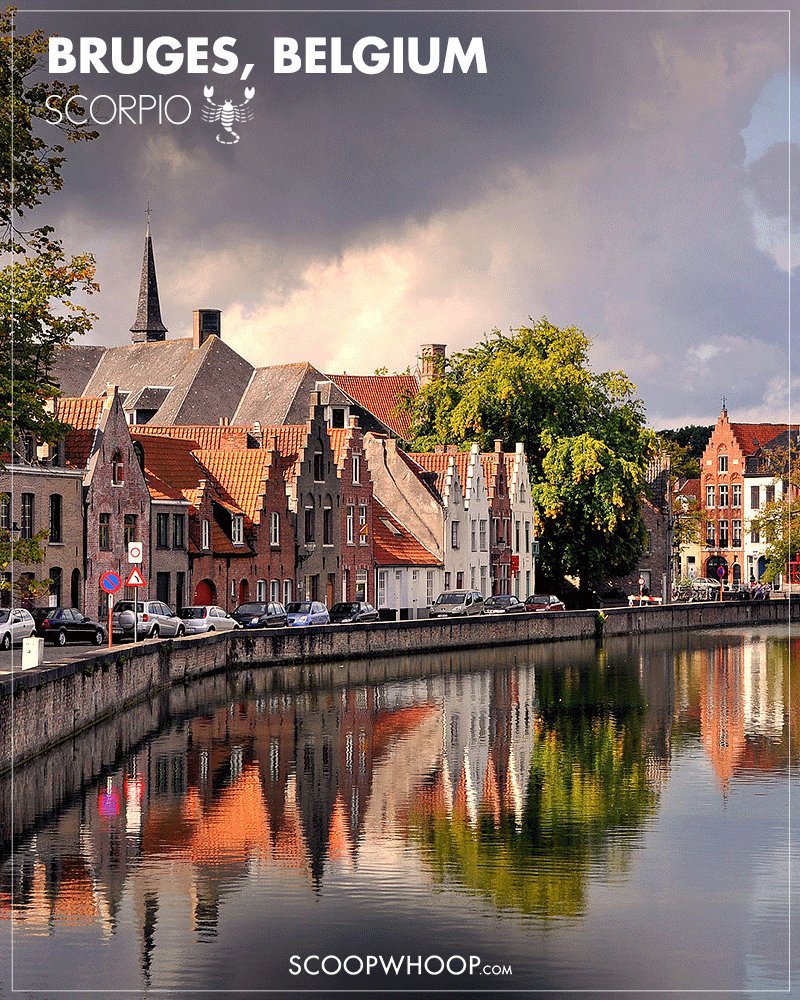 9. Sagittarius – Hallstatt, Austria
Sagittarians are jovial, ambitious and persevering. They are known for their foresight and determination and are dignified and charitable. Sagittarians are fond of the mountains and countryside and have an extreme dislike for crowding and small rooms. Away from all the chaos is Hallstatt that seems perfect for the Archers. Located in the mountainous Salzkammergut region of Austria, Hallstatt has a trail leading to the Echern Valley and its glacial potholes. To top it all, one could probably count all the residents of Hallstatt in an hour.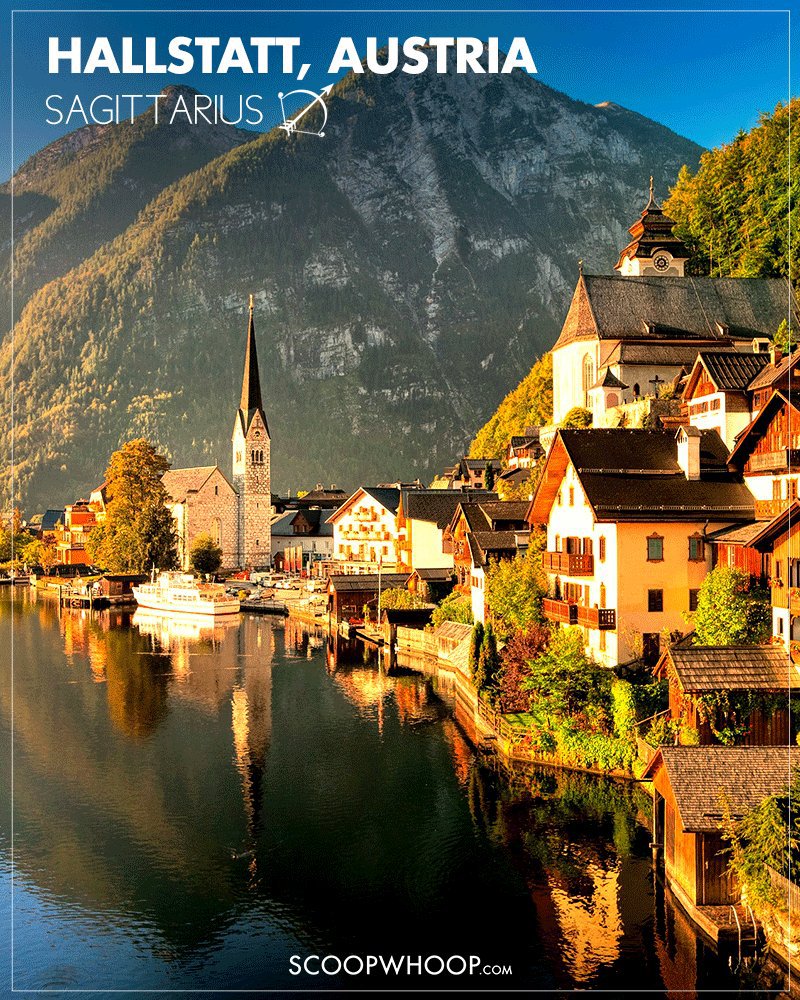 10. Capricorn – Cancun, Mexico
Capricorns are deep thinkers and quiet people. They are dignified, artistic, ambitious, ethical, persevering and tend to make grand schemes. They tend to avoid metropolitan areas when possible. Cancun is the perfect answer to this. Located in the Caribbean coast, Cancun is known for its beaches and is mostly a tourist destination. Capricorns visiting Cancun would also find the Mayan archaeological sites very interesting.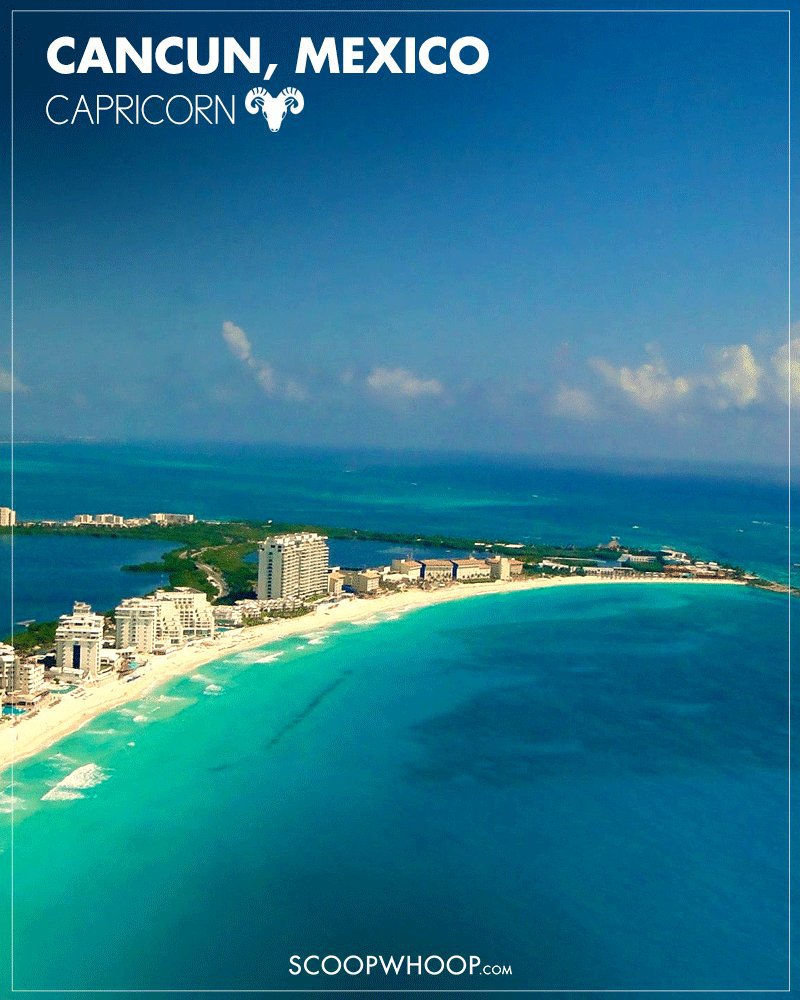 11. Aquarius – Suffolk, England
Practical and pragmatic, Aquarians are generous, sympathetic, sincere and honest. They have a strong will-power and are radical. They prefer places like the suburbs, where they do not have to be in the midst of all the chaos and can still visit the city occasionally to have fun. Suffolk in England is known for being the best of both the worlds. It shares borders with Norfolk, Cambridgeshire and Essex on the north, west and south respectively. To top it all, it boasts the English countryside with small hills and wetlands.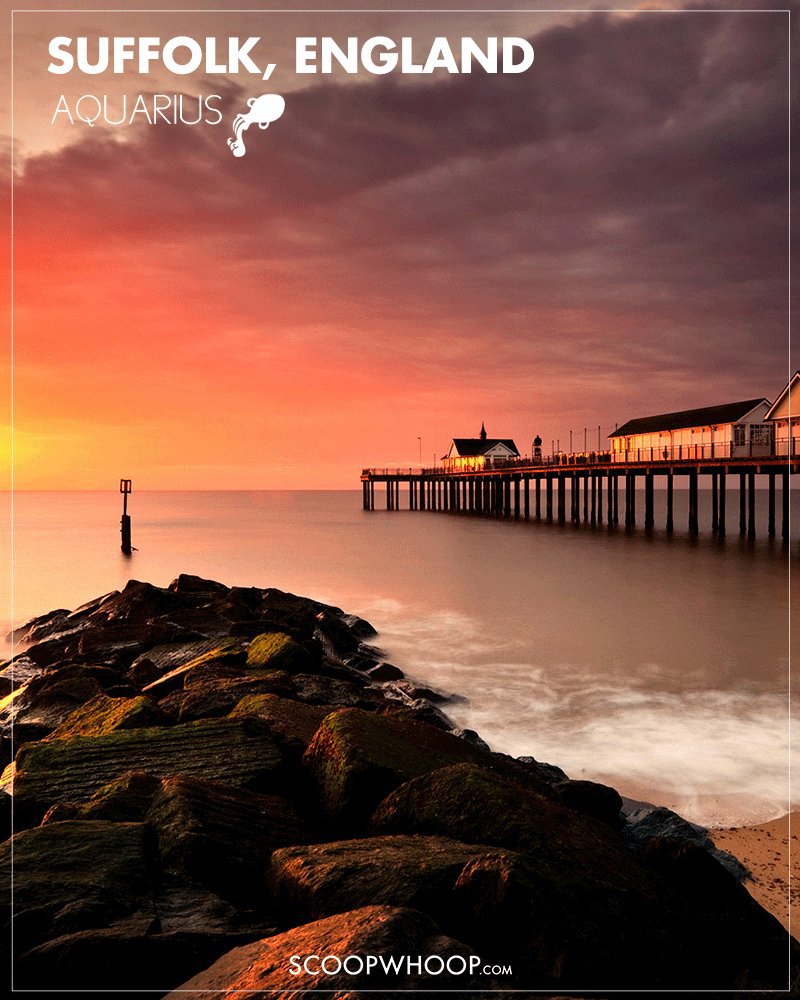 12. Pisces – Kyoto, Japan
Pisceans are loving, easy-going and idealistic. They are imaginative and are easily captivated by music and beautiful landscapes. They prefer locations near a large body of water and scenic areas. There is no better place to suit that description than Kyoto in Japan. With gardens, imperial palaces, shrines and Buddhist temples, there is nothing quite like this exquisite city.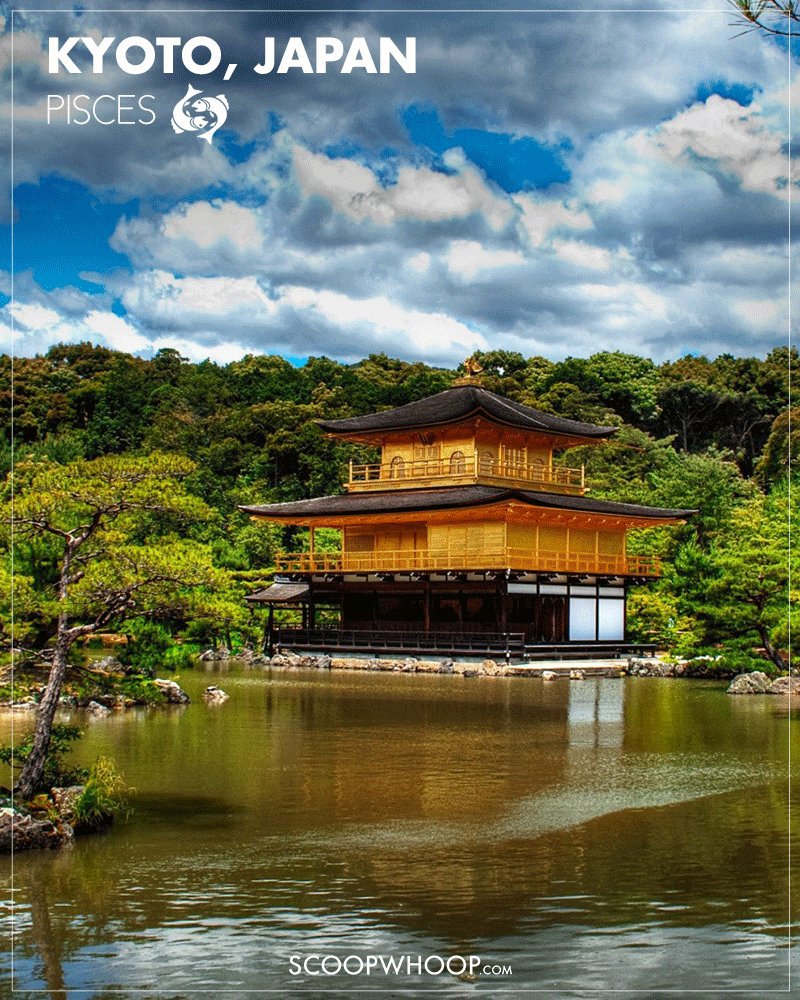 So, pack your bags and have the perfect vacation. 
Designs by the awesome Suvojyoti Ray