With the thick layer of toxic smog engulfing the national capital, close to 7,000 CISF security personnel deployed to guard the IGI airport, Delhi Metro and strategic government buildings will be provided protective masks to save themselves from the polluting air.
The directive to provide these anti-pollution face masks have been issued by Central Industrial Security Force chief OP Singh who reviewed the effects of the alarming air quality situation on the force personnel over the weekend.
"I have asked the Director Medical to issue masks to all our personnel based in Delhi and tasked to secure vital installations here.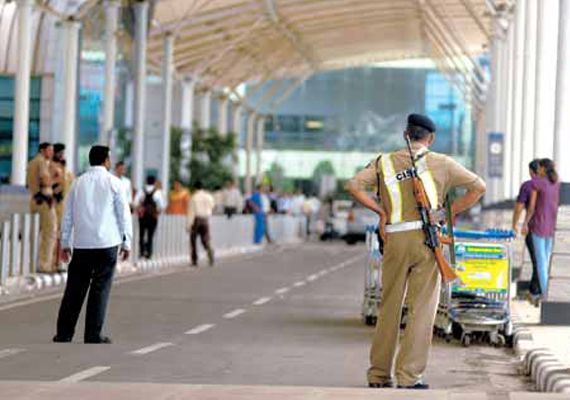 "Our men and women remain outdoors for long given their duties and it is essential they are provided such a protective gear," said Director General Singh.
He added the medical teams of the force have been asked to keep a check on the health of the personnel and look out for symptoms related to respiratory problems.
The masks will be provided to those personnel who remain posted outside the buildings to secure the entry and exit of these facilities and those who are mandated to remain positioned at vantage positions and be mobile for patrols or as part of quick reaction teams, officials added.
The units like Delhi Metro security, the Indira Gandhi International Airport (IGIA), Red Fort and those securing the government ministries and organisations will be provided the masks that will provide basic safety from smog and pollution, they said adding the numbers of such personnel could be well around an estimated 7,000.
Delhi is facing its worst smog in last 17 years, prompting the high court to observe that it was akin to "living in a gas chamber".
The Centre has termed it an "emergency situation" and called a meeting of environment ministers of all neighbouring states tomorrow to curb stubble burning by farmers.