An ideal society offers equal opportunities for men and women. One would imagine that good education is key for us to strive towards that. Apparently, it's not.
Earlier this year, students from the University of Delhi had started a 'Pinjra Tod' campaign to get rid of sexist rules in colleges and hostels. Then, Christ College was under fire from its students for a set of sexist rules. 
This time, an alumnus of  St. Aloysius Pre-University College, Satshya Anna Tharien, made a blog post about the new set of rules for students. 
Apparently, these rules were communicated to them by teachers during a closed-door meeting only for female students.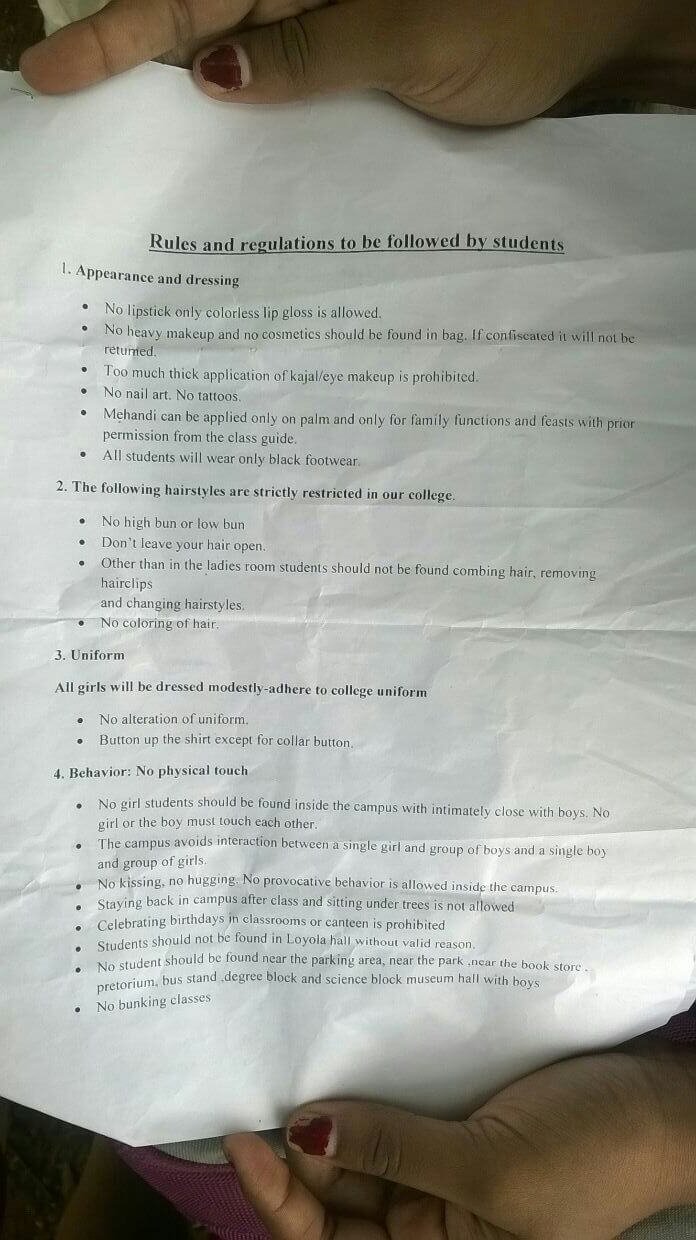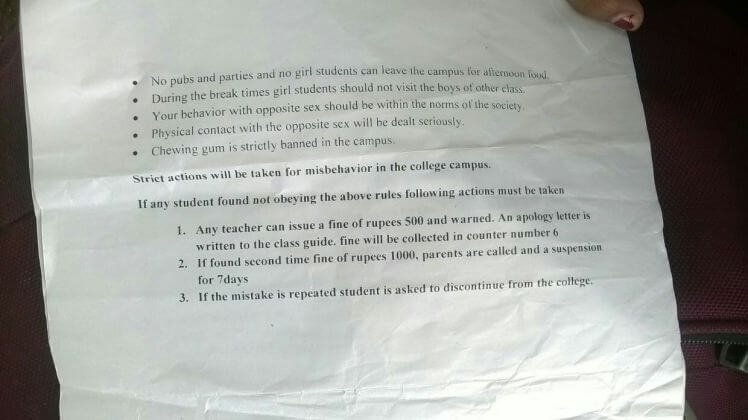 She also shared an anecdote from when she was at St. Aloysius PU College.
Mangalore, December 2011: We were sitting on the steps in college studying for the Class 11 French exam. 7 of us were huddled around a single French textbook, fervently hoping we'd remember the exceptions of the verb manger.
Satshya had asked some of the current students about their opinion of the new set of draconian rules. Talking to ScoopWhoop, Satshya mentions that
One girl said the make up rule is fine because some girls wear too much make-up which according to her doesn't go well with the uniform. She went on to add that other rules were downright unfair. 
With regard to the rules about girls not going out for lunch in the afternoon – she said that is so unfair, how come the boys are allowed to go and we can't. How can they expect us to eat the same canteen food all year long?
When asked about the no touching rule,
With regard to the no talking/touching rules, students had raised questions about what siblings in college should do. The teachers reportedly told them 'keep your relationship at home'
It's incredible how some of the most literate members of society still believe in this kind of archaic patriarchal set of rules. This is precisely the difference between education and literacy.