It is that time of the year again. You know, when self-appointed moral guardians of the country raid parks to thrash canoodling couples into submission. When Valentine's Day will yet again be dubbed as 'Worship your parents day' by many social groups and organisations. And one such move has already been made.
The collector of Chhindwara district in Madhya Pradesh has sent out a notice that states that people need to worship their parents on February 14, reports ANI.
The notice further states that parent-worshipping functions  be organised in each village, town and household.
It has become a relatively common practice for many religious groups to endorse Valentine's Day as 'Worship your parents day.'
The advertisements, put up across 35 stations by an organisation of self-styled godman Asaram Bapu, advocating 'Matri Pitri Pujan Diwas' left many commuters enraged last year prompting Delhi Metro Rail Corporation (DMRC) to order the matter to be examined. Asaram is lodged in jail in connection with a sexual assault case.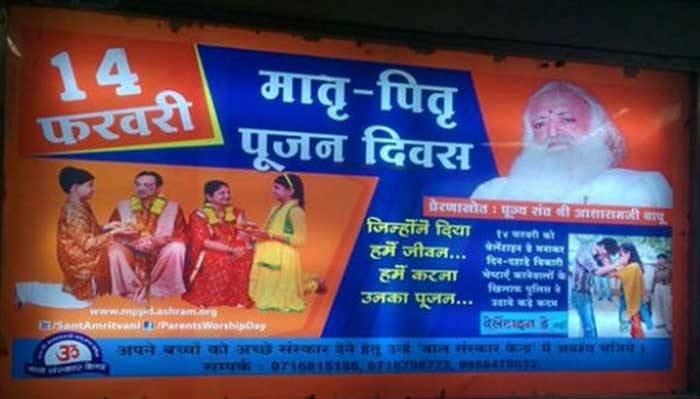 The ads bear two contrasting pictures; one showing two kids worshipping their parents and the other showing a young couple holding each other's ears as policemen stand nearby.
"Police take strong action against those indulging in degenerate activities by celebrating Valentine's Day in broad daylight. Don't celebrate Valentine's Day," the message in the posters said.
(With inputs from PTI)
(Feature image source: Reuters)