Mexico greeted Pope Francis on Friday with mariachi music and throngs of Catholic faithful lining the streets after he held historic talks with the head of the Russian Orthodox Church in Cuba.
President Enrique Pena Nieto welcomed Francis at the airport while a mariachi band played before he climbed into the Popemobile to wave at crowds across the capital of the world's second largest Catholic country.
"Francis, brother of the Mexican people!" the crowd chanted as an estimated 300,000 people braved the evening cold, holding up telephones to light his way.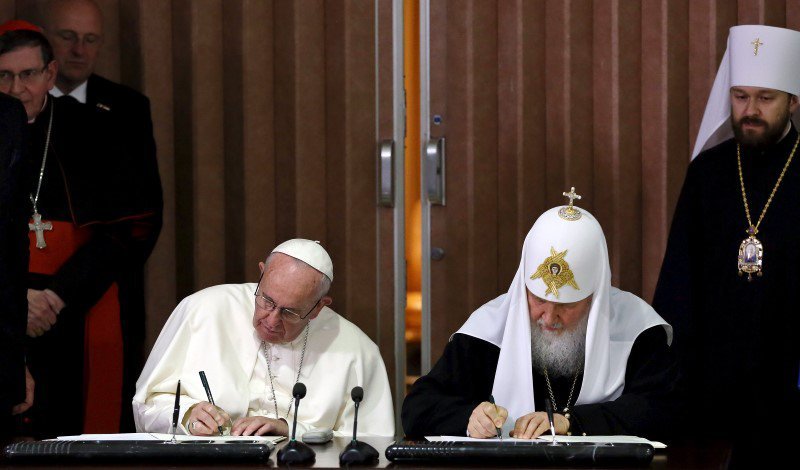 But before beginning a five-day trip across violence-torn Mexican regions, Francis stopped in Cuba to mend a 1,000-year-old Christian rift with Russian Patriarch Kirill.
"At last we meet. We are brothers," said the 79-year-old pope, in white robes and a skullcap, as he met the white-bearded Orthodox leader, 69, in black robes and a white headdress.
"Clearly, this meeting is God's will."
It was the first meeting between the heads of the Eastern and Western churches since the great schism of 1054, with the Eastern church rejecting the authority of Rome.
"For nearly one thousand years, Catholics and Orthodox have been deprived of communion in the Eucharist," they said in a joint declaration signed after they hugged and kissed at Havana's airport.
"We are pained by the loss of unity, the outcome of human weakness and of sin," they said.
"Mindful of the permanence of many obstacles, it is our hope that our meeting may contribute to the re–establishment of this unity willed by God."
Neutral ground
Their meeting was driven by rising violence in recent years in the Middle East, where Christian communities have suffered at the hands of extremists.
"We call upon the international community to act urgently in order to prevent the further expulsion of Christians from the Middle East," the religious leaders said.
Between them, they are the spiritual leaders of more than 1.3 billion Christians. The main barrier to a rapprochement over the years has been the Orthodox Church's refusal to accept the primacy of the Roman pontiff.
"I felt like I was in front of a brother," Francis told reporters on the flight to Mexico. "We talked about a program of possible activities in common."
The meeting on neutral ground — hosted by the communist, atheist Cuban leadership of Raul Castro — was decades in the planning, with the final obstacles swept away by the pope's determination and global politics.
But Francis has also framed the encounter in a broader context of engaging Russia, saying Moscow could be an important partner for peace in the world.