Indian batting legend Sachin Tendulkar might sit at the epitome of records in cricket, however, when it comes to his attendance in Parliament as a nominated lawmaker, his record isn't impressive. But even though he has attended only 13 days out of 235 days of the total 12 sessions since he joined Rajya Sabha in 2012, documents and records accessed by Economic Times show Sachin as a responsible and concerned lawmaker discharging his duties, efficiently.
Here's what Sachin has done as an MP
1. Sachin has spent 98 per cent of Members of Parliament Local Area Development Scheme (MPLADS) funds for development, putting him at the top of best-performing nominated lawmakers. Funds from his MPLADS scheme have reached as far as Jammu and Kashmir and Tamil Nadu to help the states cope with post-flood rehabilitation. However, the batting legend's record for suggesting and utilizing development funds was dismal during 2013 and 2014, when his MPLADS funds lapsed.
2. Under Prime Minister's Sansad Adarsh Gram Yojana, the batting maestro adopted the village of Puttamraju Kandriga in Andhra Pradesh's Nellore district in 2014. When the Ministry of Rural Development evaluated the development work in the village, Sachin's adopted village surfaced among the seven best performers in the project.
3. One of the ambassadors of PM's Swachh Bharat campaign, Sachin has vociferously supported health, environment friendly and education initiatives in Maharashtra and West Bengal.
4. Being a cricketer, Sachin's love for the game is natural but his spirit of sportsmanship has transcended to other sports also. Sachin has been consistently in touch with Ministry of Human Resource Development and Ministry of Sports for inculcating sports education into the school syllabus. His intervention has also led to clear the confusion in holding National Athletics Meet in Kerala.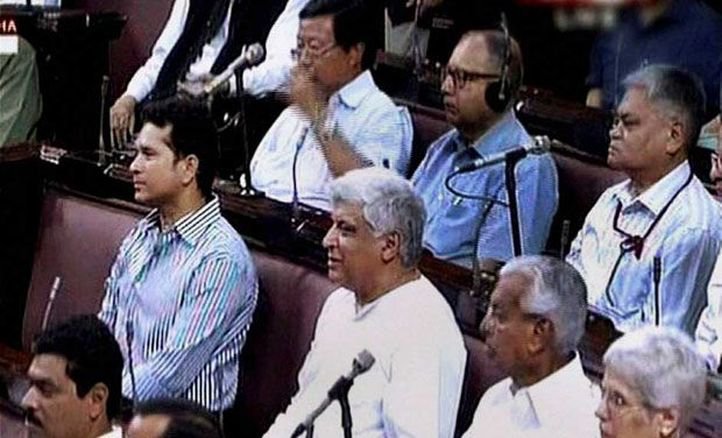 5. Sachin's concern for banned Indian boxer Laishram Sarita Devi who was in the middle of a controversy after she refused to accept bronze medal at 2014 Asian Games in Seoul, played a role in reducing the term of life ban imposed on the athlete.
It seems Sachin is considering his work as an MP seriously. During the winter session of Rajya Sabha in December, Sachin asked his first ever question in the house. Even though he was not present in the House at the time of reply to his questions, Sachin had asked as many as seven questions during the fortnight.
Feature image source: Reuters