New Delhi: In 2011, when 28-year-old Rahul Sonpimple, a student of Social Work, was on a field trip in Maharashtra's Marathwada, he had expected a warm welcome from the family where he intended to stay for the trip. 
Talking to his friend in fluent English, knowledge about Sonpimple's family background and caste seemed irrelevant to his hosts. After a tiring day in the field, Sonpimple returned in the evening for a shock. 
"They had come to know I was a Dalit. I was told I can't stay with them. They were upper-caste," said Sonpimple. By staying with the family, Sonpimple's idea was to understand and study how upper-caste families live and interact among themselves. But the access was denied.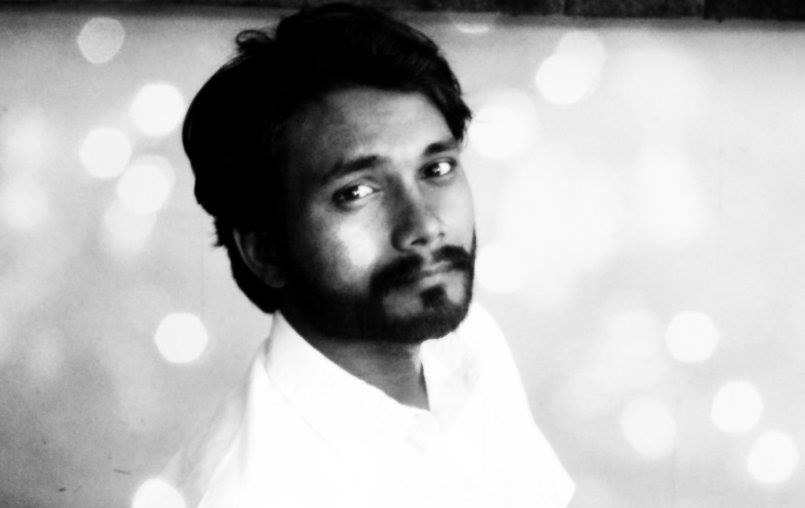 "Only a Dalit knows what it means to be a Dalit. Even if one walks barefoot on nails his entire life, one wouldn't be able to fathom the discrimination and oppression," Sonpimple, who lost his father, a rickshaw-puller when he was in Class 7, said. 
Along with his four brothers, Sonpimple was raised by his mother who worked as a construction worker until her sons were able to fend for themselves. But for Sonpimple, it was his elder brother, an Ambedkarite, who became his inspiration and shaped his world view. 
In 2016, Sonpimple – a member of Birsa Ambedkar Phule Students' Association (BAPSA) – almost clinched the spot of JNU students' union president by solely taking on the Leftist alliance on one side and ABVP on the other. 
Sonpimple reflects on the year 2016 for ScoopWhoop News 
Atrocities against Dalits didn't end in 2016. The direct as well as indirect oppression is visible and continues. However, a new kind of movement emerged in 2016. To a large extent, the Dalit atrocities, came in the mainstream discourse. Though that wasn't the case at the early stage.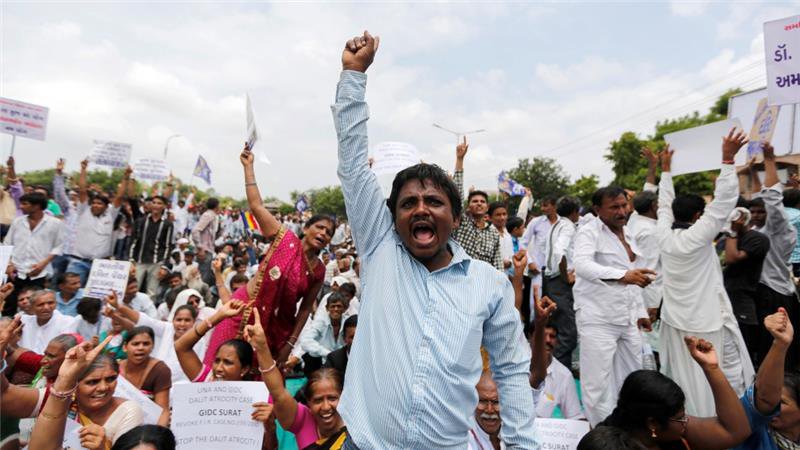 For example the Una incident wasn't reported nearly for 20 days. It was only after the massive social media campaigning by Dalit and Ambedkarites groups that the incident made it to the agenda of mainstream media.
In present circumstances, Dalits and other oppressed groups don't have access to mainstream media. But social media is on their side and they are using it extensively to get their message out. This usage of public sphere has translated into a new kind of assertion.
At the same time, I would like to stress that anti-caste movement has never ended in India. The history of anti-caste movement pre-dates even the Left and RSS. Dalits might have attained political power in some places but the anti-caste movement on social level continues. When a discourse is strongly grounded, a single incident can spark a huge movement. Dalit movements were always there but media choose not to report them. Social media has changed that.
2016 was also different in a sense that people now know how to connect, mobilize, conduct a movement by connecting through social media. But as far as the attack on Dalits was concerned, 2016 was brutal. These days, it's a direct attack.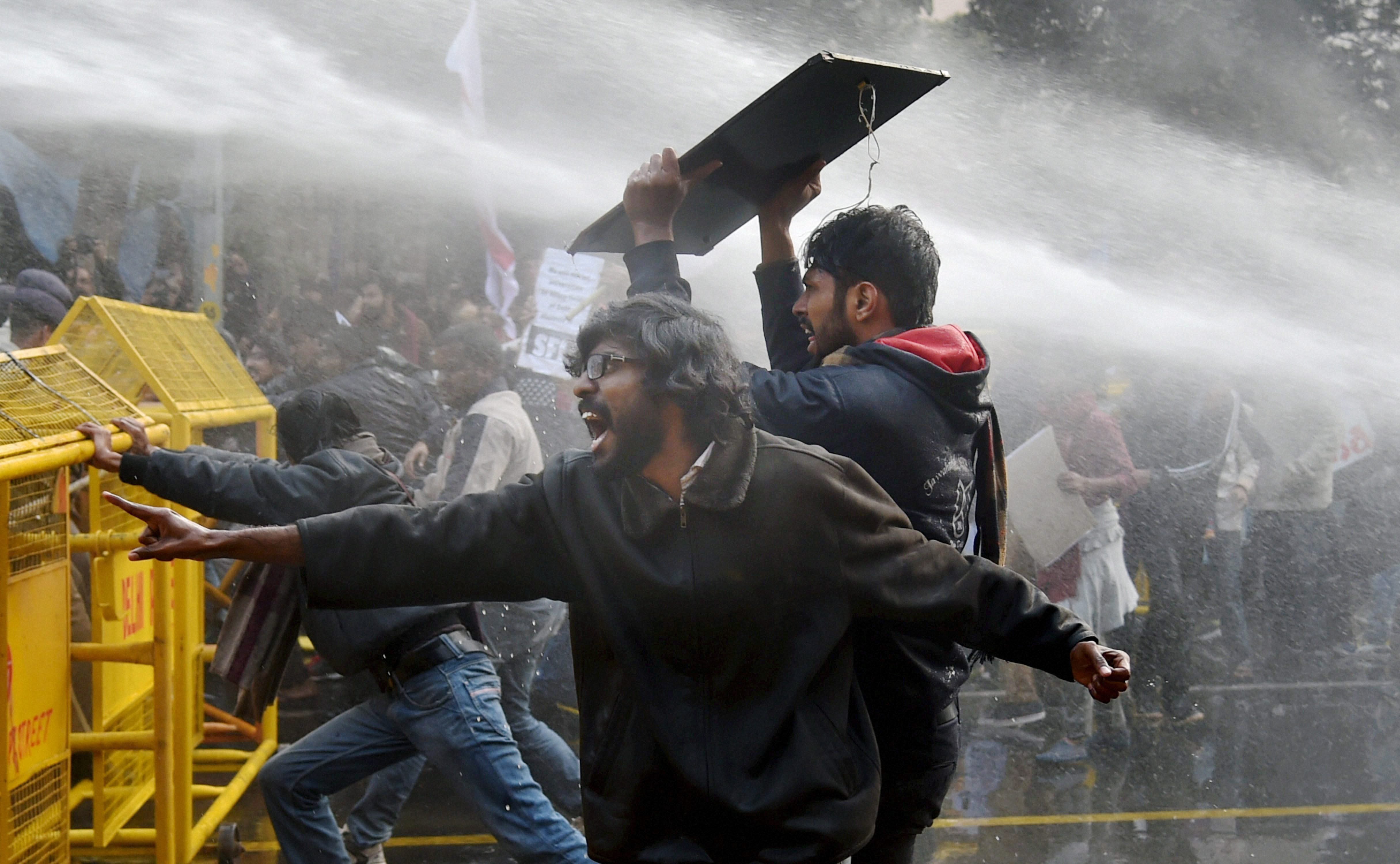 On the rise of right-wing politics
Historically, if Hindutva has been directly opposed by any group in India, it's the Ambedkarites. The history of conversion of Dalits to Buddhism is an evidence of how radical that opposition is. Dalits weren't awakened by the rise of BJP.
The biggest threat to Hindutva is Ambedkarites. For BJP, Left doesn't exist. Left is something which will be easily managed by Congress. Our fight is not for only political power but to break the structure of Brahmanism which is ritually kept intact by the Hinduism.
This does not mean there was no violence against Dalits during Congress rule. It's only that "secular" Congress has good managers chosen from different social groups and community. BJP lack in that.
Dalit-Muslim unity
The unity of oppressed is not only a political unity. It's a unity of pain. And the root of that pain is the same oppressive structure. In 2016, the question emerged why not fight it together?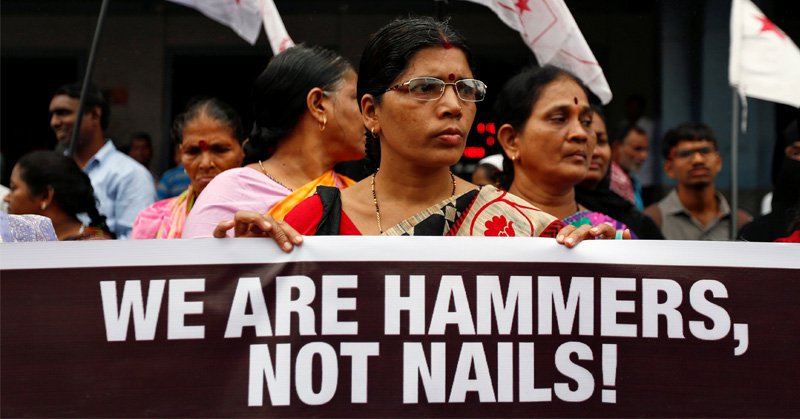 At social level, I can feel from the interactions, that Dalits and Muslims unity is slowly materializing. People are talking about it. This unity will clearly reflect in upcoming Uttar Pradesh elections. Not only Dalits and Muslims, other backward groups are also uniting. The idea of 'Bahujan' will be assertive in 2017.
Political groundwork
I went to Gujarat, Maharashtra, Bengal, Punjab and Rajasthan to interact with various groups and activists working on the ground. The interactions revolved around how to keep the movement alive. And how Dalit and Muslim youngsters need to coordinate for the movement.
During my interactions, I can see the passion in the oppressed to fight and work towards the sustainability of Ambedkarite autonomy in the country. There's also hope this unity starting from social level translates into political realm before the people.
When I meet the victims of Dalit atrocities, you can see a situation of utter helplessness where nobody – government, institutions and society – is not supporting you. But at the same time, the agitations are giving hope to them. Also, the victims themselves become part of the movement like we saw in Rohith Vemula's case. I really like their not giving up and resigning to their fate.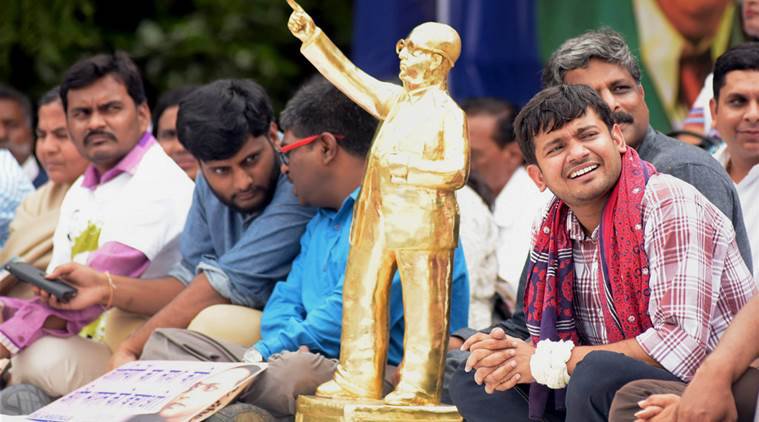 The underlying understanding behind the Dalit movement in 2016 is that if it's our pain and fight then why can't we have our own platform? It's this idea that drives people to be part of the movement. Very soon, people will see the emergence of Dalit movement even from those states where visibly there's no such thing. You'll see Ambedkarite groups asserting themselves in student politics in coming days.
Ambedkar everyone's hero?
Be it right wing or Savarna communists, appropriating Ambedkar has been going on since long. Anti-caste struggle is against this binary of Left and Right. This is why anti-caste struggle is incompatible with Left which usually champions Dalit cause in its protests and outlook.
I believe, BJP's refined form is Congress and the Congress's refined form is Left.
In the language of Leftists, Rohit Vemula is a 'martyr'. I don't consider him a martyr. He was a victim. I acknowledge his struggle. I am a Dalit myself and know what exactly happens when a repressive system is dominating to such an extent that it ultimately forces you to kill yourself. This is not martyrdom, this is victimization.
State's attitude
It's a misconception that state's attack is homogenous for everyone. The state wants to keep a system of checks and balances. With Dalits and Muslims, they'll give the concrete example which is unlikely with a Leftist radical.
There's more vulnerability in case of Dalits and Muslims. The state might jail a Leftist activist and tell him that it's wrong and don't do it again. But when it comes to Dalits and Muslims, they'll give a life imprisonment.
Note: Rahul Sonpimple was one of the eight students suspended by Jawaharlal Nehru University administration on Tuesday for allegedly disrupting university' academic council meeting. The administration has also ordered a proctorial inquiry into the incident. The students have denied the charges.