A devotee of Andhra's famous Tirupati temple has approached the Supreme Court to let it exchange the old notes of Rs 500 and Rs 1,000 lying in its donation boxes.
The amount is to the tune of Rs 8 crores!
The Telegraph reported that the petitioner, VV Ramanamurthy, a journalist from Vishakhapatnam, has submitted a petition to the apex court with a request to direct the Reserve Bank of India and Centre to accept Rs 8.29 crore worth of demonetised currency lying in the donation boxes of the temple's trust, Tirumala Tirupati Devasthanams (TTD).
In the plea, Ramanamurthy alleged that the government's refusal to accept the offering was not only discriminatory, but the devotees' prayers would also remain unfulfilled.
God Venkateshwara's shrine at Tirupati that attracts millions of people has an estimated worth of Rs 50,000 crore with an annual income of nearly Rs 650 crore.
Ramanmurthy argued that refusal to accept public money for charity infringes on the right of the devotees to profess their religion freely, Hindustan Times reported.
He also claimed that the board will no longer be able to make use of the money, adding that possession of such a large amount is also illegal.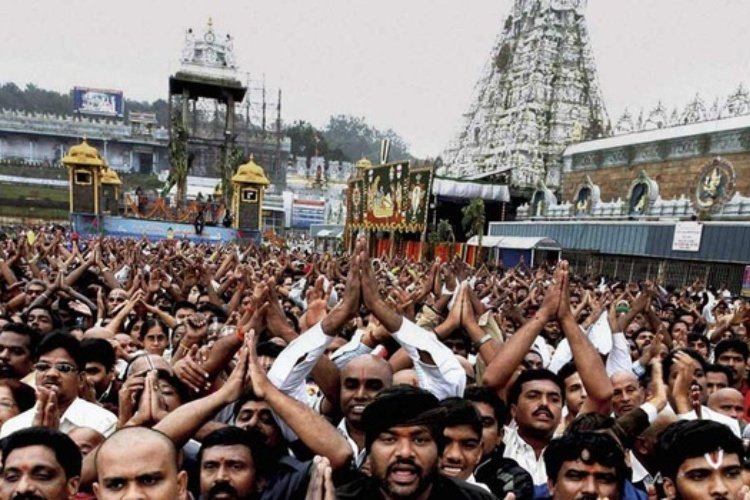 Meanwhile, the Centre has allowed District Co-operative Banks and post offices to hand over the demonetised notes in RBI. 
Ramanmurthy challenged this order, claiming that not holding the offerings of the pilgrims at the same level as the need for NRIs and district co-operative banks to deposit money is discriminatory.
In a similar incident, Jammu and Kashmir's Vaishnodevi temple found donations in scrapped notes to the tune of Rs 1.90 crore.
Feature image source: PTI