A 12-year-old boy from Pakistan- occupied Kashmir has been arrested by the Army after he crossed over into the Indian territory along the Line of Control in Jammu and Kashmir's Rajouri district, an Army official said on Saturday.
Army strongly suspects that he was sent by the Pakistan Army along with terrorists to conduct probe of infiltration routes and patrol track of the Army+.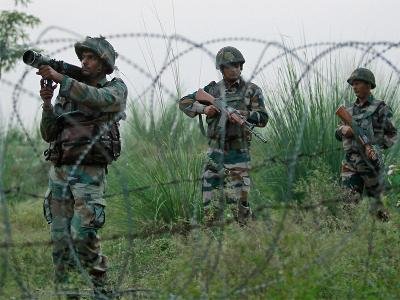 "A patrol of the Indian Army along the Line of Control (LoC) apprehended a 12-year-old intruder from Pakistan-occupied Kashmir (PoK) who had crossed over to this side of LoC late on Friday evening in Nowshera sector of Rajouri district", defence spokesman said.
The boy named Ashfaq Ali Chauhan, who is the son of a retired Baloch Regiment soldier of Dunger Pel village in PoK, was found moving suspiciously near the LoC on our side, he said.
It is suspected that the boy was sent by the terrorists in connivance with the Pakistan Army to probe routes for infiltration across the Line of Control, Army sources said.
This exposes Pakistan on the human rights front as to how a 12-year-old child has been pushed by them into the Indian territory to probe LoC areas seeded with minefields in a highly militarised belt, Army sources said. The boy will be handed over to the police by the Army for further investigation.