Can you play cricket without your arms? Is it possible to bowl a googly with your foot? Or take a catch by gripping the ball between your legs?
As impractical as it might seem, 26-year-old Amir Hussain Lone from south Kashmir's Anantnag district proves nothing is impossible if you set your mind to it.
A tragic accident at his father's sawmill unit when he was just 8-years-old changed Amir's fate. Doctors had to amputate both his arms and the accident took toll heavy toll on the the family's business of manufacturing cricket bats as his father sold everything to take care of medical expenses.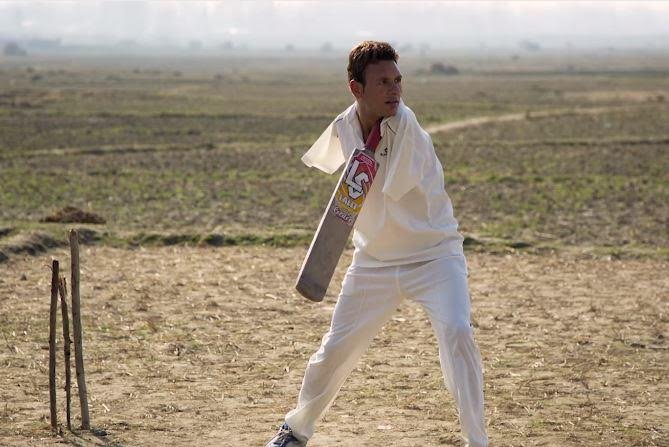 Today, Amir is the captain of Jammu and Kashmir's Para-Cricket team. An unusual cricketer who smashes bowlers by holding bat between his neck and shoulders; he bowls by doing a karate-like swing of his body to deliver the ball gripped in the toes of his feet.
Thanks Grandma
"I was in my second class at the time of accident," Amir told ScoopWhoop over phone from his hometown in Bijbehara. "That accident devastated not only my life but of the whole family." 
But Amir didn't let the accident to come in his way for achievements, even though when he was made aware of his "reality" again and again. There was always one person who stood behind Amir through thick and thin – his Deaydh (Grandmother).   
"She took my care as her service in the path of Allah and didn't let me to quit studies. After the accident, the school authorities asked my family to get me enrolled in some school for specially-abled children but my grandmother pushed me to attend the school," Amir said. "She told me to just sit in the class and listen to what the teacher says."

It was not easy, he continued. "One day, when a teacher told a fellow student to help me with the work, the student retorted with 'I am not his slave', I felt sad but it inspired me. I went to a shopkeeper and bought a pen. We were poor so I couldn't buy a notebook. I went to a cloth merchant and asked him for a bolt-cardboard around which the clothes are rolled, to write upon. I started writing on walls to practice till I was able to master it." 
Not Welcome
Amir studied till 12th standard, passing all subjects by writing his answer sheets with his feet. When he went to college, he was not welcome.  
"I used to wear only track pants since they were easy to roll down in case of natural call, but the college authorities told me that I will be allowed inside the college only when I wear a pant. This is our tragedy," Amir, who tried to join Government Degree College Bijbehara in 2013, said. 
While he didn't get the admission, Amir started practicing wearing pant on his own. 
"It took me a whole year to train myself to wear a pant. But even then I didn't go to college. That refusal of the college authorities is still in my heart." 
Amir believes he can do anything like anybody else. He can swim, shave, eat, drink, wear clothes, bath, use laptop and phone. But behind everything he has learnt, there is a tragic story.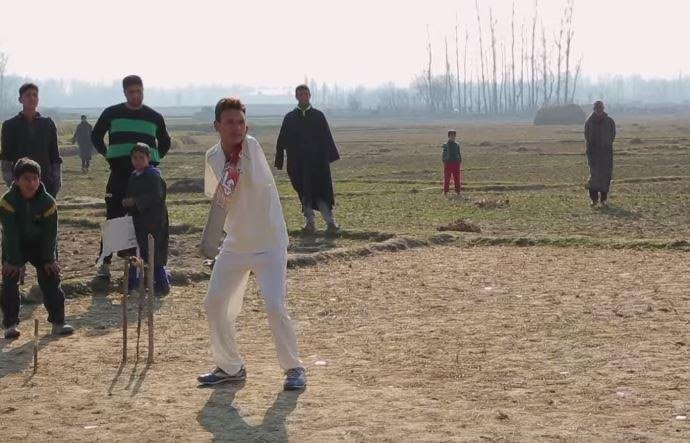 One morning, the stitch of his pant snapped off while he was on his way to school. Feeling ashamed, he stood near the side of road and called for passersby to help him out. 
"Nobody helped me. I stood there from 10 in the morning till grew dark. I thought darkness will shield my shame, so I decided to go home through another route. When I reached home at an unusual time, I told them everything. Everyone broke down. We all cried together."
Then cricket happened
This led him to consciousness of doing things on his own, even when it meant playing cricket. 
"I was not a born cricketer. But I liked watching cricket on television. Since we had no TV, I used to watch at my neighbours but one day they didn't allow me to watch and threw me out of the house. I still didn't leave and peeked through a window hole to watch the full innings. I felt as if they were telling me cricket was not for me. That was the time I decided to learn cricket."
There was least problem in understanding batting but he really had a hard time when it came to bowling. He idolises Indian batting legend Sachin Tendulkar and eagerly waits for the telecast of his previous innings on TV.  
"My earliest cricket practice started with my grandmother who used to bowl to me. I wish she was alive today and see me representing J&K at national level," Amir said. 
Amir has represented J&K at national level in different tournaments in Delhi and Lucknow and looks at cricket as his career but he doesn't see it going anywhere; he doesn't see it making money for him.
"Nobody understands us. When I went to New Delhi and Lucknow, I found sensitiveness and special attention towards people like us, but in Kashmir, there's a lack of awareness. There's no association of para-cricketers in J&K. Neither is there any support from government." 
Watch the video of his story: 
Feature image source: YouTube Video Screenshot