The Bihar election has been a closely fought one, but if a majority of the exit polls are to be believed, the Nitish Kumar-led 'Mahagathbandhan' is going to emerge victorious when the results are announced on November 8. But there's one exit poll that says the BJP and its allies are going to coast to victory by a comfortable margin.
Here's what all the exit polls predicted, according to NDTV's poll of exit polls :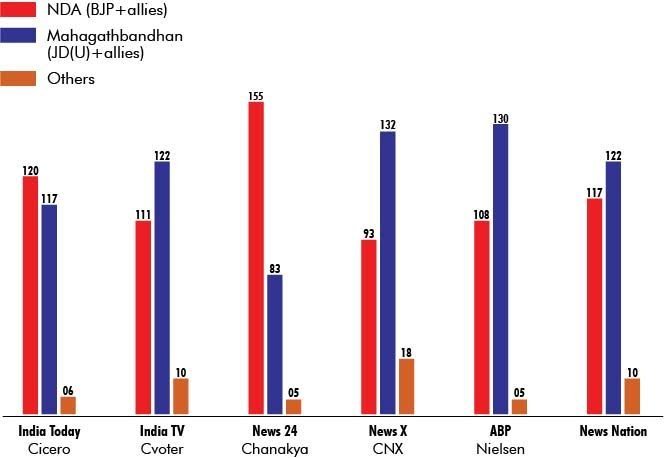 While most of the exit polls said that the BJP would just fall short or lose, the News24-Chanakya exit poll was the only one that predicted that the BJP and its allies would comfortably coast to victory and could end with as many as 155 seats.
Any alliance needs at least 122 seats to form the government in the state assembly.
Apart from the Chanakya poll, all the other exit polls predicted that the JD(U)-led Mahagathbandhan would win by a close margin.
But Rashtriya Janata Dal chief Lalu Prasad Yadav, who is part of the Mahagathbandhan, was far more optimistic. He predicts the alliance will win 190 seats.
" These exit polls are prepared in towns and sitting in a room. But my claim of 190 seats is based on reading the pulse of people during campaign," Prasad said.
So who'll call the elections right, Lalu or the exit polls? We'll find out on Sunday.