Former Delhi BJP president Vijay Goel was fined by Delhi's traffic cops for violating odd-even rules on Monday. Goel was fined Rs 3,500 soon after he left his residence on Ashoka Road but it wasn't just for breaking odd-even.
Incidentally, the MP had set off from home after announcing that he would break the law: 
On my way to Parliament in an odd numbered car to expose #oddevencorruption of AAP

— Vijay Goel (@VijayGoelBJP) April 18, 2016
And as he expected, this happened: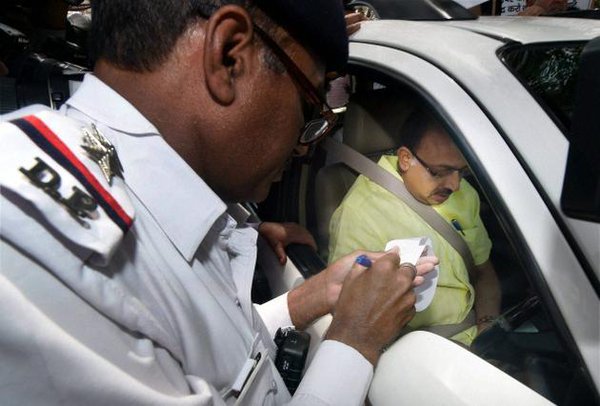 It then turned out that Goel was driving not just in violation of odd-even but also without a license, and his car's insurance papers had expired. 
When the media approached Delhi CM over the BJP lawmaker being fined for violating #oddevendobara, Arvind Kejriwal didn't miss the opportunity:
Goel then tried to save face by saying that he wasn't against the odd-even scheme, but against the misuse of public funds in the name of the scheme.
Incidentally, earlier in the day, Delhi transport minister Gopal Rai had gone to visit Goel over his protest against the scheme and even did this:  
But that rose only made things thornier. Here's how the BJP MP responded to Gopal Rai's gesture :
Maybe it explains why Goel forgot his license and to renew his insurance. Hopefully, he'll be able to execute his protest a lot better the next time round.