At least 276 people have been killed and 300 injured by a massive truck bomb that tore through a busy shopping district of Mogadishu, the government said on Monday, making it the deadliest attack ever to hit conflict-torn Somalia.
Desperate residents of the capital searched for news of missing relatives after the monster explosion on Saturday afternoon destroyed several nearby buildings, leaving victims burned beyond recognition.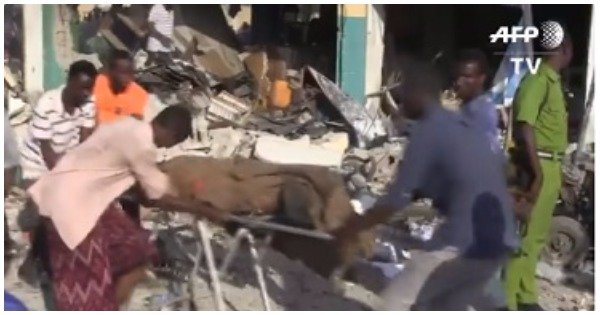 "Somalia Federal government confirmed that 276 people were killed in the blast… and 300 wounded were admitted at the different hospitals in Mogadishu. There is still a national rescue operation under way," the country's ministry of information said in a statement, adding that there would be "national mourning and prayers for the victims" in the coming days.
The devastation caused was widespread. Muhidin Ali, a Mogadishu resident who was close by at the time said it was, "the biggest blast I have ever witnessed, it destroyed the whole area."
Security officials said hundreds of people had been in the area at the time of the blast, with police saying it was difficult to get a precise number of victims because the bodies had been taken to different medical centres while others had been taken directly by their relatives for burial.
Emergency centres set up for victims
Police official Ibrahim Mohamed said that many of the victims were "burned beyond recognition" in what he described as "the deadliest attack ever."
The government statement said an emergency centre had been set up in the capital for people to seek information about their loved ones.
"It has been more than 24 hours now and we don't have any trace or information about the sister of my friend, we can assume she is dead with her flesh somewhere amongst the horribly burned dead bodies," said Abdulahi Nuradin, who was helping in the search.
"We went to several hospitals to seek any information but to no avail, the family is now 99 per cent convinced she is dead, I saw so many severed pieces of human flesh at the hospitals, you cannot even look at them," he added.
Worst attack
There has been no immediate claim of responsibility, but the Shabaab, a militant group aligned with Al-Qaeda, carries out regular suicide bombings in Mogadishu in its bid to overthrow Somalia's internationally-backed government.
In February, a suicide car bomb in a market left 39 dead shortly after Shabaab fighters threatened a "vicious war" against the newly-elected President Mohamed Abdullahi Mohamed, widely known as Farmajo.
Saturday's blast, the worst in Somalia's history, came six years after Shabaab militants were pushed out of Mogadishu by African Union and Somali troops.
While they were also pushed out of major towns across southern Somalia the militants still control rural areas and launch attacks on military, government and civilian targets in Somalia, as well as terrorist raids in neighbouring Kenya.
"This is the most painful incident I can remember," the deputy speaker of the Somali Senate Abshir Ahmed said in a Facebook post after visiting the Medina hospital where many of the victims had been taken.
Saturday's blast was widely condemned, including by the United States, Britain, Canada, France, Turkey and the African Union.
Turkish President Recep Tayyip Erdogan's spokesman Ibrahim Kalin said Ankara was sending planes "with medical supplies", adding that the wounded would be flown to Turkey and treated there. The country is a leading donor and investor in Somalia.
Nation mourns after the deadly attack
Hundreds of people, chanting anti-violence slogans and wearing red or white bandanas around their heads in a show of grief, took to the streets of Mogadishu on Sunday to condemn the deadly attack that has shocked Somalians.
"We have seen what the terrorists can mercilessly do by shedding the blood of innocent civilians," the mayor told the protesters after they ended their march at a square in southern Mogadishu. "We need to stand united against them".
Feature image source: AFP