In an amusing twist to the recent attack on AAP MLA Alka Lamba during her anti-drug campaign, a CCTV footage shows her vandalising a sweets shop on Sunday, August 9.
The footage recovered from a sweets shop in Kashmere Gate clearly shows Lamba going berserk shop at the shop counter. As can be clearly made out, she is seen picking up the billing machine and then throwing it away. After that violent act, her supporters are seen vandalising the shop.
Delhi BJP chief, Satish Upadhyay, whose party was party has been accused of 'orchestrating the conspiracy', swiftly charged the ruling Aam Aadmi Party (AAP) government party workers of indulging in hooliganism. "Police should take action against culprits. She provoked her supporters and has taken law in her hand," he said as reported by Zee News .
Lamba took to Twitter late on Sunday to claim that the CCTV footage actually shows the incident which happened after she was attacked. "The video shows the man who pelted stones on me being nabbed from the shop of a BJP leader," she said, according to an India Today report . She has also maintained that the video has been tampered by the BJP for running a malign campaign.
Read her tweets where she is justifying her actions: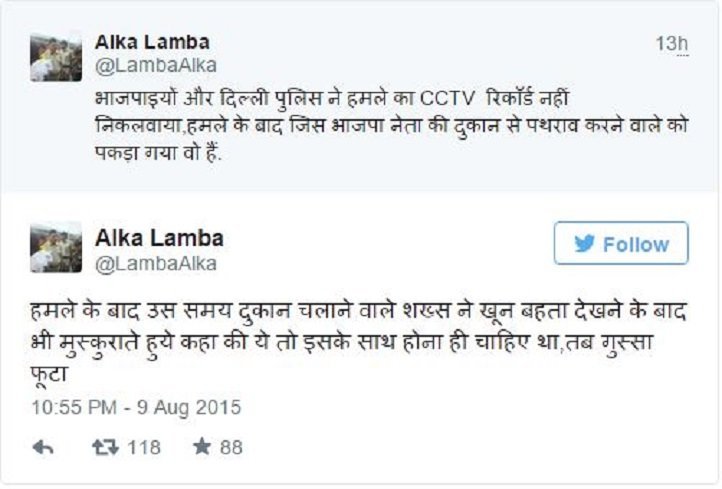 Lamba, MLA from Chandni Chowk constituency, had initiated an anti-drug drive in the capital around 5 am on Sunday. She was reportedly injured in an attack by a group of unidentified men who pelted stones at her.
However, Delhi Police has filed a case of trespassing against Alka Lamba and an FIR has been registered. Police have also confirmed that one person has been detained in connection to the stone pelting. However, it has categorically denied AAP's allegation of being unable to provide adequate security.
The incident sheds light on yet another case of AAP's vigilante-styled activism. While launching an anti-drugs campaign and protesting against stone-pelting is undoubtedly praiseworthy, but vandalism completely undermines the sanctity of the grave issue.
Read more: