A group of tourists found a cockroach in their Biryani at the famous Hattrick Restaurant in Srinagar, but as usual, the Jammu and Kashmir government couldn't care less. Sensing the government's disinterest, a group of youngsters turned to Munna Bhai style of protests. They started a campaign of sending 1000 'Get Well Soon' letters to the restaurant. The news went viral on Facebook and Twitter.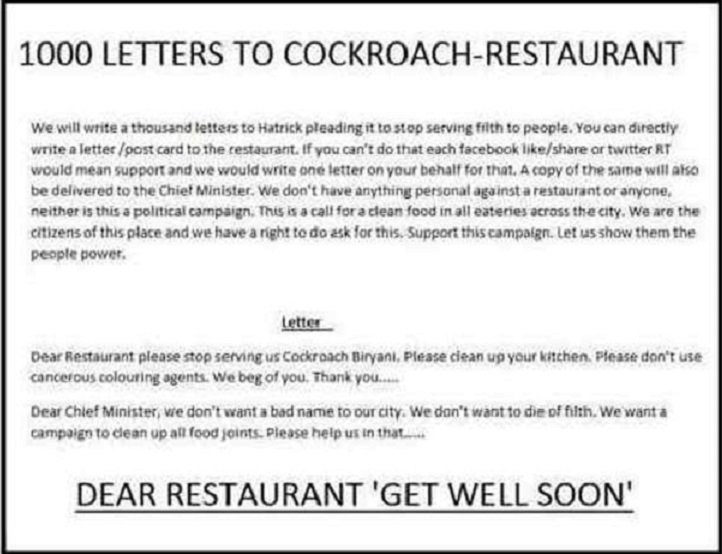 After the massive public outcry, the authorities conducted a raid and found the levels of hygiene down to the negative inside. A source said that at another unit of Hattrick, a complaint of cockroach inside a sandwich had earlier been reported. The Hattrick food chain has many outlets across the Kashmir Valley which is run by the Chowdhary Group.
J&K; Drugs & Food Control Organisation raided the restaurant outlet in Hazratbal and found it extremely unhygienic. They have suspended its operations. "We have closed down the operations of the restaurant after our inspection team[,] found that the hygiene conditions were not up to the mark," Hilal Ahmad Mir, Assistant Commissioner, Food and Safety, Drugs & Food Control Organisation told The Tribune .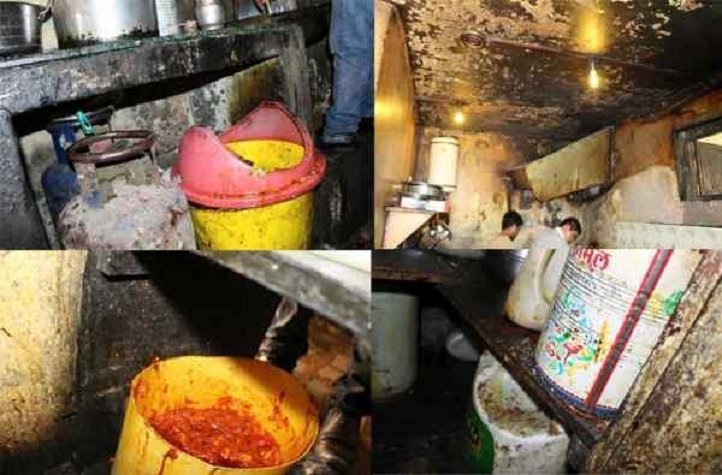 Source: Special Arrangement
A group of ten doctors from Mumbai arrived a few days ago in Kashmir. While they were visiting Kashmir University campus they went to the famous Hattrick restaurant and ordered a biryani. With the biryani came a cockroach. That is what led to the Sanjay Dutt aka Munna Bhai protest style of sending letters to the restaurant owners. They wanted to convey that food joints can't just get away with something like this.
"We decided to do this as the government has done nothing. And this is an issue which concerns us all. We don't have anything personal against anyone but we are citizens and we have a right to clean food", said Sajad Sheikh, activist and organiser, adding the idea was to send across a larger message of right to good food.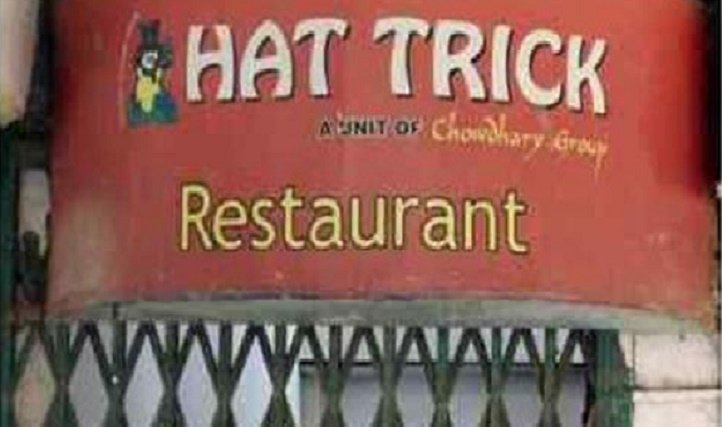 The group has decided to send the compiled copy of the Facebook 'likes', shares or Twitter re-tweets of their online message to the said restaurant and a copy of the same will also go to the Chief Minister Mufti Muhammad Sayeed.
Srinagar, the summer capital of J&K;, is the hub of tourist activities. The PDP-BJP government has shown a lot of enthusiasm to promote tourism. The CM and State's Finance Minister recently visited Bollywood town Mumbai and met top Bollywood stars for boosting tourism in Kashmir. But before promoting tourism there is a far greater need to clean and ensure hygienic restaurants in Srinagar. What will the tourists be fed?
We may like to remind you that the sub-standard food being served at eateries across Srinagar city is not new. Earlier, there was a massive uproar after reports suggested that cancer-causing colouring agents were being used in restaurants.