Recently, political parties in India, especially the BJP, have used social media to directly connect with their audience. However, microblogging platform Twitter has come under heavy criticism as it is accused of increasingly becoming a platform where paid or unpaid "trolls" of a particular political outfit use it for propaganda.
Not to be left behind, the Congress party has also been trying hard to increase their social media presence, albeit without much success. 
The latest move by the Grand Old Party has been a series of polls titled #KnowYourLegacy, where they ask people questions such as this:
So far so good. It seems like a good attempt to remind the general public about the party's contribution to national welfare and better its image. 
If you're thinking the Congress party is finally upping its social media game, hold your horses, or let's just say, hold your donkeys! 
In a completely weird poll tweeted out from the Congress's official Twitter handle on Sunday, they wanted people to answer this: In the absence of motorable roads in Bhutan in 1958, PM Nehru rode on an animal to visit the country. What animal was it?
As if completely clueless about how social media works, given BJP's huge presence on the platform, they added 'donkey' as an option. Needless to day, this option for the maximum votes.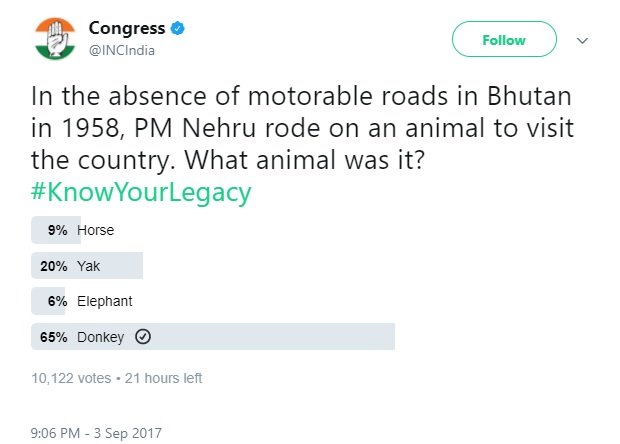 Curiously enough, after getting trolled right, left and centre all day, the party deleted this tweet, only to put up the same poll a day later! Bizarre. 
This is the "new poll" today.
RIP logic! The party got massively trolled on social media and deservedly so: