Severe cyclonic storm Vardah over the Bay of Bengal will make landfall near Chennai tomorrow, the weather office said today, as the coastal states of Tamil Nadu and Andhra Pradesh brace to deal with it.
The system is expected to bring heavy rainfall in coastal districts of Tamil Nadu, including Chennai, and southern Andhra Pradesh.
"Vardah lay centred at about 440 km east of Chennai (at 0830 hrs today) and the system is expected to move westwards and cross Chennai by December 12 afternoon," S Balachandran, Director, Area Cyclone Warning Centre, said in Chennai.
However, its intensity will get reduced considerably by the time it makes the landfall.
K J Ramesh, Director General of the IMD said, "I have personally spoken to chief secretaries of Tamil Nadu and Andhra Pradesh, while the regional MeT offices are in constant touch with the Disaster Management Commissioners of these two states."
Meanwhile, the Regional Meteorological Centre (RMC) at Chennai said the storm is expected to bring heavy rainfall in northern coastal districts of Tamil Nadu, including the capital city. Southern Andhra Pradesh is also expected to receive heavy showers.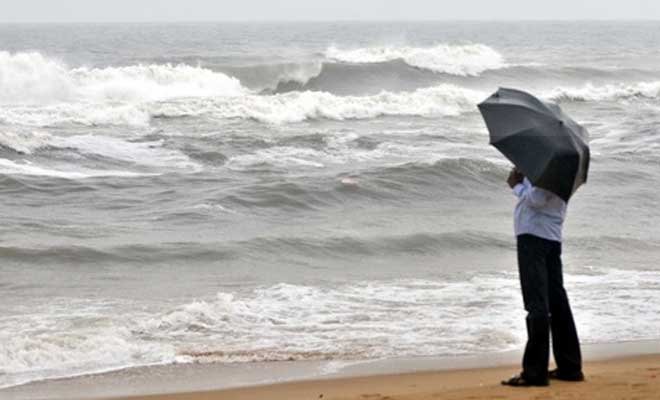 Wind speed would be in the order of 40-50 kph, it said.
Isolated heavy to very heavy rain is likely to commence this evening in north Coastal Tamil Nadu and Puduchery and Southern Andhra Pradesh, the RMC said in its weather warning put on its website.
Squally winds and rough to very rough sea conditions are expected along and off Andhra Pradesh, north Tamil Nadu and Puducherry coasts from tonight, it said.
IMD said it may cause damage to thatched huts and power and communication lines.
The damage may also be caused to paddy crops, banana, papaya trees and orchards in Chennai, Thiruvallur and Kanchipuram districts of Tamil Nadu; Ongole and Nellore districts of Andhra Pradesh and Puducherry, the IMD said in its advisory.
It also urged fishermen in Tamil Nadu, Puduchery and Andhra Pradesh coasts to keep away from the seas for the next 48 hours. The National Disaster Management Authority (NDMA) said NDRF teams have been deployed in Tamil Nadu on account of the cyclonic storm.
National Disaster Response Force (NDRF) teams, each consisting of 38 rescuers, have been deployed in Chennai, Tiruvallore and Kancheepuram, the force said.
The force has also asked people to get information from TV and radio on the cyclone and advised them to keep a stock of dry fruits and keep their mobile phones charged.
Cyclone Nada, which later weakened, had made a landfall near Chennai in the first week of December, bringing much- needed showers in Tamil Nadu. The state has witnessed a below normal Southwest Monsoon as well as Northeast Monsoon, a phenomenon which brings rains in some parts of southern India, especially Tamil Nadu and Andhra Pradesh.