Ahead of Diwali, Delhi Police on Sunday busted an illegal casino running in south Delhi's posh Sainik Farms area and arrested 36 people, including businessmen, while seizing gambling chips of Rs 1.36 crore.
This is the biggest arrest in recent times. 
The 'Exclusive' Casino 
According to police, the casino, which functioned almost like a private club, had an entry fee of Rs 5 lakh, which new entrants had to pay to be able to access the casino, and only opened post 10 p.m. on dates that were fixed beforehand. 
New entrants also needed to be introduced by at least two of the existing members. A special coin was issued to new members as a token of identity in the casino. The older member introducing a new person to the club would also get a coin to encash at the casino. 
"It was closed group. Information was shared through word of mouth, especially among property dealers, transporters, businessmen and industrialists in south Delhi," police told Times of India. 
The club did not open daily, and dates were sent to each member personally. Organisers even avoided Whatsapp and Facebook to avoid detection. 
Chips ranging from amounts worth Rs. 1000 to 1 lakh were given to players at the casino, which housed rivoli, roulette and blackjack tables. The gamble could range from Rs. 5,000 to 1 lakh. 
The Bust 
A joint police team of Neb Sarai and Malviya Nagar in Delhi conducted a raid at J-255, Sainik Farms in the wee hours today after they got a tip-off.
Almost two dozen people were found playing casino in the premises, the official said, adding that around "eleven luxury vehicles, 23 bottles of foreign made liquor and gambling chips worth Rs 1,36,45,000 have been seized".
"We have also seized 250 packets of playing cards, wheel, spinning ball and other tools used in casino," he added.
36 people in total have been arrested so far in regard to the bust. 
Two separate cases under the Delhi Gambling Act and Delhi Excise Act have been registered at Neb Sarai police station in Delhi. 
An Elite Clientele 
"Many of the arrested persons belong to reputed business families of Gurgaon, Faridabad and Delhi," police told PTI, adding that among those held include players, table attendants and proprietors. 
The main accused, Harender Kaushik, and Kunal Chandra, owner of the premises, are yet to be arrested. Chandra was also one of the partners and proprietors of the casino.   
Legal Action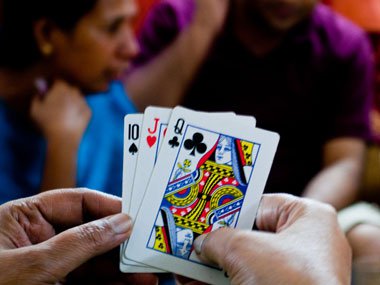 As per the police, they will take steps to seal the property under the provisions of Delhi Gambling Act.
Police have also sought assistance from the intelligence department to collect information about places where gambling is organised during Diwali. 
The ACPs and SHOs of all the police stations here have been instructed to keep a tight vigil since Diwali is the time when gambling sees a spurt.
Feature Image Source: Reuters 
(Inputs from PTI)