Leading Islamic seminary Darul Uloom Deoband has issued a bizarre fatwa prohibiting Muslim women from plucking their eyebrows or cutting their hair in order "to look beautiful", as per various reports.
The fatwa was issued on Saturday and was in response to a question from a Muslim man in Saharanpur who wanted to know whether Islamic allows women to dress (pluck, wax, thread or draw on) their eyebrows or cut their hair.
Here's what Maulana Mufti Arshad Faruqui, head of the Darul Ifta, said:
"Dressing the eyebrow to look beautiful is against the tenets of Islam."
"They (women) can trim the eyebrows if they have grown too long but doing it for the purpose of looking beautiful is un-Islamic. The same is expected from men too."
"Hair is the beauty of a woman. It shouldn't be cut unless it becomes unmanageable."
Watch his video here:
Darul Uloom has given a good 'fatwa', he should have given this fatwa a long time ago: Maulana Luthfur Rehman Sadiq Kazmi #FatwaRazesEyebrow pic.twitter.com/65OK9bTdni

— TIMES NOW (@TimesNow) October 8, 2017
Actually, this new diktat is just repetition because the seminary had issued this fatwa in 2009 also. 
Here is the clerics' decision as per the seminary's website: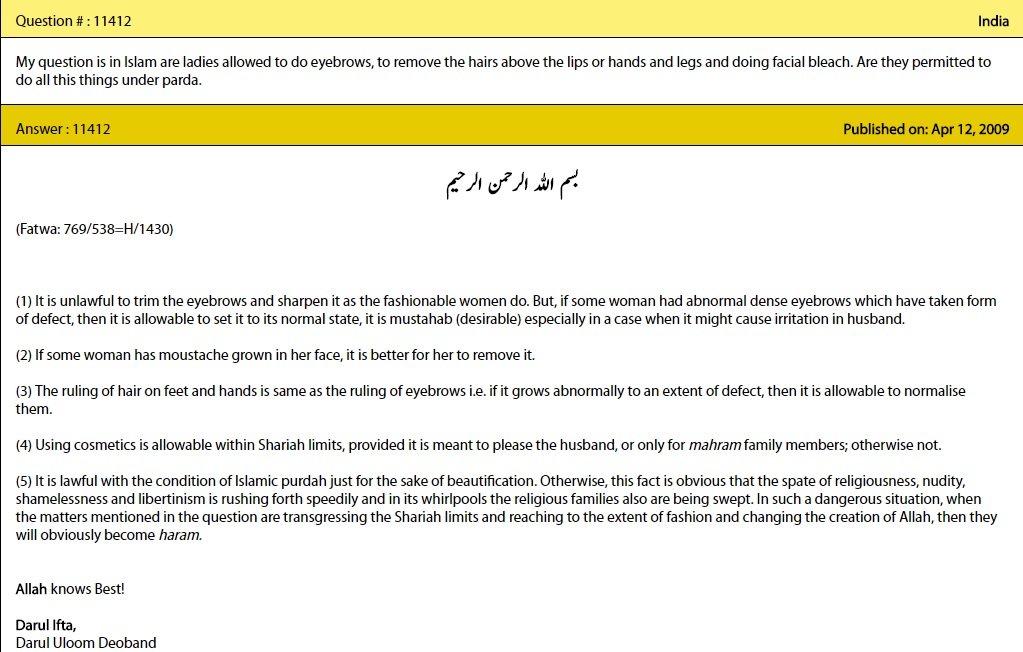 This regressive diktat drew angry reactions on social media as well as women activists:
.