American online retail giant Amazon, which has committed investments to the tune of USD 5 billion in India, will "keep investing and growing in India", its chief Jeff Bezos has said.
After his meeting with Prime Minister Narendra Modi, Bezos tweeted: 
Bezos was among the 20 US business leaders who interacted with Modi as part of a roundtable interaction. Others in the group included Apple CEO Tim Cook, Google's Sunder Pichai, John Chambers from Cisco, Shantanu Narayen from Adobe and Ajay Banga from Mastercard.
Amazon, which has recently completed four years of operations in India, is locked in an intense battle for leadership with homegrown e-tailer Flipkart.
The company has been aggressively investing in setting up fulfilment centres across India to ensure speedy delivery to consumers. It has 41 such warehouses across 13 states.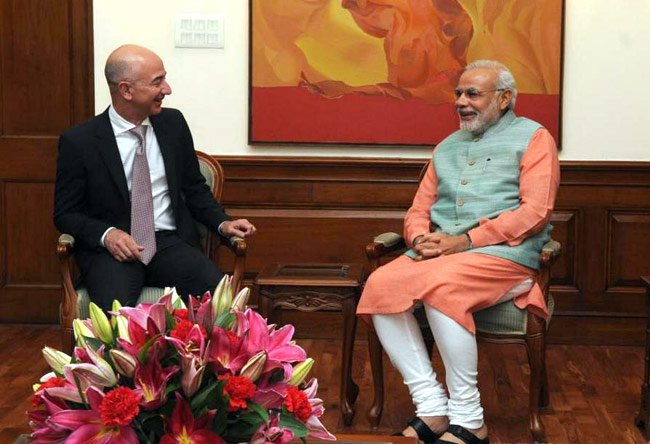 Its seller base in the country has also increased to 2 lakh currently, from 100 in 2013. Previously, Bezos has said the company will keep investing in the Indian market to strengthen technology and infrastructure.
"Our India team is moving fast and delivering for customers and sellers… It's still Day 1 for e-commerce in India, and I assure you that we'll keep investing in technology and infrastructure," Bezos had said.