Manabi Bandyopadhyay doesn't believe in mincing words. The first time I met her, in June 2015,  at the courtyard of a ramshackle three-storied structure in Krishnanagar (about 100 kms away from Kolkata), she was the celebrity in a small town. That day, Manabi had taken charge of Krishnanagar Women's College, becoming India's first transgender principal. Even before she took office, at an informal gathering of students, professors, office staff and mediapersons, she announced that she will not tolerate any kind of ineptitude. "I expect people to be diligent at their work, I don't like being taken for granted," she had said. 
A year and a half after making history, Manabi Bandyopadhyay feels that she has been targeted by the college staff for being a "disciplinarian". Earlier this week, she submitted her resignation to Nadia District Magistrate Sumit Gupta on Thursday. The reasons she gave was non-cooperation from staff and students.
"People don't like being shaken out of their slumber," says Manabi in an exclusive interview to ScoopWhoop News. 
 The day when Manabi took charge of Krishnanagar Women's College, pots of wilted petunias had been arranged around the entrance, a colourful welcome banner at the gate read, 'Be a mother to us' and students and staff at the Krishnanagar Women's College were ready with bouquets and sweets to welcome their new principal. In the past few months, they have staged dharnas against her, how did things take such a drastic turn?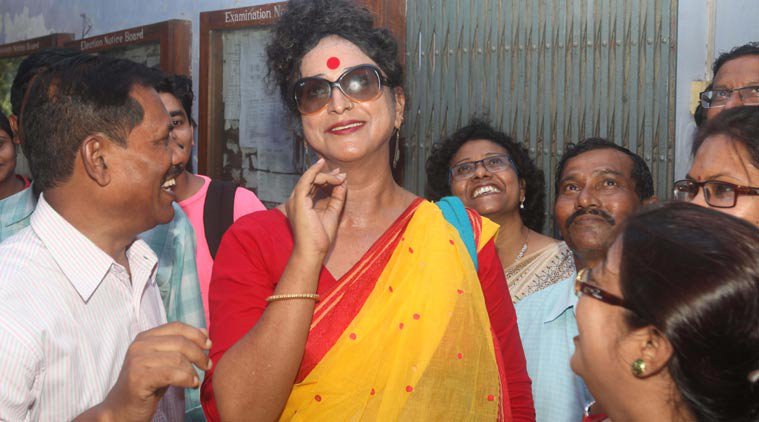 "Trouble started brewing in the first few months itself. When I made it clear that I won't tolerate any kind of indiscipline on the part of students and staff, attitudes changed. They thought since I am a transgender person, I will be grateful about being there. But I don't owe anybody anything. I have reached this position through sheer hard work and struggle," says Manabi. 
Manabi claims that she tried to change the "tuition culture" in the college. "We all know that most students who study in government colleges need to take tuitions outside of the college. It's a lucrative prospect for lecturers and professors too. They do a perfunctory job in classes and reserve their best for tuition classes. I wanted to change that in my college and there was this massive backlash," says Manabi. 
According to a Times Of India report, a charter of 12 complaints, including interference of outsiders in official and hostel work, operation of all financial transactions by the principal's son and not recruiting five non teaching members from November 26, 2015, while putting extra pressure on the existing staff, was submitted.
Manabi denies these allegations. "My son helps me out with my work, but he never interferes with the functioning of the college. How can he? He is not an employee of the government. This is all a vicious smear campaign. They have even accused me of biting and beating up professors. If they have proof of all that, I will urge them to show that," says Manabi. 
Does she feel that she was targeted because she is a transgender person? "In my career, I have faced a lot of discrimination from different quarters because of my gender identity. It doesn't affect me anymore. Yes, there were instances of that here too, but I brushed them away. I feel the problem in Krishnanagar Women's College was primarily because I wanted to bring about change here and the staff wanted to resist it," says Manabi.
 DM Sumit Gupta said, "Principal Manabi Bandyopadhyay has sent me her resignation, which I forwarded to the higher education department on Wednesday . The department will take the final decision on her resignation."