Apart from a vague tweet, Dera Sacha Sauda chief Gurmeet Ram Rahim Singh has hardly come out with any statement over Kiku Sharda's arrest for mimicking him. This is what he had tweeted at the time: 
I was busy shooting OnlineGurukul; just got to know, devotees are hurt due to Kiku's action.If he has apologized, no complaint from my side

— GURMEET RAM RAHIM (@Gurmeetramrahim) January 13, 2016
But the godman recently broke his silence on the controversy in an interview to ABP News.
Ram Rahim said he has absolutely no problem with anybody mimicking him, so he has nothing against Kiku Sharda.
However, he does have an issue with the what Kiku Sharda, dressed as him, did at the show for Zee TV.
"He was shown doing things I don't do. I have helped as many as 5.5 crore people give up liquor addiction, but he (Kiku) was shown offering people alcohol. Similarly, we have married off so many sex workers, but the actor was shown surrounded with women, arms around their shoulders. I don't do such things." 
But does that mean a case should be filed against Kiku? 
"We forgave Kiku when he apologised for his act in Mumbai. And we later got to know it wasn't the actor but the scriptwriters and the show's producers who were 'at fault'," he said.
Then why was Kiku arrested? "The law took its own course," comes the pat reply.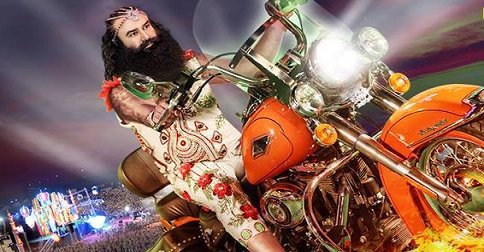 And why did he think the police show such diligence particularly in this case? 
"When the police doesn't work, you have a problem, when it does, then also you have a problem," he said.
Finally, Ram Rahim concluded it saying he was busy with the shooting of his new film 'Online Gurukul' and wasn't entirely in the know of the developments. 
Watch the full interview here, where he also takes questions on him mimicking Lord Vishnu and controversy with the Sikh clergy: