Former Lok Sabha Speaker PA Sangma, who had a chequered political career in which he constantly shifted allegiance in the last two decades, died here today following a massive heart attack. 
68-year-old Sangma, who was elected nine times to Lok Sabha from Tura in Meghalaya and who became the first Speaker from the North East, breathed his last here this morning. 
The news of his death was broken by Lok Sabha Speaker Sumitra Mahajan, who made an obituary reference to him and adjourned the house for the day as a mark of respect. Later setting aside protocol, the Rajya Sabha also adjourned after lunch for members to pay homage to Sangma, whose body will be taken to his home in Meghalaya.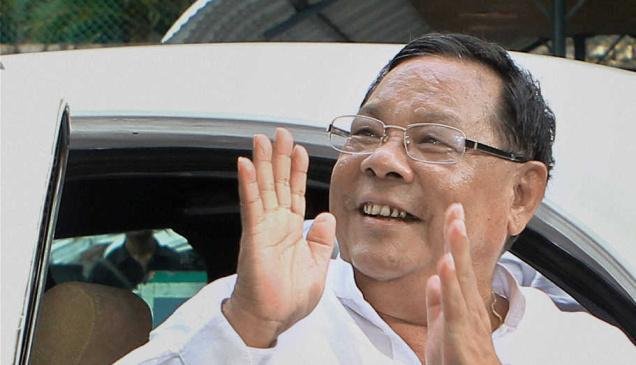 Sangma leaves his wife Sorodini, two sons–Conrad, a former finance minister in Meghalaya, James, a sitting MLA, and daughter Agatha, who was the youngest minister in Manmohan Singh's ministry when she was inducted in 2009.
In the 11th Lok Sabha, shortage of numbers forced the BJP to accept Congress candidate Sangma as Speaker after Atal Bihari Vajpayee was sworn-in as Prime Minister at the head of a short-lived 13 day government. An affable and convivial personality, Sangma had friends across parties.
After a long stint in the Congress when he became a minister of state in the Rajiv Gandhi government in 1984, he later rose to become the Labour minister in Narasimha Rao's Cabinet.
Sangma was among those who rose in revolt against Sonia Gandhi's foreign origins in 1999 along with Sharad Pawar and Tariq Anwar to form the Nationalist Congress Party, which he left to join Trinamool Congress.
Later, he split with the TMC and formed his own National People's Party on whose ticket he was elected to the current 16th Lok Sabha. In 2012, Sangma exited from NCP to become the official candidate of BJP against Pranab Mukherjee in the Presidential elections.
He was also the Chief Minister of Meghalaya from 1988 to 1990 and Leader of Opposition in the assembly from 1990 to 1991. While expressing deep grief over Sangma's passing away, Mahajan said he knew how to run the House with a smile and "I learnt this from him." "A man of masses, Sangma strove relentlessly for the amelioration of the marginalised sections," the Speaker said.