A Punjab Police inspector was arrested for his alleged links to drug peddlers by a special task force which seized a large haul of drugs, arms and ammunition from his official quarters.
Raids were carried out on inspector Inderjit Singh's Jalandhar police line residence and Phagwara official quarters, police said.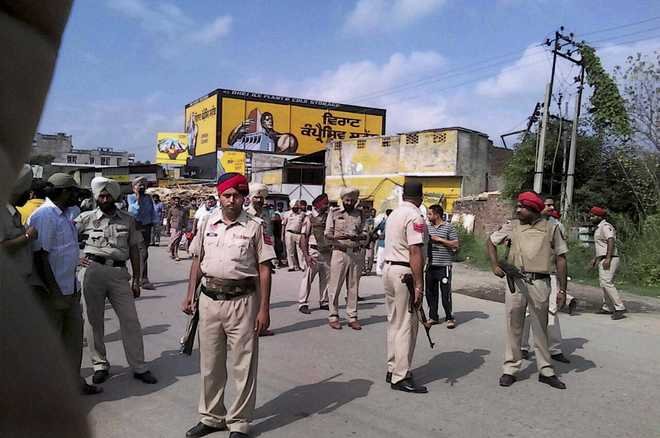 A 9 mm Italian-make pistol, a .38 bore revolver, an AK 47 and around 380 live cartridges of different arms, including 115 AK 47 cartridges, were found at the Jalandhar house. Rs 16.50 lakh cash, 3550 British pounds and a car were also seized.
Three kg of smack and 4 kg of heroin were seized from his Phagwara quarters, police said.
3 Kg Smack & 4 Kg Heroin from another Govt residential quarter allotted to Police Inspector Inderjit Singh at Phagwara, recovered #Punjab

— ANI (@ANI_news) June 13, 2017
A case under provisions of the IPC and sections of the NDPS Act and Arms Act was registered against him, they said.
Immediately after coming to power in March this year, the Congress government in Punjab had constituted a Special Task Force (STF) headed by ADGP Harpeet Singh Sidhu to curb the drug menace in the state.
383 rounds of bores including of AK-47,9 mm Italy-made pistol,.38 bore revolver,AK-47 gun,16.50 lakh cash,3550 British pounds rcvrd:ADGP STF pic.twitter.com/FREugZv3v2

— ANI (@ANI_news) June 13, 2017
About Inderjit Singh:
Inderjit Singh had been posted as the in-charge of the Crime Investigation Agency in Phagwara for a long time.
Last month, he was transferred to Kapurthala as the in-charge of CIA staff.
Singh has arrested a large number of drug peddlers in the past and also ensured seizure of a huge quantity of drugs during his Kartarpur posting in Jalandhar district.
Gang leader Sukha Kahlwan, who was gunned down in police custody near Phagwara a few years ago by rival gangsters, had also threatened the inspectpor of dire consequences as the latter considered him instrumental in his arrest.
(Feature Image Source: PTI )