From April 1, cigarette packets will have more warnings, now covering 85% of the pack. Only a small portion of the pack will be used for advertising, reports LiveMint.
Currently tobacco pack warnings occupy only 40% on one side. 
Amal Pushp, director (tobacco) in the ministry of health and family welfare (MoHFW) speaking to LiveMint said, "All tobacco products, including cigarettes, beedis and non-smoking tobacco, will have to contain pictorial warning covering 85% of the space on both sides of the packet."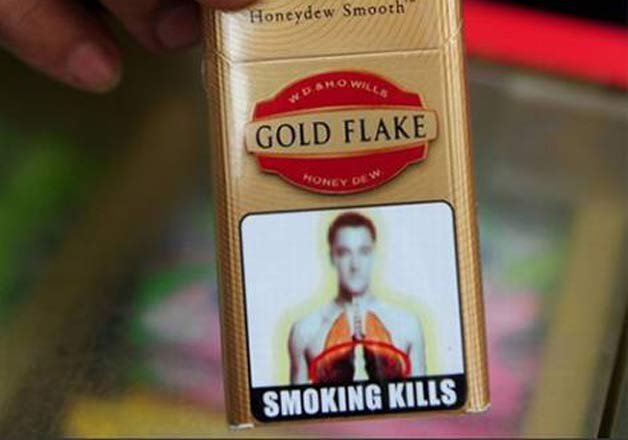 As many as 653 doctors from Kota, Rajasthan on Saturday had written individual letters to the Prime Minister requesting him to implement the larger pictorial warning on packages of tobacco products, Sanjay Seth, Chief of Operations of 'Voice of Tobacco Victims' campaign said. They also requested Modi to reject the recommendation of Lok Sabha Committee on Subordinate Legislation for 50 per cent coverage on both sides of cigarette packs and up to 50 per cent on one side of beedi and chewing tobacco product packs.
Experts said they were of the feeling that 50 per cent warnings was not enough as various studies have proved that larger warning on tobacco products does curb people from getting addicted to such products.
India is currently ranked 136 of 198 countries according to Cigarette Package Health Warnings – International Status Report.
A CNN-IBN report quotes the Global Adult Tobacco Survey-India (GATS 2010), which reveals these statistics about pictorial warnings on cigarette packs for the age group 15 years and above
71% of cigarette smokers noticed health warnings on cigarette packages
Out of the 71%, 38% thought of quitting because of the warning label
62% of bidi smokers noticed health warnings on bidi package
Out of the 62%, 29% thought of quitting because of the warning label 
63% of users of smokeless tobacco noticed health warnings on smokeless tobacco product package
Out of the 63%, 34% thought of quitting because of the warning label.
Hopefully, the rankings will now improve after April 1, when this move is implemented.
(With inputs from PTI)
(Feature image source: Twitter | @IBNLiveBuzz)