Much has been written about Smriti Irani's days as a struggling actor when she is said to have sold jewellery at Delhi's Janpath market, worked at a McDonald's outlet in Mumbai, and featured in music videos – before finally being spotted by Ekta Kapoor in mid-2000. 
The show Kyunki Saas Bhi Kabhi Bahu Thi took her to dizzying heights and made her a household name, but that wasn't her limit. It came after she joined the BJP. In her own words, she has "ideological umbilical cord" with the BJP, three generation of party supporters with her grandfather an RSS man, and mother a BJP booth activist. 
Here's a brief look at her rise and rise of Smriti Irani in the party.
Smriti Zubin Irani joined the Bharatiya Janata Party in November 2003, when she was still playing the long-suffering bahu in the hugely popular Balaji TV show Kyunki Saas Bhi Kabhi Bahu Thi. According to reports, it was late BJP leader from Maharashtra, Gopinath Munde, who brought her into the party and was backed by late BJP leader Pramod Mahajan. The party had just pulled off a landslide win in the 16th parliamentary election by winning 282 out of 543 seats.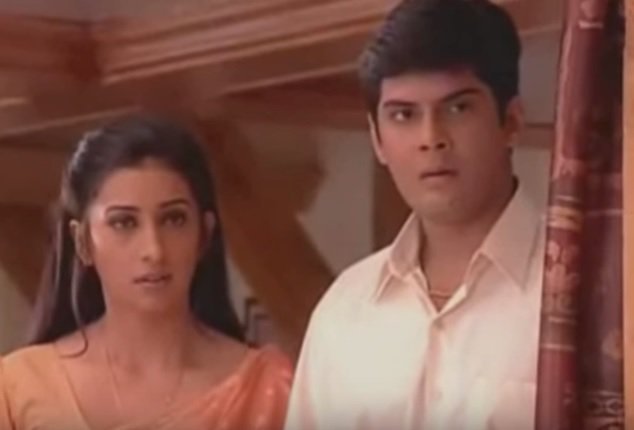 At that time, she had been married for two years to her childhood friend Zubin Irani – the estranged husband of model co-coordinator Mona Irani – and was a mother of two children.
A year later in 2004, she unsuccessfully contested the Lok Sabha elections from Delhi's Chandni Chowk against Congress heavyweight Kapil Sibal. The slogan – 'Ghar ghar ki rani, Tulsi Virani' followed her everywhere. "You will definitely see more of me now," she said back then.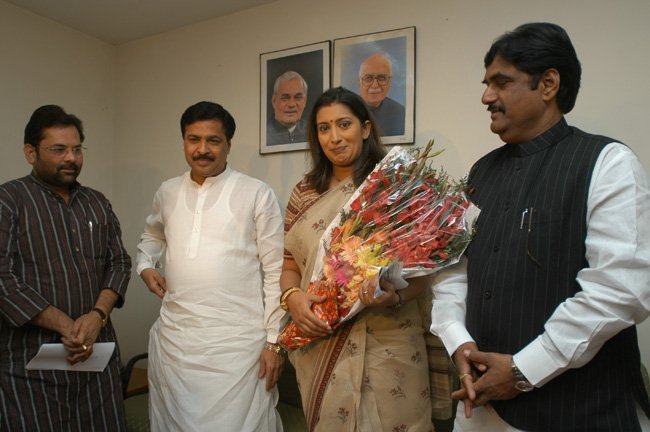 It was the same year, she made the big mistake of her political career, which would take her some time to rectify. In Surat in December 2004, she demanded then Gujarat CM Narendra Modi's resignation over 2002 riots, and told reporters she would launch a 'fast-unto-death' agitation on Atal Bihari Vajpayee's birthday December 25 – if Modi didn't step down. Within hours, she withdrew her statement "unconditionally", after speaking to then party president L K Advani over the phone and meeting with Munde.
Analysts say Modi doesn't forget or forgive easily, but made an exception in her case. The two patched-up – rather dramatically – in February 2005 at a dinner hosted at Advani's house. In front of TV cameras, Modi placed his hand on her head and called her "Gujarat ki beti".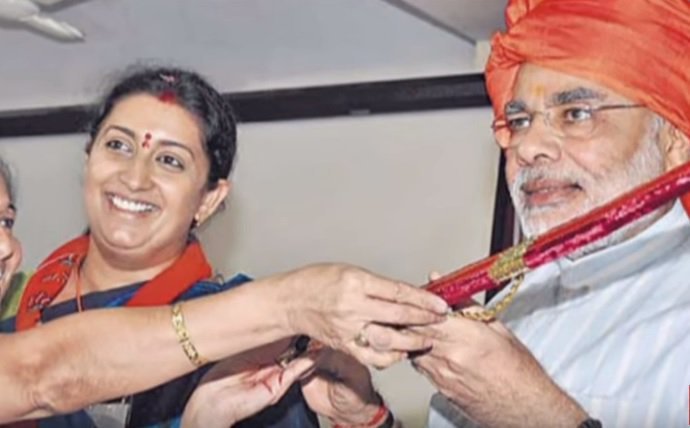 In 2007, she ended a seven-year association with Kyunki…, after which she dabbled in a few production ventures for some years.
In June 2010, she was appointed the national secretary of BJP and the party's Mahila Morcha Head, pipping the likes of Kirron Kher and Saroj Pande. She rose in the party as a star campaigner and an enthusiastic party worker.
In August 2011, she was nominated by BJP to the Rajya Sabha from Gujarat.
In 2013, she was appointed BJP's national vice-president and political in-charge of the party in Goa. In the 2014 general election, the gutsy leader took on Congress Vice President Rahul Gandhi in Uttar Pradesh's Amethi in a high decibel campaign and gave him tough competition even though the campaign ended in defeat.

On 26 May 2014, Modi appointed her the Union Minister of Human Resource Development in his cabinet. At 38, she was the youngest member of the cabinet. One of the first things she did, after taking charge, was reportedly to meet RSS leaders working in the education sector.

The struggle, however, continues. Since she took charge, Smriti has been embroiled in a number of controversies. 
These include: 
Her contradictory claims about her education in documents filed in different years with the Election Commission
The rollback of Delhi University's four-year university programme
IIT-Delhi director RK Shevgaonkar resigning in December 2014 about two years prior to completion of his tenure
nuclear scientist Anil Kakodkar's exit as the chairperson of IIT-Mumbai board
a row over celebrating Good Governance Day on Christmas
And now, the ongoing ones at Hyderabad Central University and JNU.