You filed the first FIR in the case. How did that happen?
When I saw the footage of the anti-national slogans that were been chanted in the JNU campus, I spoke to students there. And when I found out that these slogans had been used I was surprised that in the capital of this country slogans like "Pakistan Zindabad", "Bharat tere tukde hazaar honge", "Bharat ke barbaadi tak jung jaari rahegi". 
And Afzal Guru who has been declared a terrorist, on whom the Supreme Court has passed verdict, and has been hanged, is being given the title of martyr. And there were slogans like "How many Afzals will you kill, There will be an Afzal from every house". There were slogans like Kerala wants azaadi and that India will be split into a thousand pieces. 
I felt this was a major threat to the nation and called the police station to ask if there was any FIR filed in this matter and I found out that they hadn't. I may be be an elected representative, but I am first and foremost a citizen of the nation and a patriot, so for me the nation comes first. So I went straight to the police station and filed a complaint which was made an FIR. 
We have asked that those who raise slogans seeking the splitting of the country, they should be arrested and there should be a case of sedition against them. This will never been tolerated. I will not tolerate anti-nationalism. And why should I? I survive on this country's air, water and earth and I should allow such anti-national powers to grow in this country? I will not. 
Such powers shall be thrown out of the country, we will raise our voices against such powers, This country that we call Bharat Mata and has given us employment, family, facilities and I can never tolerate such slogans. That is why I have filed an FIR. Every one of the 150 crore people in the country have their own responsibilities and if something happens then they should raise their voice and in this case I have done so.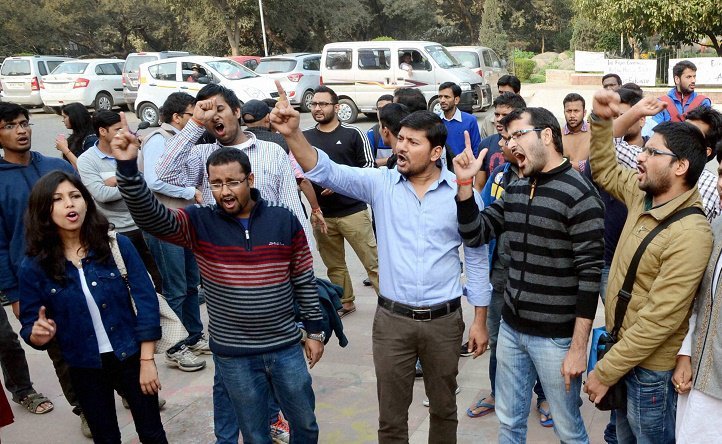 There are many who have said the charge of sedition applied on the students is too harsh. What do you have to say?
If you see in this case they are being called 'bacche' to be let off the hook. They say children make errors. But those children, those students who have 25, 26 years of age they have the understanding to make their careers. And the biggest fact is that they know that these slogans are anti national. So will you call this knowledge ignorance? Of course not. They fully know what they are doing. 
Now there are revelations that these students are joining Naxalism, some of them are joining terrorism. Their links are slowly being exposed. And one this is for certain. Where have they got the courage to do this? In some way or the other they are connected with terrorism, they are connected with Naxal organisations. Without that they wouldn't have the courage. 
This battle, this war, is not against JNU but against such students who support anti-national activities, talk of breaking the nation. This is society's battle and everyone will have to stand up, get out on the streets and say "Bas ab main nahin seh sakta." I can't tolerate "Pakistan Zindabad". I can't tolerate "Bharat tere tukde hazaar honge". These are statements made to break the country.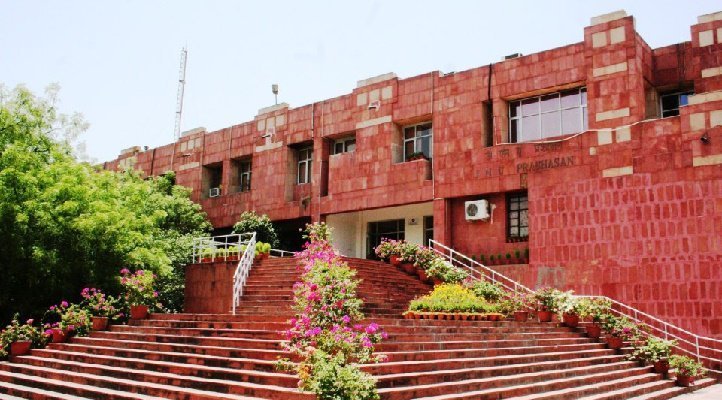 Do you think that the action taken is enough?
There are a lot of exposes taking place in this case. After these arrests and the future arrests that will be made, their links will slowly emerge. First it was believed that just kids had done it. Once the arrests began it has become clearer whose hand is behind this. First it began emerging that terrorist organisations were behind it. Today it has emerged in the media that they have links with Naxalism. I feel there will be serious exposes in the matter and it will startle the nation. 
Is it that that there are sleeping (sic) cells operational? Are there any underground activities taking place? Is this becoming a threat to the nation? I feel if we wait for some time and there are proper investigations then a lot of things will be revealed.
There are some who say that the Afzal Guru debate is among the things that should be discussed in the studies of humanities. What is your view?
The country's supreme authority is the Supreme Court. The Supreme Court has given him the death penalty. It is an institution that functions with great care and with great responsibility. When it has given the death penalty it has done that after great contemplation and investigation. He was declared a terrorist and sentenced to death on the basis of hard evidence. 
So when the supreme authority has done this then what is left to debate in the matter? There is nothing to be gained from debating it. The supreme authority has declared that he is a terrorist, was guilty of the Parliament and that is why he was given the death penalty. It shouldn't even be a subject. 
Till that point everyone had the freedom to debate it. The supreme power is the Supreme Court and when it has given this verdict then it shouldn't be a subject of debate. If it does, then it is unfortunate for the nation.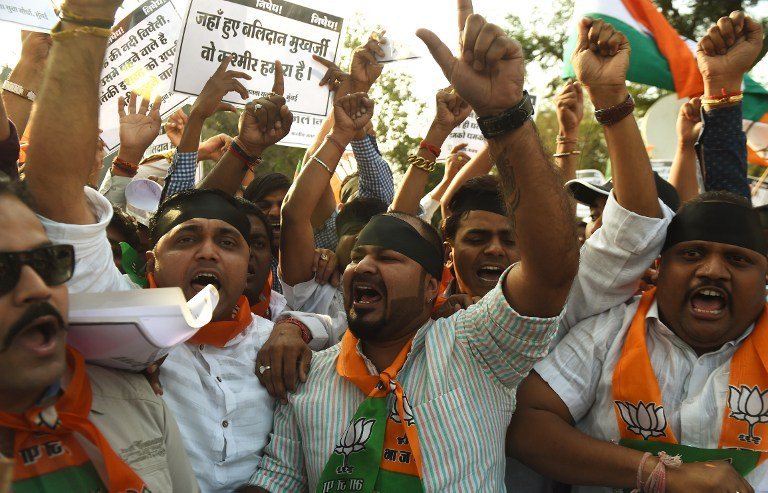 In a tweet you had said the JNU should be restored to an institute of excellence. What is missing there and what would you like to see done?
I would like to say that this isn't a battle against JNU but against those students who are indulging in such activities. It is very necessary to clean it up of them. Let's clean up JNU. In JNU, where such anti-national topics are being discussed why not create a good environment? There should be freedom but there should be limits. There should be freedom of speech, but we should ensure this freedom of speech doesn't become dangerous for the country. 
There should be a new beginning after cleaning up JNU. An institution that is running for so many years should become an example for the nation where there is debate on the nation's progress, its shortcomings and all other topics. But it should be ensured it never become a danger for the nation.
Would you like to elaborate?
I have a simple queestion. Some people wanted to do Saraswati Vandana in the university. If you keep aside its importance to the Hindu faith, it is a prayer to make the institute a path of learning and knowledge. And on the other side you have anti-national slogans in the very nation that is housing you. In these two which JNU do we want? Every student who comes there comes there to study, debates are held of various kinds. 
If there are talks against the nation openly it becomes wrong. If you watch a film or drama in which a character may shout "Pakistan zindabad". But that is part of a film and about how the nation triumphs against it. But there is never a situation where there is a protest against a character in a film saying that or blocking its release. 
But if you shout slogans against India openly and in a planned way and you indulge in activities to incite people then it is not part of a debate. You have declared war. And when it is a matter of war then one can't keep silent then how can it be tolerated? JNU shouldn't be a battleground, and it is fine till it remains a place for debate. The students made it a battleground.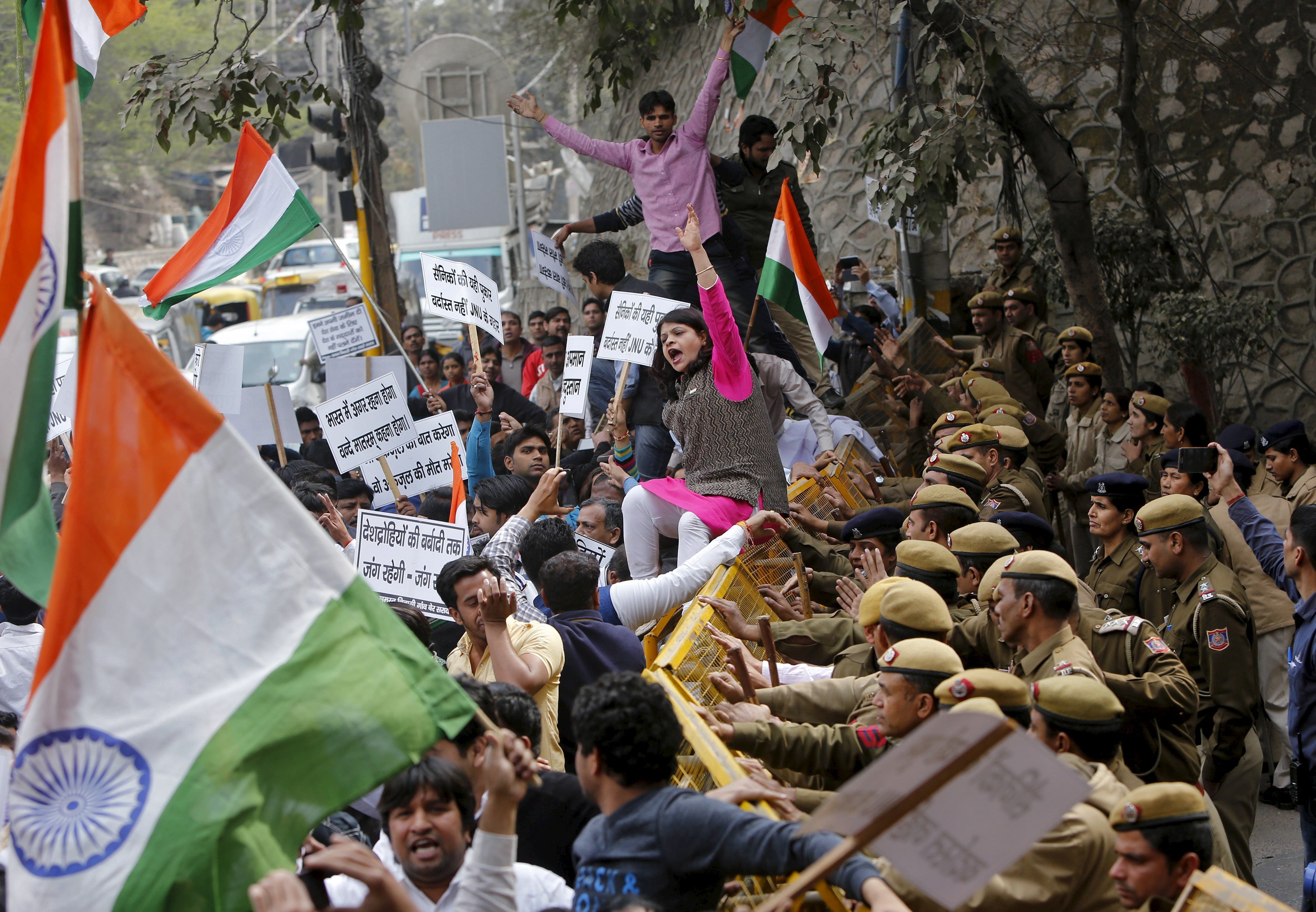 What is your message for students of JNU where there is a strike taking place presently?
I would tell everyone that every one of us who has gone to JNU, and have gone to JNU: there should be an atmosphere of free speech in the institution. But is shouldn't become a battleground. Because JNU is there only while the country exists. If we can't save the nation then how will we save JNU? It is very important to keep that in mind. If the nation isn't safe then I am not safe, or JNU or university. 
Without the nation nothing can happen. The nation's safety and the nation come first. If we keep that in mind and work in JNU then we will be able to create a good atmosphere in the institution. I believe that patriotism isn't someone else's responsibility but everyone's. But if there is any opposition to the nation then I will have to suffer it, give a fitting response and also explain my actions.
There was a lot of controversy about the violence outside court yesterday. What is your view on that?
I would like to say that whatever is the justice system's work it should be done properly. I have to fulfil the responsibility of raising my voice against such anti-national statements. I never support violence or the taking of law in one's own hands. And never will. I believe that the police and army are aware of their responsibilities. I can never support violence that breaks breaks the boundaries of the law or actions that involve the taking of law into one's own hands.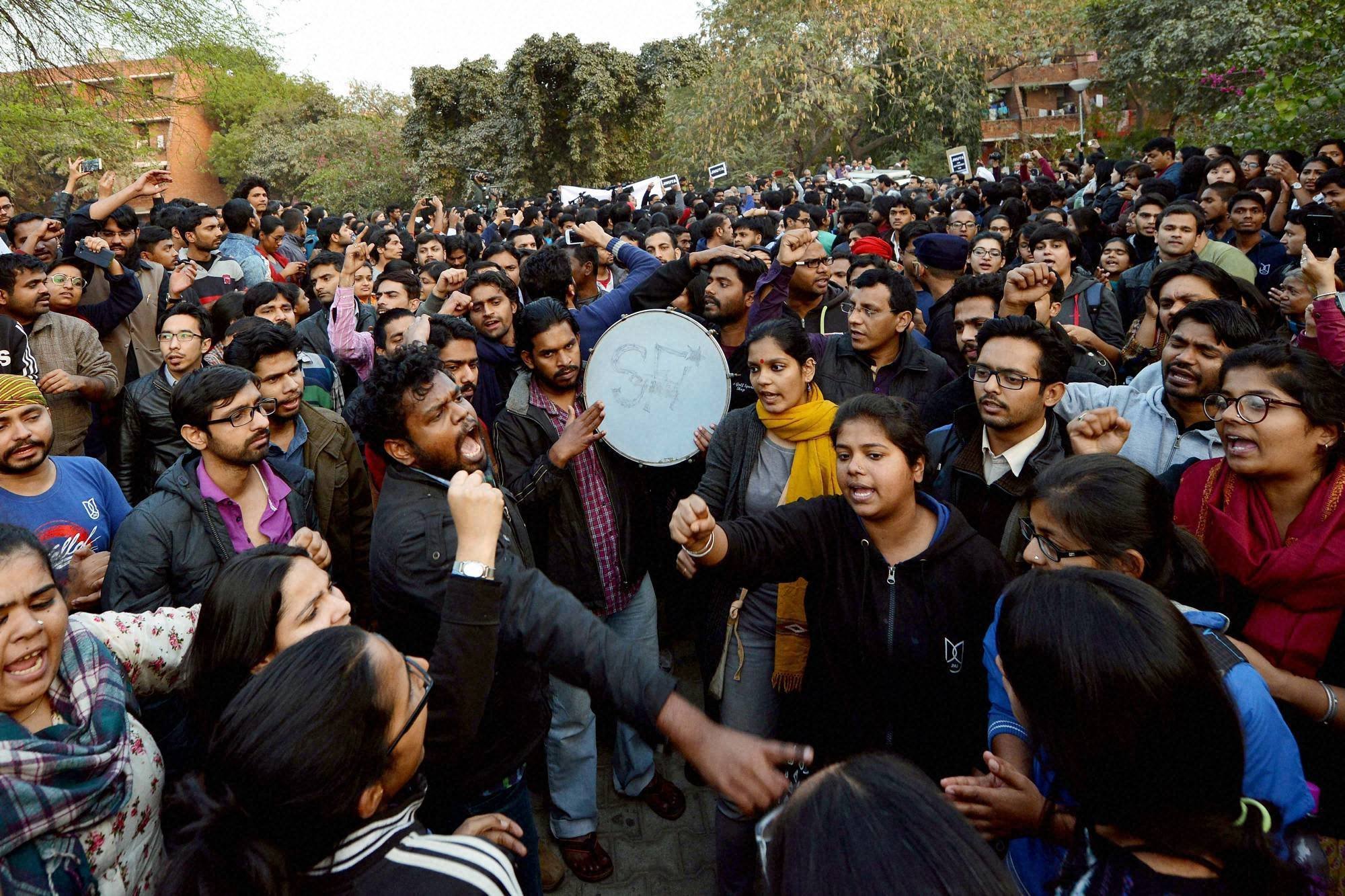 You are a first time MP. You have had a full attendance in Parliament. What's that been like?
Yes I am not from a politics background. I am from a spiritual background. I am spiritual by heart and keep doing my practises. For some time I was making films in Bollywood. I was also a co-founder of India Against Corruption. The name "Jan Lokpal "was suggested by me. Many movements have been started by me. Internationally, and nationally, I have had many projects. I have been doing these social works for the last 24-25 years. Now that I have become a politician I try and fulfil my responsibilities politically. I have only one focus that whatever my role I fulfil it to the fullest
Have been in social activities. I now fulfil all my responsibilities to the fullest. I make sure I attend every day and my attendance is fullest. I have asked 210 questions. I have been in 20 debates. I have brought seven private bills on a range of subjects. There also I have been working.
Parliament hasn't been functioning much…
There has been a lot of work, that is much more than previous governments. But the main bills that can bring development at a high speed are stuck. The opposition is blocking these bills for their stubborness and because they don't digest the mandate that the Narendra Modi government has got. There has been a lot of work in the country and Parliament.