The controversy that erupted in the month of January, when Greenpeace activist Priya Pillai was stopped from travelling abroad to London, has come to a point where the future of 340 workers of Greenpeace foundation is at stake.
Amid escalating complications in the case, the Greenpeace foundation found relief for a very short span of time when the Delhi High Court intervened in the case, questioning the government on barring Pillai from travelling and freezing an account of Greenpeace India.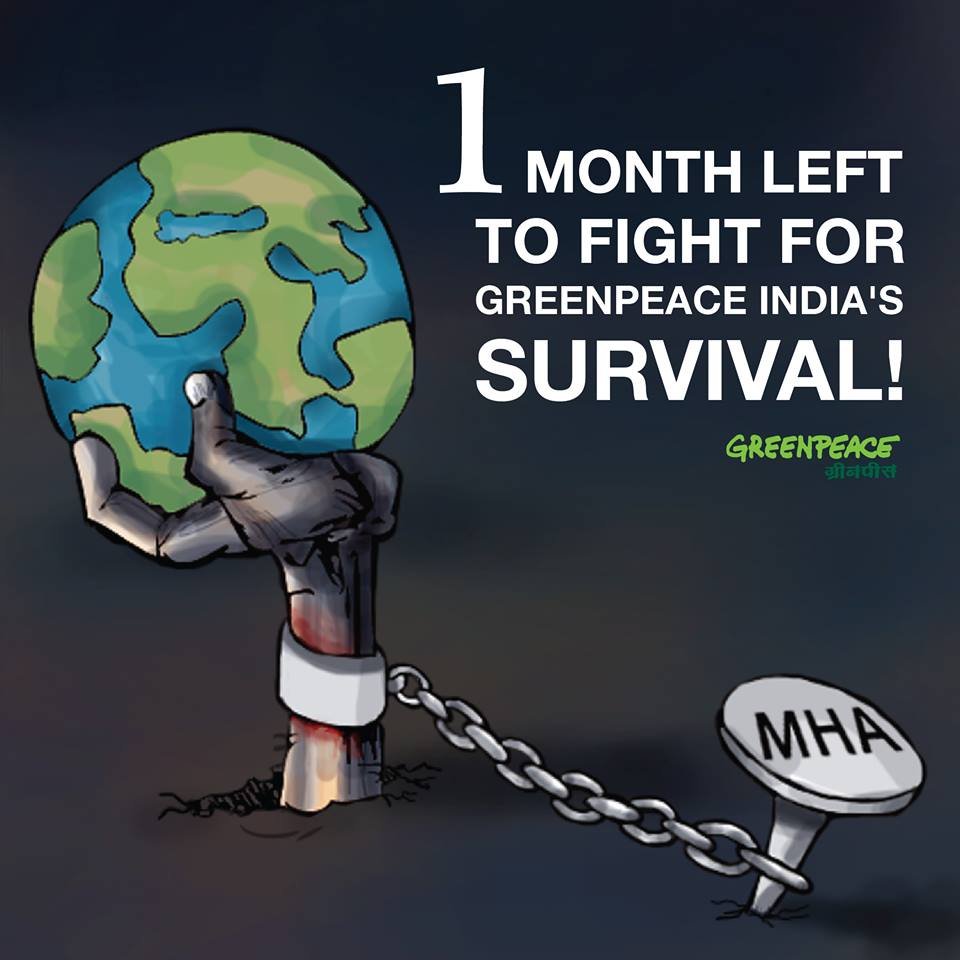 Twists and turns
There were unexpected turns in the case which took place eventually. Greenpeace activists were banned in the month of February by the Indian government which included activists from UK, USA and Australia.
In the month of March the LOC (Look Out Circular) was revoked against Pillai terming it illegal, by the Delhi High Court. But there were more serious troubles lined up for the foundation. Ministry of Home affairs blocked all the accounts of Greenpeace foundation in April, which completely paralysed the functioning of the latter.
Shrinking time and funds
Now that there is hardly one month left to fight for their survival, as the funds left for the sustenance of the NGO is shrinking, Greenpeace India has challenged the Home Minister to stop using arbitrary penalties and confirm that he is trying to shut Greenpeace India down because of its successful campaigns.
The Home Ministry's decision to block Greenpeace India's domestic bank accounts would not only bring serious consequences to the life of 340 employees, but also would completely wipe out the campaigns aimed at voicing the issues of sustainable development, environmental justice and clean, affordable energy.
Executive Director's message to the staff
While motivating the staff , Executive Director of Greenpeace foundation, Samit Aich in a statement has said, "I just made one of the hardest speeches of my life, but my staff deserve to know the truth. We have one month left to save Greenpeace India from complete shutdown, and to fight MHA's indefensible decision to block our domestic accounts."
Greenpeace India is currently preparing its formal response to this decision as well as a fresh legal challenge. The legal process could possibly extend beyond June 1st – when there would be no cash reserves to pay the salaries and office costs.
"The question here is why are 340 people facing the loss of their jobs? Is it because we talked about pesticide-free tea, air pollution, and a cleaner, fairer future for all Indians?" added Samit.
As Greenpeace foundation asks the MHA to rethink on the decision taken, only time can tell us what lies ahead in the fate of the employees and the foundation.
Read more: