Raise your hand if your parents are unaware of your drinking habits. While a few families approve of their children enjoying drinks, in general, it is frowned upon in most Indian households. Many people do not feel comfortable revealing to their parents that they often have hard drinks while socialising with co-workers or just hanging out with friends. The thought of how mom and dad would react to it feels like a nightmare of sorts. Isn't it?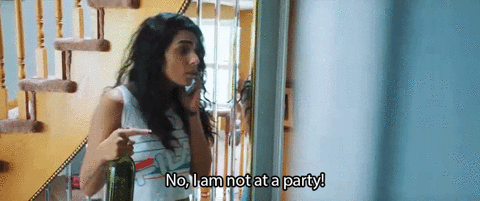 Well, someone's nightmare turned out to be a reality and his parent's reaction is all about giving them a zor ka jhatka.
Here's what happened.
A Twitter user Saniya Dhawan @SaniyaDhawan1 shared an alleged incident of how her brother apparently sent a picture of a beer can on their family WhatsApp group by mistake. Going by a screenshot of the conversation, he was cheering for Mumbai Indians in an IPL match held on Friday. Unable to hold his excitement, the man wrote, "Mumbai for the win, let's go."
To which, their dad gave the most dad-like reply, "Kya?" and mom ended up asking, "Tum beer peete ho?"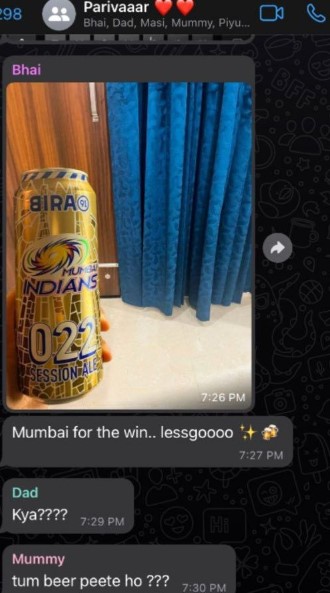 Meanwhile, Saniya sent a message to her brother on a personal chat asking him to delete the picture. "Yaar delete for everyone ki jagah delete for me hogaya mere se," he replied. (If only he knew about the 'accidental delete' feature that was introduced last year).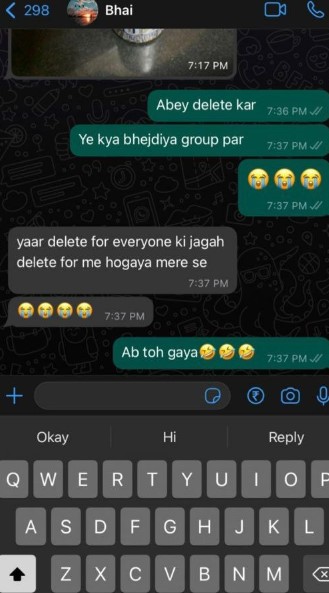 "No way my brother sent this on the family group," the tweet reads.
While some are relating hard, others are calling it their worst nightmare. Have a look!
Even his damage control couldn't save him. So, are you ready to make the big revelation to your parents?