After a massive rally organised by Gujarat's economically and politically powerful Patel community demanding reservations in government jobs and educational institutes, police cracked down on the agitators and detained 21-year-old Hardik Patel, the leader of the Patel Andolan Anamat Samiti (PAAS), the group spearheading the movement.
The police swooped in late at night and disrupted the rally which had turned into an indefinite fast. The protestors had already turned violent with incidents of group clashes and stone throwing. They arrested Hardik Patel, on the claim that he did not take permission for a hunger strike. The arrest of the leader sparked violence around the state, the Patel community was up in arms, leading to clashes with the police and torching of public property. Three people were reportedly killed in Ahmedabad.
" He has been arrested because the organisers had not taken permission to hold the fast. The police permission was only for the rally and the gathering during the day," a police official told The Hindu .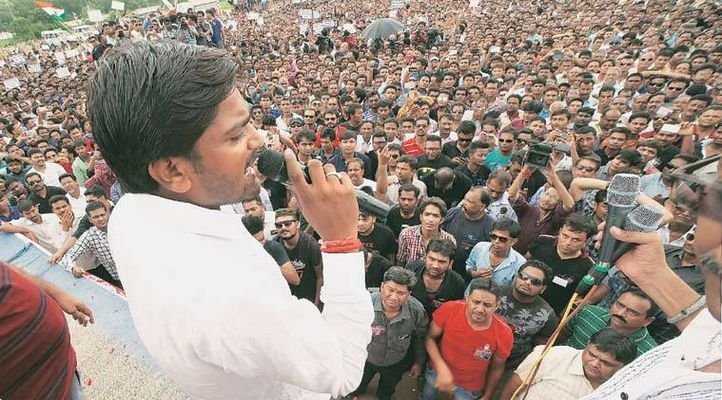 Earlier in the day the police had to resort to lathi charge and teargas shelling when clashes broke out between different groups within the Patel community.
Due to the violence that erupted as a cause of his arrest, the police were forced to release Hardik Patel after only a few hours in custody.
Hardik urged his community to maintain peace and clam. "I make an appeal to maintain peace and keep calm. I give a call for Gujarat bandh tomorrow, August 26," he said.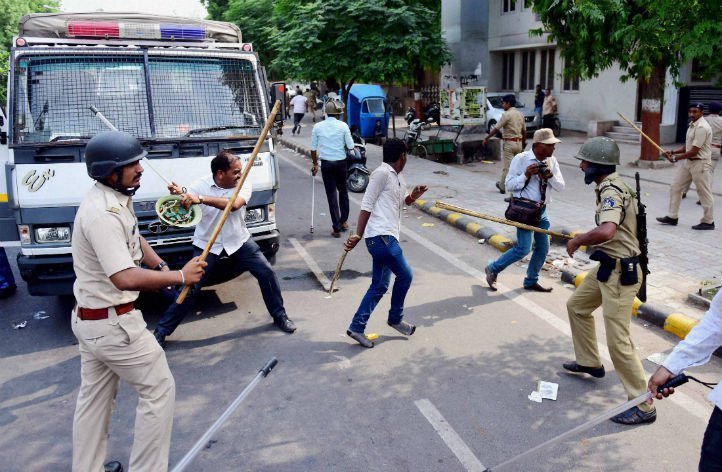 Paramilitary forces like State Reserve Police Force, BSF and Rapid Action Force have been deployed in cities like Ahmedabad and Mehsana.
As tension mounted in her state, Chief Minister Anandiben Patel took to Twitter to address the people of Gujarat.
My sincere appeal to the people of Gujarat to maintain peace and not to indulge in activities disrupting law & order across the state.

— Anandiben Patel (@anandibenpatel) August 25, 2015
Have asked Police Commissioner to carry out thorough investigation in series of events & appropriate action will be taken against the guilty

— Anandiben Patel (@anandibenpatel) August 25, 2015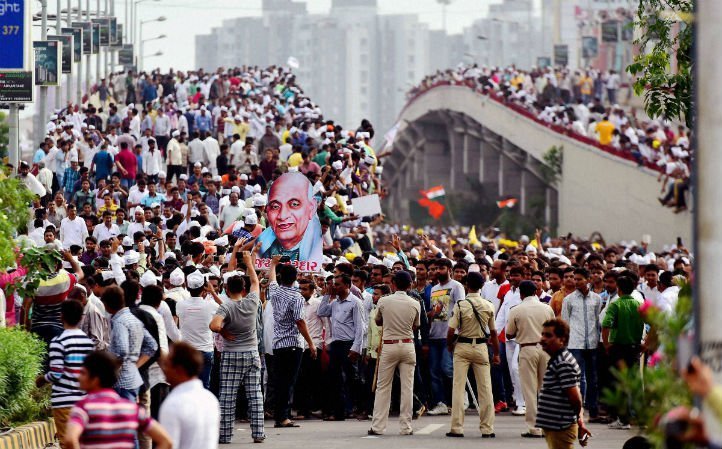 Members of the Patel (Patidar) community carry a cut-out of Sardar Vallabhbhai Patel during a meeting and mega rally to press for their demands of reservation | Source: PTI
At the rally, Hardik Patel warned the ruling BJP government that it would face consequences in the 2017 Gujarat elections if their demands were not met.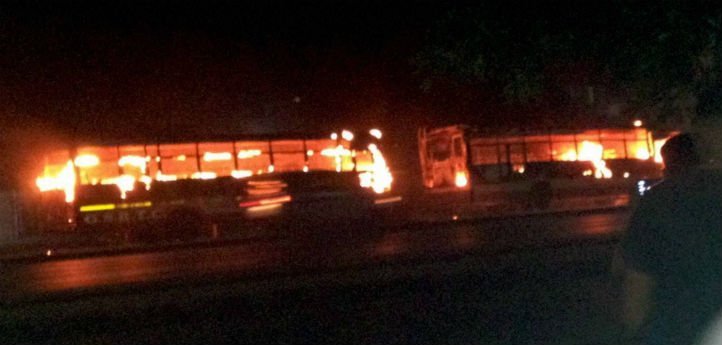 Buses set on fire in Surat on Tuesday by people after the arrest of Hardik Patel, convener of 'Patidar Anamat Andolan Samiti | Source: PTI
" If you do not give our right (reservation), we will snatch it. Whoever will talk of interest of Patels will rule over Patels," Hardik said at the gathering.
After addressing the gathering, Hardik said that he along with his three aides would be sitting on a hunger strike until the Gujarat Chief Minister comes to receive their memorandum of demands.
Read more: