A heat wave is taking a toll on Indians this summer season as the number of deaths across multiple states has crossed 200. The temperature has crossed 45 degrees in some states, according to the India Meteorological Department.
The heat wave warning has been upgraded to "severe", and the forecast is that it will continue for three more days in many districts of Telangana, including Hyderabad.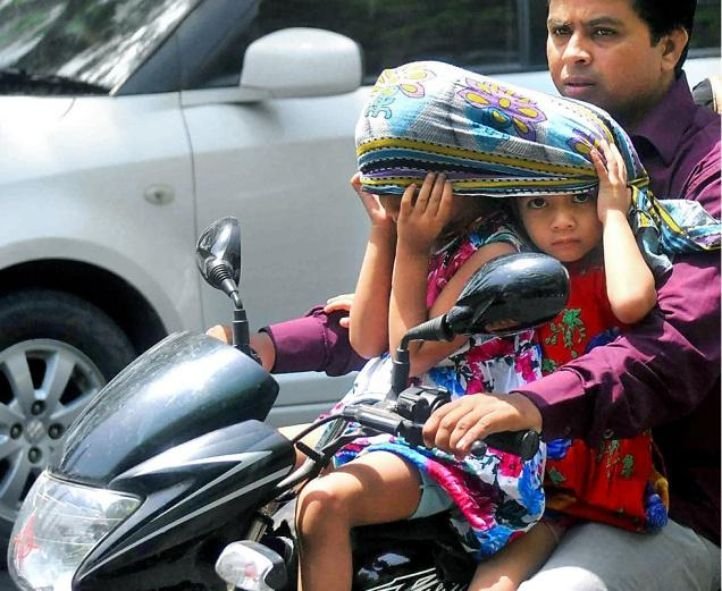 Children cover their heads to survive the heat. | Source: The Hindu
The IMD officials are saying that the region would break its past record of maximum temperature - the highest day temperature ever recorded in AP and Telangana was 48.8 degree in Vijayawada on May 11, 2002.
The number of deaths due to the heat wave has been recorded as the highest ever in such a short span in Telangana and AP, even before the partition. The two state governments on Friday, May 22 reviewed the situation and directed field level officials to run a massive campaign to advise people on how to save themselves from the high temperatures.
The capital is also not far behind on the escalating temperatures. On Friday, the temperature touched 43.6 degrees in Delhi. The Met department has predicted a dust storm and squall for the city over the weekend which might hopefully come as a brief respite from the scorching heat.
"The maximum temperatures rose in Haryana, west Rajasthan, UP and Uttarakhand and changed little elsewhere. Mercury was appreciably above normal in Haryana, Punjab, west Rajasthan, east UP and Uttarakhand, above normal in J&K;, HP , east Rajasthan and west UP. The highest maximum temperature in the region was 45.5 degrees Celsius, recorded at Sri Ganganagar in Rajasthan," said an official to TOI .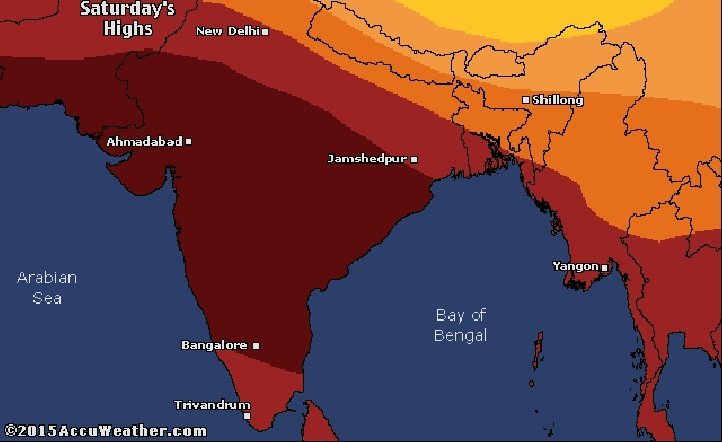 The above map shows that most of India has crossed the 35 degree (Maroon coloured) mark. Almost all of India is above 30 degrees (Red coloured) at the moment. This indicates that the time ahead is going to be tougher for people residing in eastern, central and western regions, considering the fact that the temperature has already entered the alarming phase.
El Nino, is that you?