For Diwali, Uttar Pradesh CM Yogi Adityanath gifted India a moment that will launch a thousand memes.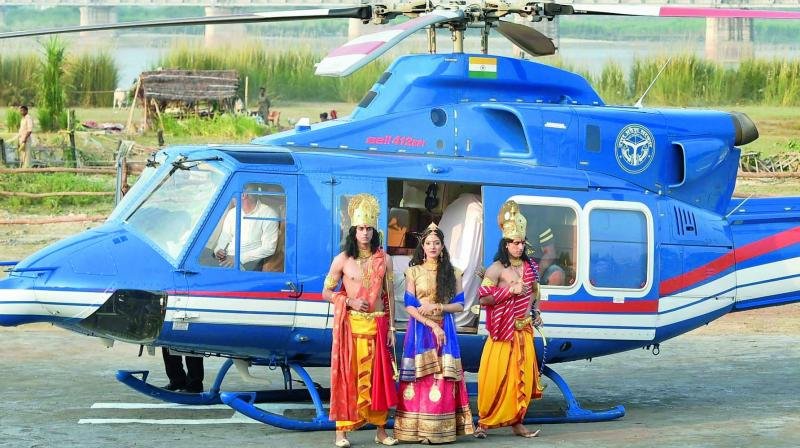 According to Hindu scriptures, in "Treta Yug", the second of four yugs in Hindu mythology, Lord Ram, his wife Sita and his brother Lakshman had returned to Ayodhya after slaying King Ravan in the Pushpak Vimaan. Yogi Adityanath recreated that scene for the world on Wednesday. As actors playing Lord Rama, Sita and Lakshman descended from chartered helicopter in Ayodhya on Wednesday, Yogi Adityanath rushed to garland them. 
According to this Asian Age report. cries of Jai Shri Ram rent the air as the helicopter began to land near the Ram Katha Park. Another helicopter showered flower petals on actors playing Ram, Sita and Lakshman.
Events from the Ramayana were displayed during a laser show. International artistes performed the Ram Leela at the park, watched by the chief minister. Speaking to the media after that, the CM said that Diwali will be celebrated at more grand scale in future. 
At dusk, nearly 1.71 lakh diyas were lit across a half-km span on Ram Ki Pairi to celebrate Diwali. This feat by Adityanath surprassses  the largest display of oil lamps consists of 150,009 lamps at an event organised by Ram Rahim in Haryana in 2016. 
Talking to the media, Yogi said that this is all an effort to highlight the history of the city. "Ramayan is 10,000 years old and Ayodhya is an integral part of it. It was a developed city even back then and people continue to come here from all over. To connect with its illustrious past is a matter of pride for us," he said.