For most of us, the pandemic engulfing the world is the scariest thing we have faced in our lives. However, there is enough awareness and hopefully will survive these tough times.
Now, while some of us have chosen to stay at home as a precautionary measure, there are others who are partying with special gaumutra shots – because, as we already know, gaumutra is the only certain remedy for coronavirus.
Yes, the Akhil Bharat Hindu Mahasabha organised a 'gaumutra party', to 'neutralise the effect of coronavirus' – and the poster of this lit event, looks like this: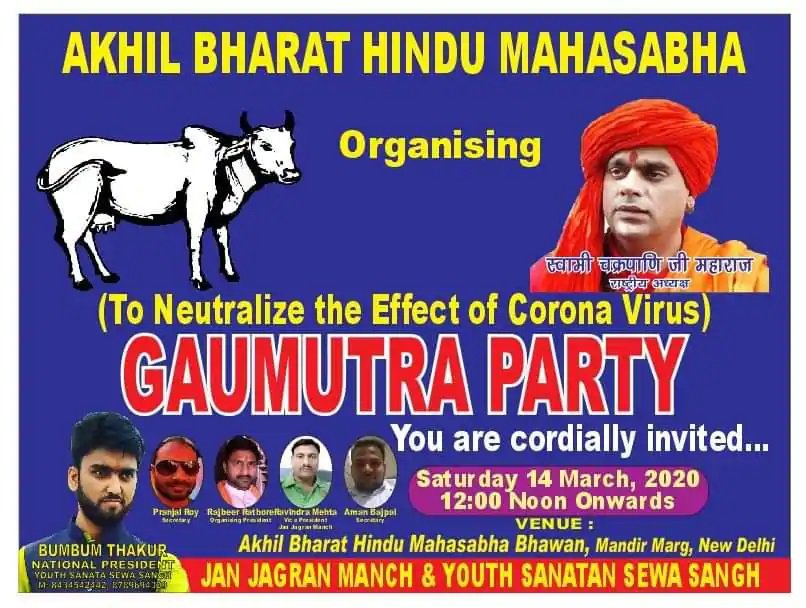 In an interview given to The Print, Chakrapani Maharaj, who is the national head of ABHM reportedly said that having cow dung, urine etc will help people fight coronavirus.
And before I move on to people's reactions to the 'party', let me just quickly say THAT IS NOT TRUE.
The biggest names in the scientific field are struggling to find a cure for coronavirus and if it were as easy as having gaumutra, they would have definitely recommended it to the patients.
Anyhow, people's opinion on this:
You know why it rained in Delhi today? Because the Gods were crying.