Two-time Olympic medallist Sushil Kumar is not going to back down from demanding a trial against fellow Indian wrestler Narsingh Yadav in a bid to qualify for Rio 2016.
Narsingh won the Olympic quota with a bronze at the Wrestling Worlds last year, but Sushil, who fights in the same category (74kg), wants the Wrestling Federation of India to conduct trials to choose between the two.
He has taken the case to the Delhi High Court, but told DNA that he will not stop there…
I am not going to sit quietly. If I have to win my battle through courts, then let it be. I am just concentrating on my training and fitness as this is what I am good at. The court matter will be decided by my mentor and father-in-law Satpal Singh and the coach.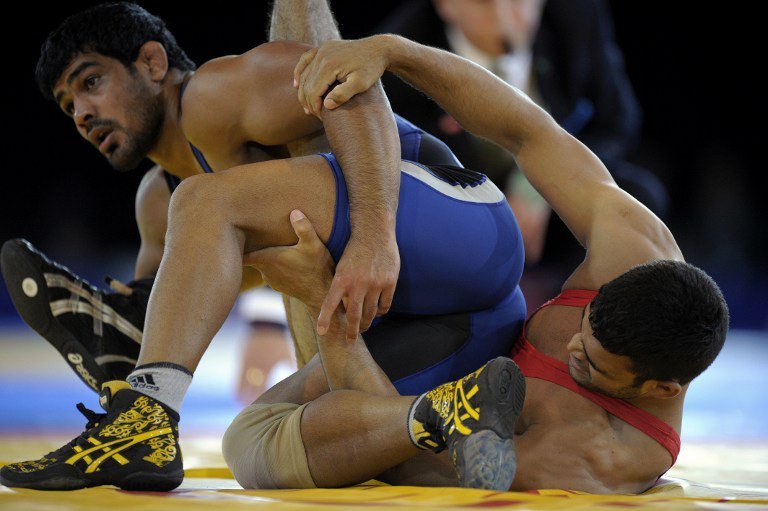 Meanwhile, the Delhi HC has informed that it will intervene in the matter only as a last resort — and after going through what the WFI, sports ministry and the Sports Authority of India (SAI) had to say. 
Sushil is also unhappy with the WFI's impassive stance on the issue — saying that there was no use of him training so hard if he wasn't going to get a trial.
I availed the TOPS funding, went to Georgia for a long training stint, put in 10-12 hours at the SAI's Sonepat centre preparing for Rio. For what? I would have stopped practising then and there. I would have concentrated on other priorities in my life. Why have they kept hanging the issue till the last? Now that I have come this far and I'm at my peak fitness level, the federation wants me to forget about my Olympic dream. Sorry, it will not happen till a fair trial is conducted at the earliest. I am going to fight my case at the highest level.
Sushil also added that he had 'lost faith' in the WFI because they had promised him a trial even though Narsingh had won the quota.
Click here to read the full DNA report.
Feature image source: AFP