In wake of the recent incidents especially the lynching of a Muslim man in Dadri for allegedly eating beef and murder of Kannada scholar MM Kalburgi, writers across the nation have come up with a unique way of protest.
The 'increasing communalisation and right-wing violence' has triggered a series of resignations in country's premier literary council, Sahitya Akademi, besides forcing many authors to return their awards conferred upon them by various academies and government.
We have compiled the list of these 'sons and daughters of the soil'.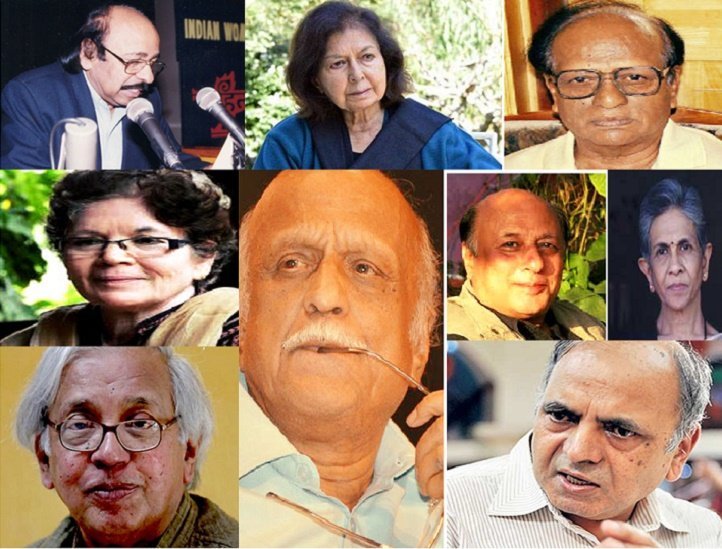 Source: ScoopWhoop
Here are names of some of the prominent faces.
Uday Prakash: T he Hindi writer was the first one to return his Sahitya Akademi award. In the first week of September, he wrote, "This is not the moment to be silent and find a safe corner to hide in. Otherwise, these dangers will continue to rise."
Chandrashekhar Patil: Kannada poet and professor, Chandrashekhar Patil returned the Pampa Prashasti also called Pampa Award, the highest literary award in Karnataka.
Nayantara Sahgal : Noted writer and the niece of former prime minister, Nayantara Sahgal also returned the prestigious Sahitya Akademi Award in protest against what she called the 'vanishing space' for diversity. She said people were being 'killed for not agreeing with the ruling ideology'. She also wrote an open letter ' Unmaking of India' in which she criticised the union government for maintaining silence over the matter and the lack of 'right to dissent'.
Ashok Vajpeyi : Noted poet Ashok Vajpeyi followed the suit swiftly and gave up his Sahitya Akademi Award. He said in a statement that ' It is high time that writers take a stand'.
Shashi Deshpande : Padma Shri awardee Shashi Deshpande resigned from Sahitya Akademi council citing her strong sense of disappointment with the institution's failure to protest against the violence its patrons were subjected to.
Sarah Joseph: The n oted Malayalam author on Saturday, October 10, announced to return the Sahitya Akademi award. She cited 'the rising tide of intolerance in the country' a reason for the decision. She has won the Sahitya Akademi award for her novel Aalahayude Penmakkal in 2003.
K Satchidanandan : Poet of international repute, K Satchidanandan resigned on Friday, October 9, from Sahitya Akademi stating the literary body had 'failed' in its duty to stand with writers and uphold freedom of expression.
Ghulam Nabi Khayal : Noted Kashmiri writer, Ghulam Nabi Khayal on Sunday, October 11, also decided to return the prestigious Sahitya Akademi award in protest against ' increasing communali s ation in India and across J&K after BJP-led government assumed power at New Delhi'.
Eight writers from Ballari, Belagavi, Dharwad, Bagalkot, Mandya and other places returned the Aralu Prashasti given by the Kannada Sahitya Parishat in the presence of slaim scholar MM Kalburgi in 2011. Few among the writers include- Veeranna Madiwalar , litterateur from Belagavi, Chidanand Sali , a writer from Raichur, Satish Jawaregouda , Sridevi Alur along with another writer from Dharwad .
Seven authors on October 11, also joined the ranks of litterateurs who have returned honours or quit Sahitiya Akademi posts protesting the 'rising intolerance' in the country. Among them are five Punjabi writers -Akademi awardees Ajmer Singh Aulakh , Atamjit, Gurbachan Bhullar , Waryam Sandhu and Shiromani Lekhak awardee Megh Raj Mitter . Vadodara tribal activist Ganesh Devy too gave back his Akademi award while Kannada writer Dr Aravind Malagatti quit Sahitiya Akademi's general council.
We are the world's largest democracy, and intolerance of any nature is really not welcomed in a country like ours.
Read more: