Details of the 2011 census were revealed by the government on August 25. Data on the population of religious groups shows a 0.7 per cent decline in the Hindu population and a 0.8 percent increase in the Muslim population. For the first time the Hindu population in India is below 80 per cent.
The census has distributed the population amongst six religions, namely Hindus, Muslims, Christians, Jains, Sikhs and Buddhists.
The population registered was – 121.09 crores, in which Hindus constituted 79.8 per cent (96.63 crore), Muslims 14.2 per cent (17.22), Christians 2.3 per cent (2.78 crore), Sikh 1.7 per cent (2.08 crore), Buddhist 0.7 per cent (0.84 crore), Jain 0.4 per cent (0.45 crore), Other Religions and Persuasions 0.7 per cent (0.79 crore) and Religion Not Stated 0.2 per cent (0.29 crore).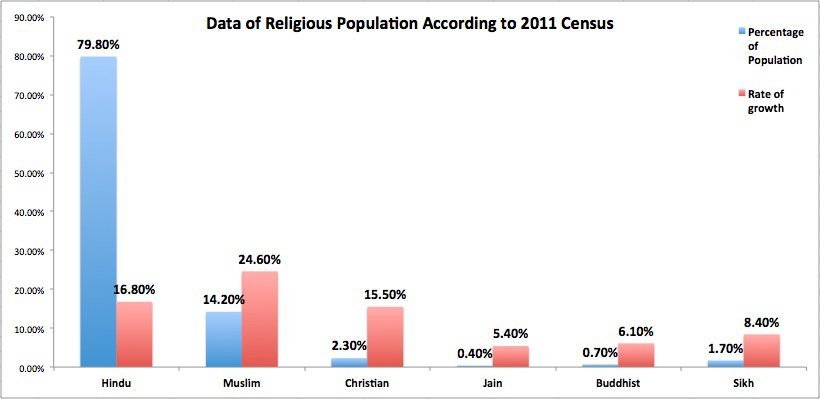 The growth of the national population between the 2001 and 2011 census was 17.7 per cent. The growth rate of population of the different religious communities in the same period was as Hindu: 16.8%; Muslim: 24.6%; Christian: 15.5%; Sikh: 8.4%; Buddhist: 6.1% and Jain: 5.4%.
This means that the Muslim population grew faster than even the national population. A number of experts believe the rise of the Muslim population against the decline of Hindu, Sikh and Buddhist has a great deal to do with the efficacy of family planning methods among Muslims, that are lesser as compared to the communities belonging to other religions.
Why now?
This information was formulated in 2011, it is therefore odd that the government is releasing this information in 2015. Some analysts believe the data could be crucial ahead of the Bihar Assembly elections in a few months and the West Bengal elections in 2016 as it could impact the political discourse and steer it along religious lines.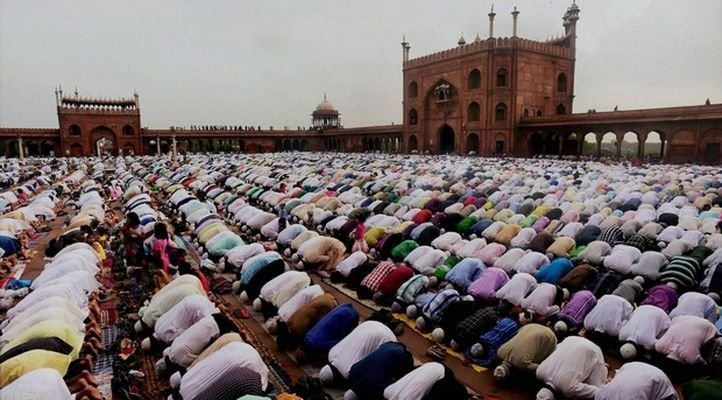 There is a subdued anticipation in the BJP that this data will give them an advantage in the Bihar polls. While the rival JD(U)-RJD camp, which counting on the minority vote in its favour, will be hoping to tap into the increased Muslim population. In Bihar itself the Muslim population has grown by 28 per cent and Hindu population by 24 per cent.
It is quite likely that apprehensions within the majority community about the rise in the Muslim population, would benefit the BJP – which is known for its Hindutva agenda. It is also very likely that Hindus will put aside caste differences in favour of religious lines.