Even before Arnab Goswami has launched his Republic TV, a war between different newsrooms has already started.
With large billboards advertising the arrival of Arnab's latest venture, the India Today group has also put out its rival face.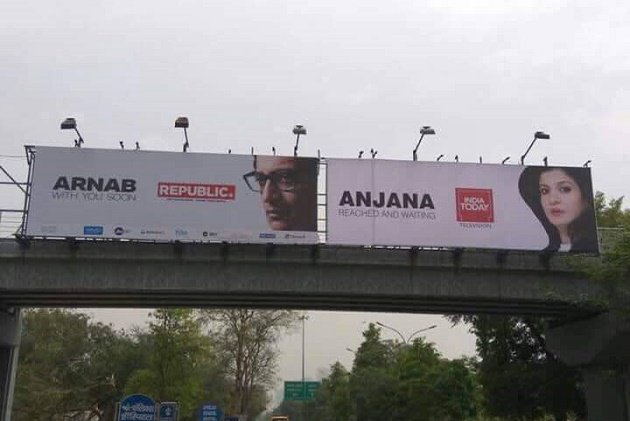 While Arnab's advertisement stares away from the camera and says "With you soon," India Today puts across Anjana Om Kashyap as a rival face, staring in the face with a tagline "reached and waiting."
Arnab's Republic TV is likely to be launched in the first week of May and it seems that other newsrooms are gearing up for the challenge. While Times Now has been putting new faces on air, News18 in a conversation with The News Minute said that they are also revamping their brand.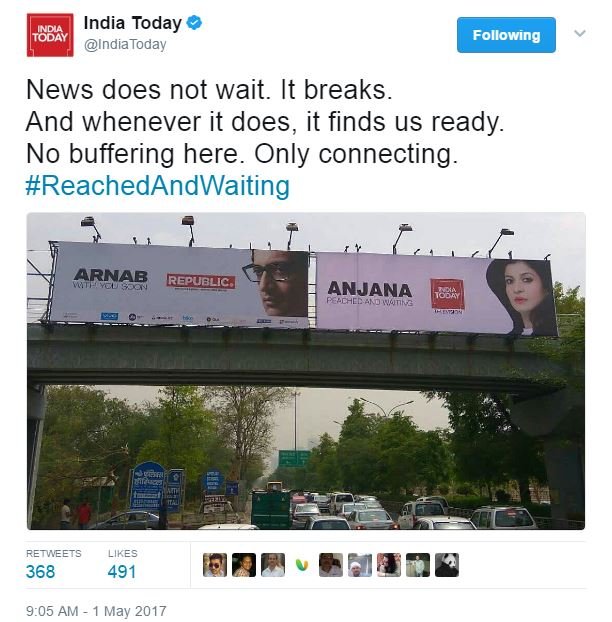 As for Kashyap, she is a popular face of Aaj Tak news channel. She hosts the daily debate show Halla Bol and 'To the Point.' Fluent in both Hindi and English, she is surging to become the face of India Today.
She started her career with Doordarshan in 2003 and later joined Zee News. Her show Do Tuk, a debate programme on News 24 was also a popular stint.
Here's how Twitter reacted to the advertisement rivalry:
3 lights on Arnab's hoarding vs 2 lights on India Today's hoarding. Even Advertising firm knows who is more important. pic.twitter.com/erDjuOqSpX

— Begum Saggu (@AuntyNational) May 1, 2017
@IndiaToday Not a fan of arnab but this add looks silly…its like a kid posing in front of a lion in safari in the safe confines of his jeep @republic

— KRISHNA MOHAN (@krismohan2001) May 1, 2017