In a sudden breakthrough, National Security Advisors of India and Pakistan held talks in Bangkok today on a wide gamut of bilateral ties including terrorism and Jammu and Kashmir, and agreed to take forward the "constructive" engagement.
National Security Advisor Ajit Doval and his Pakistani counterpart Nasir Janjua also discussed peace and security and other issues including tranquility along the LoC.After the talks, the two sides issued a joint press statement which said, "Pursuant to the meeting of the Prime Ministers of India and Pakistan in Paris, the NSAs, accompanied by the Foreign Secretaries, met in Bangkok today.
"Discussions were held in a candid, cordial and constructive atmosphere. They were guided by the vision of the two leaders for a peaceful stable and prosperous South Asia. "Discussions covered peace and security, terrorism, Jammu and Kashmir, and other issues, including tranquility along the LoC. It was agreed to carry forward the constructive engagement."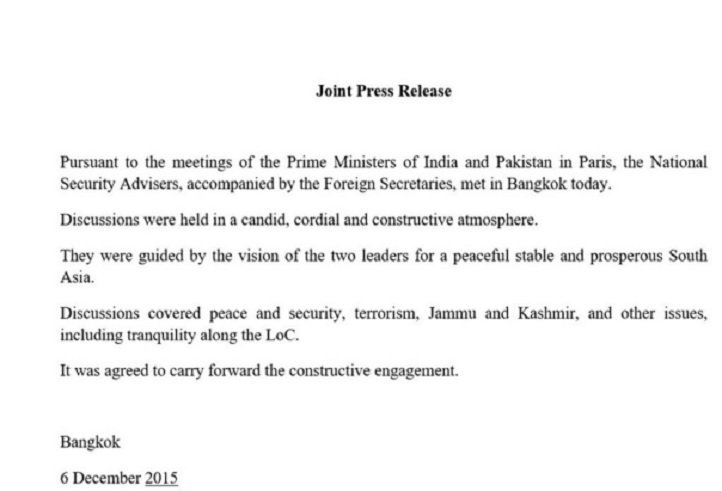 The meeting is a major breakthrough given that the two sides had engaged in mutual blame game earlier in September this year resulting in the cancellation of NSA-level talks and stalling the interaction process as was agreed by Prime Minister Narendra Modi and his Pakistani counterpart Nawaz Sharif in July in Russian city of Ufa.
The two Prime Ministers had a brief but close chat on November 30 in Paris where they had gone to attend the climate summit. The Bangkok meeting also paves the way for a visit by External Affairs Minister Sushma Swaraj to Islamabad this week to attend a multilateral conference on Afghanistan.