It was a tragedy for her family when 19-year-old Sanjana, a native of Hassan, met with an accident on Sunday near Krishna Raja Sagar in Mysuru. She suffered a severe head injury and by the time she was admitted to a hospital, the doctors declared her brain dead. 
She might have been just another statistic in the numerous deaths due to road accidents in the country. But, inspired by the self-less actions of the man who was severed in half but still ensured his organs were donated, her parents too opted for the same.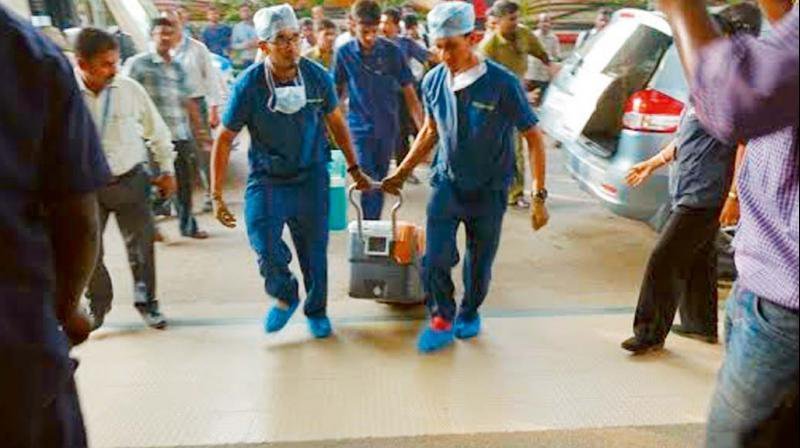 A 'green corridor' was created to facilitate the swift transport of her heart from BGS Global Hospital in Kengeri to Narayana Health City in Bommasandra, located 37 km away, in less than half an hour,  this Hindu report said. 
Shivan M, a resident of Tamil Nadu, who had been staying in Bengaluru for the past year to get a heart transplant, was the lucky recipient. 
Julius Punnen, senior cardiac and transplant surgeon, who not only conducted the surgery but also transported the heart himself, told The Times Of India:
Had Shivan not received a new heart, he would have survived barely 10 days. His heart's function was reduced to a mere 20% as he failed to recover from a cardiac arrest that occurred in 2014. The heart transplant took around 2 hours.
Her other vital organs — liver and one kidney — were transplanted simultaneously into a 44-year-old woman at BGS Global Hospitals in the city. The other kidney went to a recipient in the state-run Institute of Nephro Urology, while her eyes were donated to Narayana Nethralaya.
Sanjana was a student at Vidyavardhaka College of Engineering in Mysuru. She had met with an accident while riding pillion on a motorcycle with her friend near KRS dam near Mysuru on February 21, The Bangalore Mirror reported.
(All images sourced from Twitter)